Doctor Strange in The Multiverse o Madness - The Loop
Play Sound
Future World was one of two "lands" at Epcot at Walt Disney World Resort, divided into two sections, Future World East and Future World West. Making up the other half of Epcot is World Showcase, a unique feature of Future World was its inclusion of a monorail track in the park.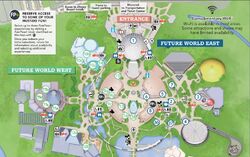 Future World was a collection of attractions each focusing on a different theme or topic with Epcot's iconic geodesic sphere of Spaceship Earth located at the entrance of Future World.
Future World was designed as a showcase for the future, showcasing new technology in conjunction with stories often exploring the past, how we progressed to the present and giving a glimpse into the future. The increasing speed of technological advances, changing views of futurism and the demand of the corporate sponsors that partnered with Disney on these various attractions would ultimately prove to be a challenge to the staying power of these attractions.
As part of the park's massive overhaul beginning in 2019, Future World was divided into three sections on October 1, 2021: World Celebration, World Discovery, and World Nature. Consequently, the Future World name was retired.
Former Attractions
Future World East
Future World West
Former Entertainment
Mickey's Rockin' Celebration (1982-1994)
Fountain of Nations (Original: 1982-1992/Refurbished: 1993–2019), an elaborate fountain that performed to music every 15 minutes. Shows were presented in no particular order and included music by John Tesh, Yanni, and from Disney movies such as The Rescuers Down Under and The Rocketeer.
Splashtacular- A show that debuted in 1994 and included the Fountain of Nations and ended a few months later. The attraction was closed due to the water from the fountain blowing onto the stage, soaking the performers and the guests. It also would cause the walkways to get very crowded, making it hard for people to get through.
EPCOT Computer Central, an area in CommuniCore that featured two shows:

The Astuter Computer Revue (1982–1984), presented by Sperry Corporation.
Backstage Magic (1984–1994), a show about how computers controlled park operations around Walt Disney World. Presented by Unisys.

Disney Vision Adventure: In Virtual Reality, a show that took place in Innoventions about how Disney movies are made using CGI technology featuring Iago from Aladdin.
Future Corps was a drum and bugle corps band which entertained guests with a high energy instrumental show. The group performed at Epcot from 1982 to 2006.
Future World Brass, a high energy brass and percussion ensemble that performed at Epcot from 1982 to 2000.
Wheel of Fortune Live (2017-2018), Tapings of Wheel of Fortune were held near the World Showcase entrance.
Former Dining
Odyssey (1982-)
Future World East

Espresso, Coffee, and Pastries
Former Shopping
Centorium (1982-1999)
Mouse Gear (1999-2021)
Gallery
Attractions Posters
Concept Art
Never-Built Pavilions