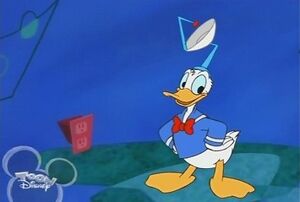 Futuremania is an animated short that originally aired as part of the House of Mouse episode "House of Genius".
Characters
Plot
Ludwig Von Drake invites Goofy, Donald, and Mickey over to test his latest invention, a device called the Future Viewer that enables people to see the future.
Von Drake's intentions are to show how the three's lives will be easier in the future.
Goofy is first used to demonstrate how the vehicles of the future will make it easier to get past traffic. Goofy ends up being comically injured when the vehicles he tests end up crashing.
Donald Duck is given a demonstration that gets his nephews out of his hair by using their rambunctiousness as a power source while Donald recuperates with the technology his nephews power. This demonstration backfires when Huey, Dewey, and Louie get sick of running the machine and storm off.
Finally, Mickey is given a demonstration of the future when he requests to be able to spend more time with Minnie. The first problem is that Mickey is given communications devices that make talking to Minnie more difficult than it needs to be. He does get to talk to Minnie on a monitor, but in the process accidentally sees her while she's in a towel.
Minnie becomes upset and assumes that Mickey will leave her for a "curvy mousedroid". Mickey attempts to save face by insisting that she is the only girl he is interested in, but Ludwig von Drake makes the situation worse by having Mickey encounter his own mousedroid and allowing Minnie to teleport into the room Mickey is in so she can beat him up and break up with him.
Overall, the one thing the advanced technology of the future has done to the trio is make things worse for them.
By the end of the short, Mickey, Donald, and Goofy are all angry with Ludwig for his visions of the future causing more harm than good for their lives and proceed to give him a taste of his own medicine by hooking him up to his own invention.
Ludwig ends up in a fast car and with a duck gynoid, which has him initially happy with how much fun he will have, until he also suffers the same downsides that his recruited test subjects did.
Goofs
Goofy passes out from his test on the Future Viewer while Donald falls to the ground where there's a hole shaped like him, but after Mickey's experience, they're in the same state of shock as him.
Gallery
Community content is available under
CC-BY-SA
unless otherwise noted.