"Hello! How are you? I'm, uh... G2-9T, Fifth degree labor droid. See, my job is to fix the pilots and navigators for Star tours. It's a really neat job."
―G2-9T

G2-9T is a droid appearing in Star Tours and its prequel Star Tours: The Adventures Continue in the Sector 2 section of the queue. In The Adventures Continue, G2-9T works as a security agent for Star Tours. By the time of the setting of the original Star Tours, G2-9T has been reprogrammed into a repair droid. He is voiced by Tom Fitzgerald.
Star Tours: The Adventures Continue
Sometime before the Battle of Yavin, G2-9T was employed by Star Tours as a droid security agent, scanning luggage for paraphernalia banned on flights by the Galactic Empire. G2-9T is shown to be incompetent at his job, clearing luggage containing weapons and smuggled droids or aliens, yet destroying luggage containing harmless items such as computers or toys. G2-9T is shown clearing luggage containing items and characters from the Disney, Pixar, and Star Wars universes, including:
TK-421's stormtrooper armor
Mr. Incredible's super suit (from The Incredibles)
A souvenir Goofy hat (which G2-9T mistakes for a Jar Jar Binks hat)
Mickey Mouse gloves
Genie's Lamp (from Aladdin, although G2-9T thought that it was meant for smoking purposes.)
Scottish bagpipes (which he promptly destroys; alludes to the rebellion of 1745, when the British Government banned the Highlanders from wearing kilts and playing bagpipes, which were considered instruments of war, note: it is replaced by a Banjo).
A pit droid (playing with a toy TIE fighter and StarSpeeder 1000)
B1 battle droids (which G2-9T thinks they're calling him "Roger")
Major Domo and Minor Domo (from Captain EO)
A MacBook (which is accidentally destroyed by G2-9T due to miscommunication with the station's main computer on what the object was. The conversation itself was a reference to Abbott and Costello's "Who's on first" comedy routine.)
Buzz Lightyear and several squeeze toy aliens (from Toy Story)
A camera (that he promptly destroys, thinking it's a new type of alien technology; this alludes to the rule against flash photography during the flight, at least when you're in the StarSpeeder. It is the first object destroyed)
Lando Calrissian's luggage
An E-3PO protocol droid (which he scolds for using foul language)
Space helmets and oxygen tanks with DASA (Disneyland Aeronautics and Space Administration) insignia (from Space Mountain)
V.I.N.CENT (from The Black Hole)
Stitch (from Lilo & Stitch; the droid promptly quarantines the suitcase that he is in, as animals are not allowed in checked baggage, alluding to how Lilo and Stitch first met at a kennel; note, in later versions of the ride, he is replaced by Figment.)
An Ewok (even though Endor is not currently an actual destination in the experience; during this instance, G2-9T mistook the Ewok for a doll, although the final seconds of the scan indicated that it was actually alive.)
Mickey Mouse's Sorcerer Hat (from The Sorcerer's Apprentice segment of Fantasia)
A Trap
Football helmet adorned with Epcot's The Living Seas logo and a football with Epcot's Spaceship Earth logo
G2-5T droid's body parts
A Lightsaber (which G2-9T mistook with a flashlight)
A pit droid using a tablet computer
The Mad Hatter's hat
A Mickey Mouse ear hat
Sheriff Woody's cowboy hat (also from Toy Story)
Little Mikey (Mike Wazowski's doll from Monsters, Inc.)
Madame Leota (from The Haunted Mansion)
A Jawa
Chip and Dale (Which G2-9T thinks that they're not the same, because of their noses.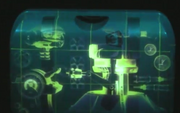 Quotes
Star Tours
"Gee, a lot of families here today. Glad you're flying with us. You know, I like families. Sure. I see a lot of mine these days. Oh look, there's Dad. Hi, Dad! Dad was a top Star Tours pilot, until he took a *crash course* in StarSpeeders, if you know what I mean. Now he's a real basket case. Yep, that's him all over. Shame too, really gone to pieces. Hey, are you all together today? Are you sure? Ok, you had me worried there."
"[To the tune of "I've Been Working on the Railroad"] I've been working on the same droid, all the live long day. [Stops singing, chuckles, then speaks to R5-D2] Stick 'em up! [Blows the tip of his welder, pretending it's a gun, and then speaks to the audience] I love the west. Reminds me of my last home on Tatooine. Hey, speaking of home, how about taking me with you when you leave? Will you wait for me? I get off work in a few years. Pleeeease?"
"Here we go again! They're going to pull the plug off me! I'll see ya later, folks!! It's nap time...! (fades)" (last Words)
Star Tours: The Adventures Continue
"Oh no! Now they won't stop!" (first words)
"You can't lose. Don't ask me how I know: HE CHEATS!" (referencing Sebulba)
"You know, you just have a head for this kind of job. Mhmm. This one offers a chilling challenge: To find out what is is! Of Course... there's always my way." (referencing The Haunted Mansion)
"[To the tune of "I've Been Working on the Railroad"] I've been looking at the same bag, all the live long day!"
"What was that? Oh. And my name isn't Roger. It's G2-9T." (back talking to Battle Droid heads)
"Hey, do you know how I got this job? I Apprenticed! Oh, yeah. You have to." (referencing The Sorcerer's Apprentice)
(singing) "Star Tours, nothing but Star Tours!" (referencing a 1978 Saturday Night Live sketch in which a lounge singer portrayed by Bill Murray sings a version of the Star Wars theme with lyrics)
"Computer, who's bag is this? (...) TK 421? Why isn't he out of his post? Hmm, must have a good reason."
"Hey, season's greetings, everyone, from Star tours!" (wishing people a merry Christmas (December only))
"This security job is.... the... best! It so much better than... oh, I don't know... like, like, being stuck welding old droids back together! Ha! Just reprogram me before that ever happens, right? As if it ever would." (referencing the original Star Tours)
See Also
Gallery
External links
Community content is available under
CC-BY-SA
unless otherwise noted.