House of the Dragon Trailer - The Loop
Play Sound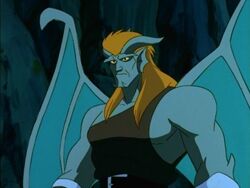 Gabriel is a minor character from Disney's Gargoyles. He is a gargoyle living on Avalon, and is the leader of the Avalon Clan. He is voiced by Ruben Santiago-Hudson.
Role in the series
When Hakon and the Vikings attacked, Gabriel was still an unhatched egg in the rookery at Castle Wyvern. Princess Katharine, the Magus, and Tom took the eggs to Avalon in 995 while fleeing Constantine III. Gabriel, like his rookery siblings, lived peacefully on Avalon until 1995 when the Archmage and his forces attacked. Tom later returned with Goliath, Elisa, and Bronx, and Gabriel assisted them in the defeat of the Archmage, Demona, Macbeth, and the Weird Sisters.
Some time later, Lord Oberon and Queen Titania returned to reclaim Avalon, trying to evict the Avalon Clan. Oberon prepared to destroy them, but at Titania's behest, he agreed to do battle with Goliath, Angela, and Gabriel at the reduced strength of one of his Children. While the heroes of Avalon fought Oberon across the isle, Tom, Elisa, and other members of the Avalon clan created a weapon against Oberon, using Titania's clues - an iron bell.
Gabriel, Goliath, and Angela were defeated, but the remainder of the clan used the bell nearly to destroy Oberon. When Tom stopped just short of killing him, Oberon was impressed enough to make the Avalon clan his "Honor Guard of Avalon."
When Angela met Coldstone, she claimed that Gabriel was his biological son, but Coldstone dismissed it.
Gallery
External links