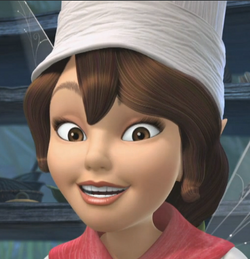 Gelata is a baking-talent fairy. She is head of the baking fairies and is very demanding and organized. Her first appearance was in the short Pixie Hollow Bake Off. She is friendly and competitive. She can bake very well, competing with Tinker Bell, Silvermist, Fawn, Iridessa, Vidia and Rosetta in the first contest cakes of Pixie Hollow. She was voiced by celebrity Giada De Laurentiis.
The one thing she can't accept is other people making suggestions to change her recipies. When Tinkerbell merely brought up an idea for a new looking cake, Gelata was so outraged she called for a bake off to prove she was right. Even after Queen Clarion declared Tinkbell and her friends cake was better looking, all she cared about was that her cake won for taste, totally missing the point Tinkerbell tried to make.
Community content is available under
CC-BY-SA
unless otherwise noted.