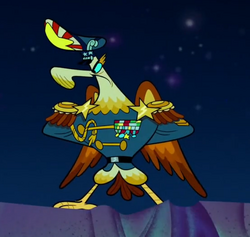 General McGuffin is a character in Wander Over Yonder.
Background
He is first seen in "The It" as he wakes up in his fortress to an alarm going off to discover Commander Peepers and a team of Watchdogs broke in to disable his defense systems only for Wander to appear and declares Lord Hater is "it" and he and his army run away from Lord Hater off the planet thus giving Peepers an idea to use this to claim other planets.
He appears again in The Battle Royale fighting other villains for the Ring of Invincibility (which turned out to be a fake candy ring) as he is blasted by Lord Hater and resembling a KFC bucket of chicken.
He once again appears in My Fair Hatey as one of the captured villains in his KFC bucket form but then somehow escapes.
His ship makes a cameo in The Bad Neighbors as he is a guest of Emperor Awesome's barbecue then later at Lord Hater's Barbecue.
Appearances
v - e - d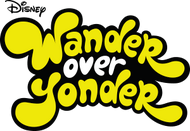 Organizations/Groups
Lord Hater's Army • Insurgent Generals • Wander and Sylvia • Bounty Hunters • Lord Dominator's Army • Galactic Villain Leaderboard • Emperor Awesome's Army
Locations
Lord Hater's Spaceship • Binglebopolopolis • Doomstone • Baaaaa-halla • Phunulon • Ballzeria • Buster • Doom Arena • Planet Ziziks • Flendar • Lord Dominatior's Spaceship • Arachnomorph Homeworld
Community content is available under
CC-BY-SA
unless otherwise noted.