"Shooting at Civilians? Mishandling Top Secret Property?"
―General Patton upon discovering Ace London's true nature after accusing Baloo of stealing the jet engine.
General Patton is the general of Ace London on TaleSpin. He appears in the episode "Mach One for the Gipper". He is voiced by Maurice LaMarche.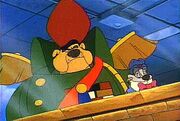 Appearances
General Patton first appears in his base by the communication towers pacing back and fourth waiting Ace London who was bring the secret engine. The doctor who was with him asks him where Ace London is and he tells him to relax. Then Ace London contacts them on the radio that he got the cargo and he contacts them that he's clear to land. After landing Ace's fellow pilots open the cargo that he brought. However the cargo is pull of pickles and General Patton asks who was responsible for loading the wrong cargo and Ace replies that it was Baloo and he orders him to find Baloo and arrest him and he does so.
When Baloo and Wildcat arrives at the base using the secret engine after evading Don Karnage and his pirates who were also after the engine, General Patton prepares to arrest them, but then the echo of Baloo and Wildcat's voices in midair reveals that they succeeded in breaking the sound barrier, an achievement that has made them instantly famous. Ace then arrives, shrieking that he was the one famous, not Baloo and he stole the engine. Baloo then angrily explains that he is a lowly cargo pilot and not a thief. Ace's fellow pilots then realizes their mistake and informs Ace that Baloo is right and he loaded the wrong crate. General Patton was furious at Ace for shooting civilians, mishandling top-secret property and aiding Don Karnage and his pirates to almost steal the engine and congratulates and thanking Baloo for testing the engine. He then asks Baloo if there's something the military can do for him and he replies that he need to continue deliver pickles. but the Sea Duck was damaged during the escape while dealing Don Karnage and his pirates. Patton winks and says he knows the perfect man for the job is Ace London who is now demoted to cargo pilot for his actions, while they will repair the Sea Duck for free.
Community content is available under
CC-BY-SA
unless otherwise noted.