This article is about the lamp that contains Genie. For other uses, see Lamp (disambiguation).
"Do not be fooled by its commonplace appearance. Like so many things, it is not what is outside, but what is inside that counts."

Genie's lamp (alternatively referred to as the Magic Lamp or Aladdin's lamp) is a magical oil lamp featured in Aladdin, whose owner has the ability to summon and temporarily control a wish-granting Genie with cosmic power. As it contains an all-powerful servant, the lamp has been coveted by many for thousands of years.
Background
The lamp has existed for millennia, though its origins are unknown. As one of the most powerful objects in the universe, the lamp was hidden deep within the Cave of Wonders, a cavern that can only be summoned by a golden scarab and entered by an individual known as the Diamond in the Rough.
Physical description
The lamp itself resembles an oil lamp, which have been used as "genie lamps" in Arabian folklore for generations. In color, it is completely bronze. The interior was described by Genie as very cramped and small. Despite this, the interior has been fully seen as part of the Inside the Genie's Lamp featurette, in which the lamp boasts a large living room, dining room, a master bedroom with a "fly-in" closet, and even a garden decorated with topiaries, flora, and water features. Additional areas that are mentioned (but unseen) include a ballroom and a breakfast nook.
Appearances
According to the Genie, he had not been summoned from the lamp for 10,000 years, meaning that the lamp had been in the Cave of Wonders for that long. The evil vizier Jafar had spent years trying to find the Cave and manipulates Aladdin into recovering the lamp within. As the Cave crumbles, Jafar briefly has the lamp in his possession, but as he attempts to kill Aladdin, Abu steals it back. Aladdin uses the Genie's power to escape the underground ruins of the Cave, then uses his first wish to become a prince worthy to marry Jasmine. Jafar attempts to kill him the night he comes to Agrabah, but Genie saves him at the cost of his second wish. As Aladdin exposes Jafar's treachery, the vizier sees the lamp in his hat and realizes the truth. Later, Jafar's sidekick parrot Iago steals the lamp and gives it to Jafar, who uses the first two wishes to become a sultan and sorcerer, respectively, again attempting to kill Aladdin by sending him to a snow-covered cliffside far from Agrabah after exposing Prince Ali's true identity to Jasmine. After returning thanks to the Magic Carpet, Aladdin tries to steal back the lamp, but Jafar discovers him and keeps him from doing so. With Jafar ready to kill Aladdin, the latter tricks Jafar into using his third wish to become a genie himself, allowing Aladdin to seal him in his own lamp, which Genie tosses into the depths of the desert. Aladdin reclaims the lamp and, after considering but dismissing using his final wish to become a prince again, he fulfills his promise to Genie and sets him free. From then on, the lamp is used as a home/residence for Genie instead of a prison.
Although still Genie's "default" location to reside in (although he was able to leave the lamp on his own accord rather than being perpetually trapped in it until rubbed like he was originally), Genie tended to spend more time outside his lamp than within it, the lamp serving as a place to rest more than anything else. On at least three occasions the lamp was stolen: once by Abis Mal who sought to make the Genie grant him his wishes (unaware that Genie was no longer obligated to grant wishes after his freedom), another time by Mozenrath whilst he was asleep inside it to lure Aladdin to him, and again by a 'charitable' Iago who attempted to sell it, prompting Genie to attempt to get it back as he missed his home.
In the crossover special, Aladdin was being attacked by Pain and Panic. He tricked them into rubbing the lamp, making Genie punch them back to the Underworld.
The lamp can be seen on occasion by Genie's side, although most of the time, Genie is around and about without it. In "Donald's Lamp Trade," it was seen in the club's storage room inside a crate labeled "Aladdin's Lamp." Jafar brainwashed Donald into accepting a deal of giving him the lamp in exchange for getting back at Mickey for calling him a ham. However, it was later proven to be the wrong lamp when Jafar revealed that he actually wanted the one in Mickey's dressing room.
The lamp was also used to capture Jafar when Mickey was fighting him for the ownership of the club on Halloween in the movie, Mickey's House of Villains. Aladdin tossed it to him from behind a door with Goofy claiming that the lamp will hold Jafar for eternity.
When Netizen version of Jasmine, and the other Disney Princesses of Oh My Disney, discovered Vanellope von Schweetz in the princess room, during their downtime, she got the lamp out to use as a weapon. Just as the princesses were about to use their "weapons" on the intruder, Vanellope reassured them that she isn't a threat and is a princess herself.
The lamp is also seen as one of the auction items on eBay.
Live-action appearances
There are several Genie's lamps that appear on ABC's Once Upon a Time. The first is seen in "Fruit of the Poisonous Tree". There is a magical lamp that was once home to the Genie of Agrabah. The lamp is found on the beach by King Leopold, husband of the Evil Queen. He rubs the lamp, trying to clean it, and the Genie appears in his service. Having no desires for himself, Leopold uses his first wish to free the Genie, and his second wish to give the Genie the third wish, handing the lamp over to him as representation. The final wish is used by Genie to become the Magic Mirror, in an attempt to remain with the Queen forever; afterward, the lamp loses all traces of its magic. When the Dark Curse is cast, it is taken into Storybrooke and ends up in Mr. Gold's pawnshop.
The lamp of the Genie from the Aladdin story is seen in "I'll Be Your Mirror".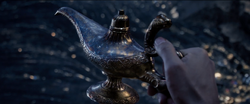 In the live-action remake of Aladdin, the lamp served the same basic role: containing an all-powerful Genie and hidden within the Cave of Wonders until Aladdin is sent by Jafar to retrieve it, only to be betrayed and trapped within the cave, but Abu was able to steal it back. However, the lamp has one additional rule to use it: the user must rub the lamp before making a wish.
Later on in the film, the lamp was stolen by Jafar himself who uses his first two wishes, but then is stolen again by Jasmine, who escapes with Aladdin on the Magic Carpet, only for the former vizier to reclaim it again and then use it to become a genie himself after being tricked by Aladdin. Afterward, Aladdin reclaims the lamp and uses his final wish to set the Genie free.
The lamp is among the exhibits on display in the Auradon Museum of Cultural History.
Disney Parks
The Magic Lamp appears on a shelf within this bar of Trader Sam as part of his collection, next to a bronze bust of Jungle Navigation Company founder Dr. Albert Falls.
Bonjour! Gifts
In this Beauty and the Beast themed gift-shop is a portrait showing a fictionalized depiction of Phil Holmes in possession of the lamp.
The lamp is visible atop this attraction in the Magic Kingdom's Adventureland.
The lamp makes a cameo in the ride Star Tours: The Adventures Continue. Upon finding it in the luggage, G2-9T states that the Star Tours' non-smoking policy extends to luggage as well.
The lamp makes a cameo in the interactive queue for this attraction. It is shown as being in the collection of Princess Ariel with guests helping her crab friends put it into organization.
Gallery
Trivia
The first time he rubs it, Aladdin mentions the lamp has something written on the side: what this writing says is never revealed.
The lamp was seen in The Princess and the Frog during the song "Dig a Little Deeper", while Mama Odie was pulling out items from her chest.
Genie's lamp appeared in Mickey, Donald, Goofy: The Three Musketeers, during the song "This Is the End".
The year before the 1992 Aladdin, The Simpson family visited the Arab country of Morocco, where Homer Simpson acquired a Monkey's Paw which gave the family four wishes. Homer Simpson voice Dan Castellaneta has also sporadically played Disney voices and also would later play the Genie on numerous occasions, including on the Aladdin tv series and the Return of Jafar.
The lamp can be seen in Zootopia, located on Yax's shelf in the Mystic Springs Oasis' reception office.
The lamp can be seen in The Jungle Book remake, located in a treasure pile inside King Louie's temple.
Several lamps identical to Genie's appear in the Mickey and the Roadster Racers episode "Ye Olde Royal Heist", as part of the Queen of England's treasury.
In the sequel, it is revealed that if a Genie's lamp is destroyed, the Genie itself dies. However, it is unknown if the destruction of the lamp will have an effect on the Genie himself since he is free, and his imprisonment in the lamp has been lifted. Likely, since the Genie had lost some power after being free, (which could have been a result of the excessive amount of power which was used to lift his imprisonment) it is likely that his freedom has lifted the connection between him and the lamp, which was powerful enough to destroy him. So had Aladdin not freed the Genie, he would of died when the lamp was destroyed.
See also
v - e - d
Characters
Main Characters: Sora • Riku • Kairi • King Mickey • Donald Duck • Goofy • Roxas • Axel/Lea • Naminé • Xion • Aqua • Terra • Ventus


Villains: Xehanort • Ansem • Xemnas • Maleficent • Pete • Vanitas • Xigbar/Braig • Xaldin • Vexen • Lexaeus • Zexion • Saïx/Isa • Demyx • Luxord • Marluxia • Larxene • Terra-Xehanort • Young Xehanort • Xehanort's Guardian
Other Characters: Jiminy Cricket • Ansem the Wise/DiZ • Yen Sid • Master Eraqus • Dilan • Even • Aeleus • Ienzo • Lingering Will • Hayner • Pence • Olette • Kairi's Grandma • Riku Replica • Jiminy's Journal • Foretellers • Master of Masters • Luxu • Ephemer • Skuld • Chirithy • Lauriam • Elrena
Original Monsters: Heartless • Nobodies • Unversed • Dream Eater
Disney Characters introduced in Kingdom Hearts: Queen Minnie • Daisy Duck • Pluto • Chip and Dale • Huey, Dewey, and Louie • Magic Brooms • Alice • White Rabbit • Doorknob • Cheshire Cat • Queen of Hearts • Card Soldiers • Tarzan • Jane Porter • Clayton • Terk • Kerchak • Kala • Sabor • Hercules • Philoctetes • Hades • Cerberus • Rock Titan • Ice Titan • Aladdin • Abu • Jasmine • Genie • Carpet • Jafar • Iago • Peddler • Cave of Wonders • Pinocchio • Geppetto • Monstro • Cleo • Ariel • Flounder • Sebastian • Ursula • King Triton• Flotsam and Jetsam • Glut • Jack Skellington • Zero • Sally • Oogie Boogie • Lock, Shock, and Barrel • Dr. Finkelstein • Mayor of Halloween Town • Peter Pan • Tinker Bell • Captain Hook • Mr. Smee • Wendy • Crocodile • Merlin • Winnie the Pooh • Tigger • Piglet • Eeyore • Rabbit • Owl • Roo • Bees • Beast • Belle • Snow White • Cinderella • Fairy Godmother • Aurora • Pongo • Perdita • Dalmatian Puppies • Simba • Mushu • Dumbo • Bambi • Chernabog
Disney Characters introduced in Kingdom Hearts II: Flora, Fauna, and Merryweather • Maleficent's Raven • Scrooge McDuck • Mulan • Li Shang • Shan Yu • Hayabusa • Yao, Ling, and Chien Po • The Emperor • Lumiere • Cogsworth • Mrs Potts • Chip • Wardrobe • Pegasus • Megara • Pain and Panic • Hydra • Horace Horsecollar • Clarabelle Cow • Clara Cluck • Jack Sparrow • Elizabeth Swann • Will Turner • Captain Barbossa • Bo'sun • Jacoby • Twigg • Cursed Crew • Prince Eric • Attina • Andrina • Santa Claus • Skeletal Reindeer • Timon • Pumbaa • Nala • Rafiki • Scar • Shenzi, Banzai, and Ed • Mufasa • Kiara • Pridelanders • Hyenas • Tron • Master Control Program • Commander Sark • Kanga • Gopher • Stitch • Chicken Little
Disney Characters introduced in Birth by Sleep: Prince Phillip • Maleficent's Goons • Doc • Grumpy • Happy • Sleepy • Bashful • Sneezy • Dopey • The Prince • Evil Queen • Magic Mirror • Prince Charming • Jaq • Lady Tremaine • Anastasia • Drizella • Lucifer • Grand Duke • Grand Councilwoman • Captain Gantu • Jumba • Experiment 221 • Lost Boys
Disney Characters introduced in Dream Drop Distance: Quasimodo • Esmeralda • Phoebus • Judge Claude Frollo • Victor, Hugo, and Laverne • Kevin Flynn • Sam Flynn • Quorra • CLU • Rinzler • Black Guards • Blue Fairy • Beagle Boys • Chernabog's Minions • Julius
Disney Characters introduced in Kingdom Hearts χ: Mad Hatter • March Hare • Razoul • Royal Guards • Maurice • Gaston
Disney Characters introduced in Kingdom Hearts Union χ: Sultan • Samson • Vanellope von Schweetz • Fix-It Felix Jr. • Sergeant Calhoun • King Candy • Sour Bill • Cy-Bugs • Hero's Duty Troops
Disney Characters introduced in Kingdom Hearts III: Zeus • Apollo • Athena • Hermes • Lava Titan • Tornado Titan • Little Chef • Woody • Buzz Lightyear • Rex • Hamm • Sarge • Green Army Men • Little Green Men • Rapunzel • Flynn Rider • Pascal • Maximus • Mother Gothel • Sulley • Mike Wazowski • Boo • Randall Boggs • Child Detection Agency • Trailer Son and Mom • Elsa • Anna • Kristoff • Olaf • Sven • Marshmallow • Hans • Mr. Gibbs • Tia Dalma • Davy Jones • Kraken • Cutler Beckett • Baymax • Hiro Hamada • Go Go Tomago • Honey Lemon • Fred • Wasabi • Lumpy • Wreck-It Ralph
Disney Characters introduced in Kingdom Hearts Dark Road: Tweedledee and Tweedledum
Disney Characters introduced in the manga: Caterpillar • Chi-Fu
Square Enix Characters: Leon • Cloud • Moogle • Others
v - e - d

Disney
Mickey Mouse & Friends: Mickey • Minnie • Donald • Daisy • Goofy • Pluto • Fifi • Pete • Clarabelle Cow • Horace Horsecollar • Willie the Giant • Chip and Dale • Mortimer Mouse • Chief O'Hara • Detective Casey • Butch the Bulldog • Golden Harp • Father Time • Peter Pig


The Lion King: Simba • Nala • Shenzi, Banzai, and Ed • Ostrich • Gazelle • Rhino • Hippo • Zebra • Blue Beetle • Grub • Zazu • Rafiki • Timon • Pumbaa • Mufasa • Scar
Tangled: Rapunzel • Flynn Rider • Stabbington Brothers • Pub Thugs • Attila • Vlad • Big Nose • Hook Hand • Ulf • Shorty • Pascal • Maximus • Mother Gothel • The King • The Queen • Captain of the Guards • Warthog • The Lantern
Wreck-It Ralph: Ralph • Vanellope • Felix • Sgt. Calhoun • King Candy • Taffyta Muttonfudge • Candlehead • Surge Protector • Gene • Nicelanders • Rancis Fluggerbutter • Other Sugar Rush Racers • Sour Bill • Blue Racer • General Hologram
Big Hero 6: Hiro Hamada • Baymax • Robert Callaghan • Go Go Tomago • Honey Lemon • Wasabi • Fred • Fred's Dad • Tadashi Hamada • Cass • Yama • Alistair Krei • Heathcliff • Abbigail Callaghan • Attila • Sergeant Gerson • Cass
Zootopia: Judy Hopps • Nick Wilde • Flash • Clawhauser • Gazelle • Yax • Bogo • Mayor Lionheart • Bellwether • Doug • Finnick • Mr. Big • Mr. Otterton • Manchas • Gideon • Jerry Jumbeaux Jr. • Nanga • Priscilla • Mr. Hopps • Mrs. Hopps • Business Lemming • Duke Weaselton • Fru Fru • Kozlov • Officer McHorn • Wrangled • Wreck-It Rhino • Pig Hero 6
The Jungle Book: Mowgli • Kaa • Baloo • Akela • Raksha • Gray • Shere Khan • Colonel Hathi • King Louie • Bandar-Log Monkey • Flying Squirrel • Crocodile • Peacock • Vulture • Elephant • Bee Hive
Alice Through the Looking Glass: Alice Kingsleigh • Dormouse • Tweedledee and Tweedledum • Cheshire Cat • Bandersnatch • Bayard • White Queen • March Hare • White Rabbit • Mad Hatter • Absolem • Time • Wilkins • Humpty Dumpty • Red Queen • Borogrove • Frog Delivery Man • Gentleman Fish • Vegetable Soldier • Vegetable Servant • Vegetable Executioner • Armored Chess Piece
Pirates of the Caribbean: Jack Sparrow • Will Turner • Elizabeth Swann • Joshamee Gibbs • Tia Dalma • James Norrington • Marty • Cotton • Bootstrap Bill Turner • Pintel • Ragetti • Angelica • Blackbeard • Prison Dog • Maccus • Davy Jones • Helmsman • Philip Swift • Syrena • Captain Salazar • Ghost Lesaro • Shansa • Henry Turner • Carina Smyth • The Redhead • Murtogg • Mullroy • Treasure Chest • Stray Cat • Tiny • Pirate With Pigs • Ghost Shark • Ghost Seagull • Auctioneer
Aladdin: Aladdin • Jasmine • The Sultan • Prince Achmed • Gazeem • Razoul • Rajah • Iago • Abu • Genie • Jafar • Magic Carpet • Pink Flamingo • Beggar Jafar • Golden Scarab Beetle • Magic Lamp • Snake Charmer • Golden Camel
The Nightmare Before Christmas: Jack Skellington • Sally • Lock, Shock, and Barrel • Oogie Boogie • Santa Claus
Mulan: Mulan • Yao, Ling, and Chien Po • Fa Li • Fa Zhou • Hayabusa • Khan • Cri-Kee • Little Brother • Mushu • Shan Yu • Captain Li Shang • The Emperor of China • The Matchmaker • General Li • Grandmother Fa • First Ancestor Fa • Chi-Fu • Great Stone Dragon
Moana: Moana • Sina • Frigatebird • Chief Tui • Gramma Tala • Pua • Frigatebird • Kakamora Chief • Maui • HeiHei • Ghost Matai • Eel • Tamatoa • Frog Monster • Sloth Monster • Eight Eyed Bat • Chicken Feed • Maui's Hook • The Ocean
Beauty and the Beast: Belle • Maurice • Chip Potts • Mrs. Potts • Gaston • LeFou • FrouFrou • Chapeau • Plumette • Beast • Cogsworth • Lumiere • The Enchantress
Lilo & Stitch: Lilo Pelekai • Nani Pelekai • David Kawena • Mrs. Hasagawa • Mertle Edmonds • Stitch
DuckTales: Scrooge McDuck • Donald Duck (Classic) • Huey, Dewey, and Louie • Webbigail Vanderquack • Mrs. Beakley • Beagle Boys (Big Time, Burger, and Bouncer) • Gyro • Darkwing Duck • Falcon Graves • Pixiu Chinese Dragon • Peghook's Ghost • Launchpad McQuack • Hack and Slash Smashnikov • Gizmoduck • Shadow Magica • Ma Beagle • Flintheart Glomgold • Pharaoh Toth-Ra • Headless Man-Horse
Community content is available under
CC-BY-SA
unless otherwise noted.