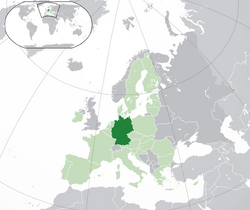 Germany, officially the Federal Republic of Germany (German: Bundesrepublik Deutschland), is a federal parliamentary republic in west-central Europe. The country consists of 16 states (Bundesländer), and its capital and largest city is Berlin. Germany covers an area of 357,580 square kilometers (about 137,847 square miles) and has a largely temperate seasonal climate. With 83 million inhabitants, it is the most populous member state in the European Union. It is one of the major political powers of the European continent and a technological leader in many fields.
Indiana Jones and the Last Crusade was set there.
Films/TV
Cities and Locations
Attractions
Characters from Germany
Celebrities from Germany
Gallery
Community content is available under
CC-BY-SA
unless otherwise noted.