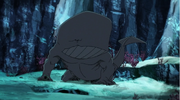 Giganto is a large whale type monster. It lived at the bottom of the ocean. It relied on Echo locations like all whales. Normally a peaceful creature, it has been known to attack citizens of both land and Atlantis.
Appearances
The Atlantean Beast version of Giganto appears in the Avengers Assemble episode "Beneath the Surface." It was summoned by Attuma's chief advisor Lady Zartra through the Serpent Crown so that her group can use Giganto to free Atlantis from Attuma's tyranny. During the misunderstood fight between the Avengers and Lady Zartra's group, Giganto swallowed Hawkeye until Thor and Hulk did a trick that caused Giganto to regurgitate Hawkeye. When Attuma uses an eel to claim the Serpent Crown, he unleashed Giganto on both groups. Using special sonic arrows, Hawkeye was able to disrupt the Serpent Crown's control on Giganto. After Attuma was defeated and the Serpent Crown was claimed by the Avengers, Giganto was freed from its control as it leaves the area. Giganto is shown to be relatively peaceful, content to swim around and only attacking when provoked.
Community content is available under
CC-BY-SA
unless otherwise noted.