"Gone with the Wand" is the sixty-ninth episode of the Disney Junior series, Sofia the First. It premiered on March 4, 2016, and is the fifteenth episode of the third season.
Plot
Cedric is working in his workshop when Sofia comes in. Sofia won a contest at school and the prize she won was an invitation to Merlin's castle. The invitation states that she's allowed to bring two guests and Sofia invites Cedric, to the sorcerer's joy. Cedric has always wanted to meet Merlin due to idolizing him. Suddenly, Cedric's sister Cordelia the Conjuror, and her daughter Calista come in and remind him he's supposed to watch the latter. Calista is revealed to be going through a kleptomaniac phase where she takes things without asking especially anything red. At first, Cedric fears he can't go meet Merlin until Sofia reminds him she can bring two guests.
The trio arrive at Merlin's castle Dragon Hold. After going inside, they hear a voice coming from a mirror. The voice is revealed to be Merlin's. Merlin comes out and reveals it's a spell he's working on. Cedric goes gaga over meeting Merlin who conjures up mushrooms. Calista sees a red hat and takes it but Sofia and her Uncle Ceddy insist that she put it back. Merlin then gives the trio a magical tour of his castle. During the tour, Merlin shows them the Dragonclaw Wand, which he used to defeat his arch-enemy, the evil enchantress Morgana.
The trio thank Merlin for the tour and leave. Sofia and Cedric both voice how happy they are until Calista reveals she took the Dragonclaw Wand, to their horror. Things get worse when Morgana appears and takes the wand from Calista. Fortunately, she can't use it because Merlin put a protection charm on it that makes it so that only he can use it. Cedric tries to get the wand back with a spell but Morgana reflects his spell back at him and escapes. After Cedric is freed by his niece, the trio head to Morgana's castle which is guarded by imps. After learning they are always hungry, Sofia comes up with the idea to use food to distract the imps and Calista conjures up cookies. The cookies distract the imps and the trio sneaks in the castle and finds it full of mirrors. Unfortunately, Calista sees a ruby and takes it, awakening a centaur who captures Cedric.
Sofia and Calista head back to Merlin's castle where the latter, at Sofia's urging, apologizes to Merlin. They sneak back into Morgana's castle using Merlin's mirror trick. They free Cedric and gets the Dragonclaw Wand back. Merlin defeats Morgana and traps her in the mirror. Calista is given the red hat she wanted earlier and promises to ask for things she wants from now on. 
Cast
Song
Gallery
Trivia
Cedric's sister and niece make their debut appearance in this episode.
Calista is the second known character in the series younger than Sofia. The first was Prince Chad in "Princess Adventure Club".
The title is a play on the book and the 1939 MGM feature film Gone with the Wind. The same Gone with the Wind play-of-words "Gone with the Wand" was previously used in the 1945 MGM Tex Avery cartoon Swing Shift Cinderella.
Merlin from The Sword in the Stone makes a guest appearance in this episode.
In this episode, Sofia wears the same gown she wore to her royal debut ball.
Aurora and Cinderella are mentioned in this episode. This is the third time Disney Princesses are mentioned on the show.

This is also the second time Cinderella is mentioned on the show, the first being "The Curse of Princess Ivy".

Calista's cookies were just like the plaid cookies in "Baileywick's Day Off".
Morgana's Imps share some similarities to Maleficent's Goons.
The line Morgana quotes "Mirror, Mirror in my hand, who is the baddest in the land" is a pun to the line quoted by The Evil Queen in Snow White and the Seven Dwarfs, when she asks the Magic Mirror who's the fairest of them all.
Archimedes painting made a cameo.
Moral: Never take things without asking.
International premieres
v - e - d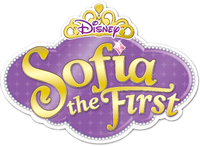 Characters
Princess Sofia • Queen Miranda • King Roland II • Prince James • Princess Amber • Princess Hildegard • Cedric the Sorcerer • Wormwood • Baileywick • Robin • Mia • Clover • Whatnaught • Goodwyn the Great • Winifred the Wise • Jade • Ruby Hanshaw • Princess Clio • Prince Zandar • Princess Jun • Prince Hugo • Minimus • Princess Vivian • Crackle • King Marcus and Queen Cecily • Trolls• Lucinda • Prince Jin • Magic Carpet • Jasper • Prince Khalid • Meg and Peg • Madam Ubetcha • Prince Desmond • Miss Nettle • Sir Gillium • Professor Popov • Helen Hanshaw • Oona • Queen Emmaline • Cora • Plank • Aunt Tilly • Wilbur the Wombeast • Sven • Emperor Quon • Empress Lin-Lin • Rex • Prince Axel • King Garrick • Electra • Vaughan and Vance • Marla • Sir Bartleby • Sir Maxwell • Sir Finnegan • Gwen • Chef Andre • Sofia the Worst • Lady Joy • Lord Gilbert • Wu-Chang • Jade Jaguar • Sir Dax • Boo • Princess Lani • Mamanu • Kamea and Halia • Praline • Freedo • Princess Zooey • Princess Astrid • Slickwell • Greylock the Grand • Princess Ivy • Dragons of Enchancia • Winter • Whiskers • Glacia the Ice Witch • Elliot, Amy, and Kurt • Tizzy • Master Erwin • Bryce Twigley • Button, Benngee, and Brody • Mossy • Carol of the Arrow • Jane • Princess Kari • Miss Elodie • Fluke • Slim • Shelly • Flip • Mantacorn • Onyx and Opal • Wendell Fidget • Mrs. Fidget • Saffron • Muck, Gunk, and Grime • Spruce • Ballerina • Mazzimo • Prince Roderick • Gavin • Kazeem • Sergeant Fizz • King Habib and Queen Farnaz • Chief Gnuckles • Flinch • Grotta • Elfonso • Elfred • Milo the Snake • King Henrik • Cordelia the Conjuror • Calista • Morgana • Crispy • Barley • Sassofras • Professor Zacharias Fleeber • Grand Mum • Gemina and Argus • Count Barnstorm • Sir Oliver • Sir Jaxon • Willawing • Kai • Princess Charlotte • Morris • Zinessa • King Philip and Queen Everly • Lily • Indigo • Marty and Maple • Mandy • Grimtrix • Wriggley, Pumpkin, and Chester • Skye • Piccolo • Baron Von Rocha • Professor Pecullian • Sea Monsters • Malachite and Fig • Omar • Prisma • Azurine • Orion • Vega • Chrysta • Sizzle • Cinder • Singe • Mare of the Mist • King Roland I • Roma • Giggling Goblin • Captain Quivers • Twitch • Vor • Nerissa


Elena of Avalor: Princess Elena • Princess Isabel • Francisco • Luisa • Shuriki • Alacazar • Zuzo • Mateo • Migs, Luna, and Skylar • Rafa • Chancellor Esteban • Armando • King Raul and Queen Lucia • Naomi Turner
Guest Characters: Flora, Fauna, and Merryweather • Cinderella • Jasmine • Magic Carpet • Belle • Ariel • Aurora • Snow White • Mulan • Rapunzel • Tiana • Merida • Olaf • Merlin • Archimedes
Community content is available under
CC-BY-SA
unless otherwise noted.