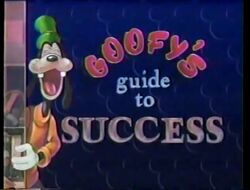 Goofy's Guide to Success is a television special that aired on the Disney Channel in 1990.
Plot
Through redubbed footage of Holiday for Henpecked Husbands (and other Goofy episode of the Walt Disney anthology series), Goofy wants to go golfing, but his wife keeps him home to do various chores first, leaving Goofy to wish he had a good job. His magical guardian fairy, Paddy O'Reilly, appears to propose various lines of work, as seen in various classic Disney cartoons.
Featured cartoons
Voice Cast
Gallery
Community content is available under
CC-BY-SA
unless otherwise noted.