| | |
| --- | --- |
| | Gopher (Winnie the Pooh) is a featured article, which means that it has been identified as one of the best articles produced by the Disney Wiki community. If you see a way this page can be updated or improved without compromising previous work, please feel free to contribute. |
This article is about the character from Winnie the Pooh. For the character from The Lion King, see Gopher (The Lion King).
Gopher is a character from Walt Disney Animation Studios's Winnie the Pooh franchise, first appearing in Winnie the Pooh and the Honey Tree.
Background
Development
Gopher is the only character in the original shorts that is an original character and not based on someone from the A.A. Milne books, a fact he notes in his first appearance when he says "I'm not in the book, you know!" Instead, he was initially developed by Disney as a replacement for Piglet. Apparently, the proposed character of Gopher was thought to have a more "folksy, all-American, grass-roots image" than Piglet. While American audiences loved the character, British audiences were less than pleased. Like most Pooh Bear characters, he's named after his own species.
Gopher is also known for his unique voice characterization. He tends to whistle his consonants, particularly his S's. This is lampshaded in his debut; when Pooh mimics Gopher while asking for honey, Gopher tells Pooh he should do something about his speech impediment.
Personality
Gopher has a very plain personality; he is rarely seen outside his burrow, so not much is known about him socially. He is generally a hard-worker, especially in his mine shafts (tunnels) and spends most of his time tediously working on them. Despite his low social life, Gopher is not a silent character, while talking to the other animals he has a habit of whistling out his sibilant consonants.
Appearances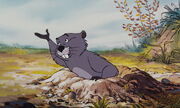 Gopher first appears in the featurette Winnie the Pooh and the Honey Tree. When Owl discovers that Pooh has become stuck in Rabbit's door, he asks Gopher, who is a self-proclaimed expert in excavation, to assist in removing Pooh. Gopher introduces himself, explaining that he "is not in the book." Gopher notes that the project is dangerous, and could take a few days. He offers to use dynamite but is refused, and so Gopher leaves, but falls down his own hole.
Later on that night, Gopher reappears, intent on eating his midnight snack. Gopher notes that he goes home for lunch, and produces his lunch box. He reveals that the contents include summer squash, salmon salad, succotash, spiced custard, and finally, honey. Pooh asks Gopher for a taste of the honey, to which Gopher agrees. But before Pooh can help himself, Rabbit interferes and confiscates the honey and places a sign on the ground that says, "Don't feed the bear." Gopher goes angry, and leaves in a huff, resulting in him falling down his own hole again.
When Pooh finally gets thin enough to be pulled out, Gopher joins all the other characters on helping to pull Pooh out by taking one of Roo's arms (who was in front of him), but he and Roo were pulling too hard, and cause Eeyore's tail (which Roo was pulling on) to fall off, resulting in Gopher falling down his own hole for the third time. He later emerges again, noting that Pooh, who was finally shot out from Rabbit's role, is about to fly out of the book, and urges the book to turn the page, which it does, resulting in Pooh landing in the Honey Tree's hole.
In Winnie the Pooh and the Blustery Day, Gopher makes a minor appearance at the beginning. He notes to Pooh that it is "Winds-Day", inspiring Pooh to go and wish all his friends a Happy Winds-Day. He appears again at the end, when the main characters are cheering for Pooh and Piglet by bouncing them up and down with a sheet, above Gopher's hole. Gopher pops out, wondering what the commotion was about, when Pooh and Piglet accidentally land on him, sending him down his hole (again).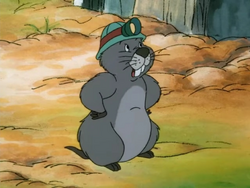 In The New Adventures of Winnie the Pooh, Gopher's character has a very prominent role. He is the fourth most common character in the series, after Pooh, Piglet, Tigger and Rabbit. He appeared in 42 of the 82 episodes. He is shown to be a bit of a workaholic and is obsessed with dynamite. His various conflicts often Rabbit, as Gopher's various plans often take place underneath Rabbit's garden.
In the episode "Fish Out of Water", Gopher is forced to move in with Rabbit temporarily after a fish migration takes over his tunnels.
In the episode "Lights Out", Rabbit secretly borrows Gopher's helmet. Gopher becomes scared of the dark, and whenever someone says 'Dark', he freaks out, but he soon conquers his fear and helps Piglet find the others in the tunnel.
One of Gopher's most notable episodes was "Pooh Skies", in which Pooh has "broken" the sky. Pooh and the others move in with Gopher to protect themselves from the fallen sky. Gopher, unhappy with the idea, helps Pooh to go up to the sky and successfully "fix" it.
The episode "To Dream the Impossible Scheme" introduced Gopher's Grandpappy, who, unlike Gopher, prefers to dream about things rather than do them.
In the episode "Sham Pooh", Pooh lost his appetite and Owl thinks that Pooh is missing. So, Gopher switched places with Owl after Owl switches places with Pooh. Although, when he tries to fly, he ended up falling down.
In "Winnie the Pooh and Christmas Too", Gopher helps Rabbit, Tigger, and Eeyore in choosing a Christmas Tree. He does so reluctantly, as he apparently hibernates during the winter (and so Tigger has to wake him up using a loud alarm clock).
In the special "Boo to You Too! Winnie the Pooh", Gopher takes part in a "competition" for the best Halloween costume. He dresses up as: Eeyore (whom he confuses with yak), Rabbit (whom he confuses with muskrat), Pooh, and Piglet. This special was included in Pooh's Heffalump Halloween Movie.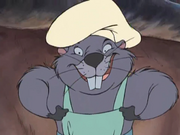 In "A Winnie the Pooh Thanksgiving" special, Gopher is first seen peeking out of his home-hole to see Pooh sing his Thanksgiving song. He later is seen bringing a barrel of lemonade for Thanksgiving dinner along with Pooh, Piglet, Eeyore, and Owl. Gopher is also seen later on following Rabbit's "proper" plans for Thanksgiving dinner. He makes the pumpkin pie (utilizing dynamite).
Gopher, with a similar design to his portrayal in the New Adventures of Winnie the Pooh, makes a cameo appearance in the episode "Terminal Pete". He plays a prominent role as a destructive pest that Pete's daughter, Pistol adopts as a pet. In this appearance, Gopher does not speak and only makes animal noises as an actual gopher does. The cameo appearance was subtly acknowledged by the writers as the character is referred to as "Gopher" throughout the episode.
He briefly cameos again in the episode "Bringin' on the Rain".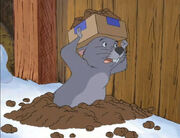 Gopher makes minor appearances in the 2002 Christmas special-feature A Very Merry Pooh Year. He only has three lines. To date, this is Gopher's last appearance in the Winnie the Pooh films and specials as he only appears in flashbacks in the was-coming movies (Pooh's Heffalump Halloween Movie).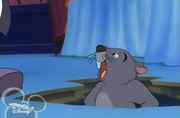 Gopher has sometimes made cameo appearances as one of the guests at the club. He helps Mickey by stopping Goofy ruining Max's date in the episode "Max's Embarrassing Date". He digs underneath the club, so Goofy falls in it. Mickey jokingly says that there are probably termites in the club to which Gopher jokingly replies: "Well, I'm an awfully big termite."
Gopher makes a minor appearance, only appearing in the "Boo to You" sequence.
Video games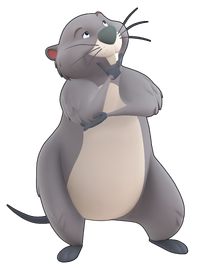 Gopher is a resident of the 100 Acre Wood and a friend of Pooh. Though the 100 Acre Wood appears in previous games, Gopher does not appear until Kingdom Hearts II. This makes him one of only two Pooh characters in Kingdom Hearts II that do not appear in the first Kingdom Hearts game, the other being Kanga.
Gopher has a minor role in the 100 Acre Wood's storyline. He appears three times, the first at Piglet's House warning Pooh of "Windsday" (as he did in Winnie the Pooh and the Blustery Day). His second appearance is at the Spooky Cave helping Sora search for Pooh. His final appearance is at Starry Hill saying goodbye to Sora.
He is also part of the Hunny Slider mini-game, serving as a buffer between Pooh and various obstacles.
Gopher returned in Kingdom Hearts III, where he helps Sora get Pooh some honey.
Gopher has a spell card known as "Gopher's Demolition Dynamite" in the attraction Sorcerers of the Magic Kingdom.
In Pooh's Hunny Hunt at Tokyo Disneyland, Gopher is seen in the storybook pages along with Pooh and the others.
In Winnie the Pooh and Friends, too!, Gopher appears popping out of his hole to warn Pooh of the blustery day ahead of him and his friends right before they go on an adventure.
Gopher appears as an audio-animatronic in the dark attraction. He can be seen during the Blustery Day section telling Pooh that it's Windsday. In the Magic Kingdom version, Gopher can be seen in Rabbit's garden popping out of his holes.
Gallery
Trivia
Gopher is the only major animal character not once seen as a stuffed toy in Christopher Robin's room.
Gopher's lack of roles in future films such as the 2011 film could be due to Disney's intention to adapt A.A. Milne's stories more closely (Gopher was to appear in the stories but was turned down, hence his "I'm not in the book" comment in Winnie the Pooh and the Honey Tree).
Kingdom Hearts III ended the 13-year-long absence of Gopher since Pooh's Heffalump Halloween. Notably, the character appears alongside Lumpy, marking the first time that the two have been seen together within the Pooh franchise.
Gopher's design is actually a modified Mr. Busy the beaver from Lady and the Tramp, and he even has the same accent. When Gopher talks about the possibility of using dynamite in Honey Tree, some animation of the Beaver is reused for this.
In My Friends Tigger and Pooh, Tigger asked Beaver (who was designed after both Gopher and Mr. Busy) to guess a password believing he wouldn't know. He guessed it correctly and Tigger responded by sadly saying, "I miss Gopher."
Although he didn't appear in the 2011 film or any appearances after Pooh's Heffalump Halloween Movie to date, he makes an appearance on one of the newly-made spell cards for Sorcerers of the Magic Kingdom and is seen in one of the re-dubbing series, The Mini Adventures of Winnie the Pooh. Strangely, Gopher isn't redubbed by his current voice actor, Michael Gough, similar to Kanga.
On Gopher's mailbox, his name is spelled GOFUR.
According to the Little Golden Book

Winnie the Pooh Meets Gopher

, his full name is Samuel J. Gopher. Also in the book, Gopher is colored brown rather than gray.
Gopher didn't make an appearance in Christopher Robin, despite being a sequel to the animated franchise. This could be due to his hard-working nature, which would be against the film's message of spending more time with family and friends instead of working, to stay more true to the books, or because gophers aren't native to England.
In the Danish version, Gopher's name was Max.
References
v - e - d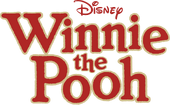 Songs
Movie Songs
Winnie the Pooh and the Honey Tree: "Winnie the Pooh" • "Up, Down, Touch the Ground" • "Rumbly in My Tumbly" • "Little Black Rain Cloud" • "Mind Over Matter"
Winnie the Pooh and the Blustery Day: "A Rather Blustery Day" • "The Wonderful Thing About Tiggers" • "Heffalumps and Woozles" • "Rain, Rain, Rain Came Down, Down, Down" • "Hip-Hip-Hooray!"
Boo to You Too! Winnie the Pooh: "I Am Not Afraid" • "I Wanna Scare Myself"
Pooh's Grand Adventure: The Search for Christopher Robin: "Forever & Ever" • "Adventure is a Wonderful Thing" • "If It Says So" • "Wherever You Are" • "Everything is Right"
A Winnie the Pooh Thanksgiving: "Hooray, Hooray!" • "Berrily We Roll Along" • "Our Thanksgiving Day" •
Winnie the Pooh: Seasons of Giving: "Seasons of Giving"
The Many Songs of Winnie the Pooh: "It Really Was a Woozle, Yes it Was"
Sing a Song with Pooh Bear: "Kanga Roo Hop" • "Harvest What You Grow" • "My Song"
Winnie the Pooh: A Valentine for You: "Girls are Like Boys" • "When the Love Bug Bites" • "Places in the Heart"
Winnie the Pooh: A Very Merry Pooh Year: "Jingle Bells" • "Snow Snows" • "Happy Pooh Year" • "Hunny, No Not For Me" • "Auld Lang Syne"
The Tigger Movie: "Someone Like Me" • "Whoop-de-Dooper Bounce" • "Lull-a-Bee" • "Round My Family Tree" • "How to Be a Tigger" • "Your Heart Will Lead You Home"
Piglet's Big Movie: "If I Wasn't So Small" • "A Mother's Intuition" • "With a Few Good Friends" • "Sing-Ho (For the Life of a Bear)" • "The More It Snows (Tiddely-Pom)" • "The More I Look Inside" • "Comforting to Know"
Springtime With Roo: "We're Huntin' Eggs Today" • "Sniffley Sniff" • "Easter Day With You" • "The Way It Must Be Done"
Pooh's Heffalump Movie: "Little Mr. Roo" • "The Horribly Hazardous Heffalumps" • "The Name Game" • "Shoulder to Shoulder" • "In the Name of the Hundred Acre Wood/What Do You Do?"
Pooh's Heffalump Halloween Movie: "Trick 'R Treating With Our Friends" • "Brave Together"
Winnie the Pooh: "The Tummy Song" • "A Very Important Thing to Do" • "The Winner Song" • "The Backson Song" • "It's Gonna Be Great" • "Everything is Honey" • "Pooh's Finale"
Christopher Robin: "Goodbye, Farewell" • "Busy Doing Nothing" • "Christopher Robin"
Television Songs
Welcome to Pooh Corner: "Welcome to Pooh Corner Theme Song" • "Try a Little Something New" • "The Right Side" • "Yes, I Can" • "You're the Only You" • "I Hum to Myself" • "Please and Thank You" • "Responsible Persons" • "You're the One and Only One" • "Welcome to Pooh Corner Ending Theme"
The New Adventures of Winnie the Pooh: "Pooh Bear" • "'Cause It's Make Believe" • "The Floating Song" • "Nothing's Too Good for a Friend" • "Under the Bed" • "I Don't Have A Name" • "King of the Beasties" • "The End" • "Pirates is What We'll Be" • "Tigger the Private Ear is Here"
The Book of Pooh: "Everyone Knows He's Winnie the Pooh" • "Goodbye for Now" • "Your Best Wishes" • "On the Double" • "Who is Me" • "Think, Think, Think" • "What Piglets Are" • "I Watch for Signs" • "We're Making a Cake" • "If I Could Be Big" • "Isn't That Funny?" • "Everyone Wants a Valentine" • "That's What We Do" • "Keep it Simple" • "Have You Got a Book For Me?" • "Give It a Try" • "On Your Way Back Home" • "The Birdbird Song" • "Nightmare Wranglers" • "Carry On" • "What's Your Name, River" • "Where Do Words Go?" • "Under a Spelling Bee's Spell" • "Adventure" • "Mental Altitude" • "I Want to Know Everything Now" • "Happy Tailiversary" • "Get Growin'" • "Tigger's Lullaby" • "Perfect Party" • "If We Were Talkin'" • "Someone New to Meet" • "My Hero" • "Broken Friendships" • "Do the Roo" • "Call Me Buck-a-Roo" • "At Chez Piglet" • "Nothing Ever Happens" • "Too Much Honey" • "Lost in a Book"
My Friends Tigger and Pooh: "A Few Simple Rules" • "Bouncin'" • "The Grass is Greenier" • "The Password Song" • "Underneath the Same Sky" • "One Big Happy Family" • "Think, Think, Think" • "The Question Song" • "Floating in a Cloud" • "Different Can Be Good" • "The Little Things You Do" • "There's a Party" • "No More Fun In the Snow" • "Butterflies" • "What Makes a Pony a Pony" • "When We Work Together" • "Christmas Comes Tomorrow" • "Time to Go (On a Trek Through the Snow)" • "Snowman Song"
Miscellaneous: "Luv-a-bye" • "Playtime Song" • "Learning Song" • "Friendship Song" • "Snug as a Bear Can Be" • "The Scrapbook Song"

v - e - d
Characters
Main Characters: Sora • Riku • Kairi • King Mickey • Donald Duck • Goofy • Roxas • Axel/Lea • Naminé • Xion • Aqua • Terra • Ventus


Villains: Xehanort • Ansem • Xemnas • Maleficent • Pete • Vanitas • Xigbar/Braig • Xaldin • Vexen • Lexaeus • Zexion • Saïx/Isa • Demyx • Luxord • Marluxia • Larxene • Terra-Xehanort • Young Xehanort • Xehanort's Guardian
Other Characters: Jiminy Cricket • Ansem the Wise/DiZ • Yen Sid • Master Eraqus • Dilan • Even • Aeleus • Ienzo • Lingering Will • Hayner • Pence • Olette • Kairi's Grandma • Riku Replica • Jiminy's Journal • Foretellers • Master of Masters • Luxu • Ephemer • Skuld • Chirithy • Lauriam • Elrena
Original Monsters: Heartless • Nobodies • Unversed • Dream Eater
Disney Characters introduced in Kingdom Hearts: Queen Minnie • Daisy Duck • Pluto • Chip and Dale • Huey, Dewey, and Louie • Magic Brooms • Alice • White Rabbit • Doorknob • Cheshire Cat • Queen of Hearts • Card Soldiers • Tarzan • Jane Porter • Clayton • Terk • Kerchak • Kala • Sabor • Hercules • Philoctetes • Hades • Cerberus • Rock Titan • Ice Titan • Aladdin • Abu • Jasmine • Genie • Carpet • Jafar • Iago • Peddler • Cave of Wonders • Pinocchio • Geppetto • Monstro • Cleo • Ariel • Flounder • Sebastian • Ursula • King Triton• Flotsam and Jetsam • Glut • Jack Skellington • Zero • Sally • Oogie Boogie • Lock, Shock, and Barrel • Dr. Finkelstein • Mayor of Halloween Town • Peter Pan • Tinker Bell • Captain Hook • Mr. Smee • Wendy • Crocodile • Merlin • Winnie the Pooh • Tigger • Piglet • Eeyore • Rabbit • Owl • Roo • Bees • Beast • Belle • Snow White • Cinderella • Fairy Godmother • Aurora • Pongo • Perdita • Dalmatian Puppies • Simba • Mushu • Dumbo • Bambi • Chernabog
Disney Characters introduced in Kingdom Hearts II: Flora, Fauna, and Merryweather • Maleficent's Raven • Scrooge McDuck • Mulan • Li Shang • Shan Yu • Hayabusa • Yao, Ling, and Chien Po • The Emperor • Lumiere • Cogsworth • Mrs Potts • Chip • Wardrobe • Pegasus • Megara • Pain and Panic • Hydra • Horace Horsecollar • Clarabelle Cow • Clara Cluck • Jack Sparrow • Elizabeth Swann • Will Turner • Captain Barbossa • Bo'sun • Jacoby • Twigg • Cursed Crew • Prince Eric • Attina • Andrina • Santa Claus • Skeletal Reindeer • Timon • Pumbaa • Nala • Rafiki • Scar • Shenzi, Banzai, and Ed • Mufasa • Kiara • Pridelanders • Hyenas • Tron • Master Control Program • Commander Sark • Kanga • Gopher • Stitch • Chicken Little
Disney Characters introduced in Birth by Sleep: Prince Phillip • Maleficent's Goons • Doc • Grumpy • Happy • Sleepy • Bashful • Sneezy • Dopey • The Prince • Evil Queen • Magic Mirror • Prince Charming • Jaq • Lady Tremaine • Anastasia • Drizella • Lucifer • Grand Duke • Grand Councilwoman • Captain Gantu • Jumba • Experiment 221 • Lost Boys
Disney Characters introduced in Dream Drop Distance: Quasimodo • Esmeralda • Phoebus • Judge Claude Frollo • Victor, Hugo, and Laverne • Kevin Flynn • Sam Flynn • Quorra • CLU • Rinzler • Black Guards • Blue Fairy • Beagle Boys • Chernabog's Minions • Julius
Disney Characters introduced in Kingdom Hearts χ: Mad Hatter • March Hare • Razoul • Royal Guards • Maurice • Gaston
Disney Characters introduced in Kingdom Hearts Union χ: Sultan • Samson • Vanellope von Schweetz • Fix-It Felix Jr. • Sergeant Calhoun • King Candy • Sour Bill • Cy-Bugs • Hero's Duty Troops
Disney Characters introduced in Kingdom Hearts III: Zeus • Apollo • Athena • Hermes • Lava Titan • Tornado Titan • Little Chef • Woody • Buzz Lightyear • Rex • Hamm • Sarge • Green Army Men • Little Green Men • Rapunzel • Flynn Rider • Pascal • Maximus • Mother Gothel • Sulley • Mike Wazowski • Boo • Randall Boggs • Child Detection Agency • Trailer Son and Mom • Elsa • Anna • Kristoff • Olaf • Sven • Marshmallow • Hans • Mr. Gibbs • Tia Dalma • Davy Jones • Kraken • Cutler Beckett • Baymax • Hiro Hamada • Go Go Tomago • Honey Lemon • Fred • Wasabi • Lumpy • Wreck-It Ralph
Disney Characters introduced in Kingdom Hearts Dark Road: Tweedledee and Tweedledum
Disney Characters introduced in the manga: Caterpillar • Chi-Fu
Square Enix Characters: Leon • Cloud • Moogle • Others
v - e - d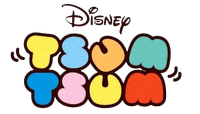 Disney
Mickey & Friends:

Mickey • Minnie • Donald • Daisy • Goofy • Pluto • Chip and Dale • Oswald • Ortensia • Duffy • ShellieMay • Gelatoni • StellaLou • CookieAnn • 'Olu Mel • Huey, Dewey, and Louie • José Carioca • Panchito Pistoles • Clarabelle Cow • Horace Horsecollar • Max Goof • Clarice • Pete • Scrooge McDuck • Ludwig Von Drake • Dr. Frankenollie • Julius

Pooh and Pals: Pooh • Tigger • Piglet • Eeyore • Rabbit • Owl • Roo • Kanga • Gopher • Christopher Robin • Lumpy
Lilo & Stitch: Stitch • Lilo • Scrump • Pleakley • Jumba • Angel • Leroy • Dr. Hämsterviel • Ugly Duckling • Sparky • 627 • Gigi • Babyfier • Yang • Slushy • Shortstuff • 625 • Amnesio • Dupe • Sample • Clip • Tank • Yin • Hunkahunka • Plasmoid
Silly Symphonies: Donald Duck • Big Bad Wolf • Practical Pig • Fiddler Pig • Fifer Pig • Ugly Duckling
Snow White and the Seven Dwarfs: Snow White • Evil Queen • Doc • Grumpy • Happy • Bashful • Sneezy • Sleepy • Dopey
Pinocchio: Pinocchio • Jiminy Cricket • Figaro • Cleo • Geppetto • Blue Fairy • Honest John and Gideon • Lampwick • Monstro
Fantasia: Mickey • Yen Sid • Chernabog • Hyacinth Hippo • Ben Ali Gator
Dumbo: Dumbo
Bambi: Bambi • Thumper • Miss Bunny • Friend Owl • The Great Prince of the Forest
The Three Caballeros: Gauchito • Burrito
The Adventures of Ichabod and Mr. Toad: Mr. Toad
Cinderella: Cinderella • Jaq and Gus • Prince Charming • Fairy Godmother • Lady Tremaine • Lucifer • Suzy • Perla • Bruno
Alice in Wonderland: Alice • Mad Hatter • March Hare • Dormouse • White Rabbit • Cheshire Cat • Tweedle Dum and Tweedle Dee • Queen of Hearts • King of Hearts • Caterpillar • Dinah • Oysters
Peter Pan: Peter Pan • Tinker Bell • Wendy Darling • John Darling • Michael Darling • Captain Hook • Mr Smee • Nana • Tick Tock • Tiger Lily
Lady and the Tramp: Lady • Tramp • Si and Am • Jock • Trusty • Peg
Sleeping Beauty: Aurora • Phillip • Maleficent • Flora • Fauna • Merryweather • Diablo • Samson • King Stefan • Goon • Owl • Rabbit
Mary Poppins: Mary Poppins • Bert • Penguin Waiter • Carousel Horse
One Hundred and One Dalmatians: Cruella De Vil • Lucky • Patch • Rolly
The Jungle Book: Mowgli • Baloo • Bagheera • Shere Khan • Kaa • King Louie • Hathi, Jr. • Raksha
Pete's Dragon: Elliott
The Fox and the Hound: Tod • Copper
The Aristocats: Marie • Berlioz • Toulouse • Duchess • Thomas O'Malley
The Rescuers: Bernard • Bianca
Oliver & Company: Oliver • Dodger • Tito • Rita • Francis • Einstein
The Little Mermaid: Ariel • Flounder • Sebastian • Eric • Ursula • Triton • Max • Scuttle
Beauty and the Beast: Belle • Beast • Lumiere • Cogsworth • Mrs. Potts • Chip • Maurice • Philippe • Gaston • LeFou
Aladdin: Aladdin • Abu • Genie • Jasmine • Jafar • Sultan • Iago • Rajah
The Nightmare Before Christmas: Jack Skellington • Sally • Zero • Lock, Shock, and Barrel • Oogie Boogie • Dr. Finkelstein • Mayor of Halloween Town • Santa Claus
The Lion King: Simba • Nala • Timon • Pumbaa • Zazu • Rafiki • Scar • Ed
Pocahontas: Pocahontas • John Smith • Meeko • Flit • Percy
Hercules: Hercules • Megara • Hades
Mulan: Mulan • Li Shang • Mushu • Fa Zhou • Khan
The Emperor's New Groove: Kuzco • Yzma • Kronk
Mickey, Donald, Goofy: The Three Musketeers: Mickey Mouse • Minnie Mouse • Donald Duck • Goofy
Chicken Little: Chicken Little
The Princess and the Frog: Tiana • Dr. Facilier
Tangled: Rapunzel • Flynn Rider • Pascal • Maximus • Mother Gothel • Queen Arianna • King Frederic • Cassandra • Fidella • Pub Thug
Wreck-It Ralph: Wreck-It Ralph • Fix-It Felix Jr.
Frozen: Anna • Elsa • Olaf • Kristoff • Sven • Hans • Snowgies • Bruni
Big Hero 6: Hiro • Baymax • Fred • Wasabi • Honey Lemon • Go Go Tomago • Tadashi Hamada • Yokai • Mochi
Zootopia: Judy Hopps • Nick Wilde • Mayor Lionheart • Flash • Yax • Gazelle • Chief Bogo • Clawhauser • Finnick • Mr. Big • Bellwether • Jerry Jumbeaux Jr.
Moana: Moana • Maui • Pua • Heihei • Tamatoa • Kakamora
Chip 'n Dale Rescue Rangers: Chip • Dale • Gadget • Monterey Jack
Phineas and Ferb: Perry
The Lion Guard: Kion • Ono • Bunga • Beshte • Fuli
DuckTales (2017): Scrooge McDuck • Huey, Dewey, and Louie • Webby Vanderquack
Kingdom Hearts: Sora • Riku • Kairi • Aqua • Xemnas • Ansem, Seeker of Darkness • Ventus • Terra • Chirithy • Lea • Young Xehanort
UniBEARsity: Mocha • Pudding • Whip • Puffy • Mont • Blanc • Souffle • Blue Rose • Charmant • Portiron • Rogue Rose • Fauve • Lucien • Horloge • La Mer • Ma Puce
Sofia the First: Sofia • Minimus • Skye
Elena of Avalor: Elena
Enchanted: Giselle
Disney Fairies: Periwinkle • Rosetta • Silvermist
The Sword in the Stone: Wart • Merlin
Oliver & Company: Oliver
Raya and the Last Dragon: Raya • Sisu
Twisted Wonderland: Grim • Riddle Rosehearts • Azul Ashengrotto • Leona Kingscholar • Kalim Al-Asim • Vil Schoenheit • Idia Shroud • Malleus Draconia • Dire Crowley • Mirror of Darkness