Governor Kevin is a fictional character created for the Disney TV cartoon Teamo Supremo. Being the governor, he runs the state that the show takes place in, but always calls up Crandall, Hector, and Brenda to take care of any villains that are running amok in the state. His voice is provided by Martin Mull.
Kevin apparently seems to have his mind stuck in the 1970s. This is made note of in several episodes, and is even made obvious by his dialogue. Examples of his 1970s dialect include "Hey, you kids have some funky fresh moves!" and "You kids really have your groove thang goin' today!" Also, the suit he wears when dancing in the show's closing credits is obviously 1970s-esque. It has also been revealed that he is color-blind.
Kevin is said to have a rather large ego. This is especially evident in one episode where he is ousted from his title by Helius Inflato. Also among Governor Kevin's personal enemies is high school rival William Aloysius Wynn, whom he beat for high school president. Wynn since became a rival governor candidate with the alias Will 2 Wynn, getting support from several of Teamo's enemies.
Oddly enough, Kevin is drawn with eyelashes, a trait that is uncommon among cartoon men. These eyelashes, however, could perhaps be a side-effect to his aforementioned color-blind. In spite of having eyelashes, Kevin has been shown to be straight. His girlfriend from high school, Viva Voom, was featured in the show's obscure Valentine's Day episode. They don't usually see each other often due to their careers, but still have their relationship.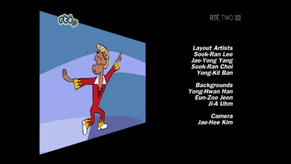 Community content is available under
CC-BY-SA
unless otherwise noted.