"If you've ever taken a road trip through the Pacific Northwest, you've probably seen a bumper sticker for a place called Gravity Falls. It's not on any maps, and most people have never heard of it. Some people think it's a myth. But if you're curious, don't wait. Take a trip. Find it. It's out there somewhere in the woods, waiting."

Gravity Falls is an American animated television series, created by Alex Hirsch (writer for Cartoon Network's The Marvelous Misadventures of Flapjack and Disney Channel's Fish Hooks). The first episode aired as a preview on June 15, 2012, with the official premiere on June 29. On February 15-16, 2014, Disney Channel announced that Gravity Falls would move to Disney XD along with Wander Over Yonder, but would still air on Disney Channel as part of "Disney XD on Disney Channel". It premiered on August 1, 2014, on Disney Channel and August 4, 2014, on Disney XD. However, starting in the second season, Disney XD aired new episodes first, then on Disney Channel as part of the channel's "Disney XD on Disney Channel" block. Despite this, "Scary-oke" and "Little Gift Shop of Horrors" originally premiered on Disney Channel. The show aired its final episode, "Weirdmageddon Part 3: Take Back the Falls" on February 15, 2016, on Disney XD and on February 19, 2016, on Disney Channel, as an hour-long finale.
Plot
Dipper and Mabel Pines are mystery twins. They are in for when they are sent off to spend the summer with their great uncle in the mysterious town of Gravity Falls, Oregon. Upon their arrival, Dipper and Mabel's huckster great uncle, Grunkle Stan, enlists the siblings' help in running the Mystery Shack, a tourist trap he owns that overcharges unsuspecting customers. Although Dipper and Mabel quickly discover that the Mystery Shack itself is a hoax, they soon discover that there is something truly strange about their new town, and together they begin to unlock the real secrets of Gravity Falls.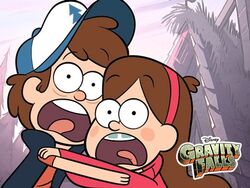 Thrust into their new summer home, the twins try to adapt to their strange surroundings, and especially to their Grunkle (great uncle) Stan, whose insatiable appetite for money drives him to spin every opportunity into a financial advantage. While Dipper grumbles about the prospect of the same boring routine of working at Grunkle Stan's hokey tchotchke shop, his extremely, optimistic sister seizes the chance to seek out an epic summer romance.
However, summer becomes much more interesting for the siblings after Dipper inadvertently uncovers a cryptic journal in the woods that offers insight into the strange and wondrous mysteries of Gravity Falls. Before long, Dipper begins to notice the town's idiosyncrasies, and with the book in tow and his enthusiastic desire to vanquish evil, he sets out to investigate the village secrets. Trapped together in the small isolated town, the siblings quickly realize they need each other to battle the imminent mysteries lurking in Gravity Falls. Meanwhile, when he isn't busy trying to make a quick buck from his unsuspecting customers, Grunkle Stan guards his own secret that might hold the key to unlocking the mystery of Gravity Falls.
Production
The series, created, directed, and executive-produced by 2007 California Institute of the Arts (CalArts) graduate Alex Hirsch (Fish Hooks, The Marvelous Misadventures of Flapjack), is a production of Disney Television Animation. Set in the Pacific Northwest woods, the animated series features supernatural elements of adventure and mystery, inspired by the real-life summer trips shared by Hirsch and his twin sister while visiting relatives as kids.
"Mabel is going to be one of the breakout characters of the show. I really owe it to my sister and her many quirks. When we were growing up, my sister was obsessed with the boy band 'N Sync. She even broke her toe jumping up and down during one of their concerts. So, we did a show about a boy band, and of course, I had to get Lance Bass to do the voice of the singer. I had my sister fly down to meet him. She also always wanted to have a pet pig when we were kids, so I gave Mabel a pet pig on the show, and she can live vicariously through her. She owes me big!"
The town of Gravity Falls was inspired by various towns and national parks Alex Hirsch has spent time in, but particularly one town, Boring, Oregon. As Hirsch has commented "We passed a sign for Boring, Oregon. We never went there, but I was positively enchanted with the idea that there was a town called Boring; Gravity Falls is partially from what I imagine Boring might be like. Or maybe the opposite of Boring, Oregon, would be Gravity Falls."
Characters
Main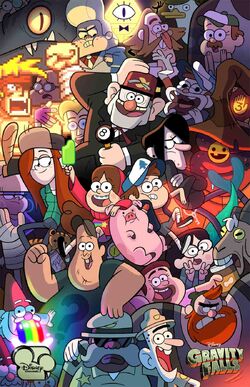 Recurring
Guest Stars
Secrets of the Show
Within the end credits of each episode is a cryptogram that can be solved based on a hint given at the end of the show's opening theme. During the last few seconds, a whisper can be heard that, when reversed, says "Three Letters Back". This is a Caesar cipher, which, in this case, uses a letter three places back from the letter it represents (e.g., A=X, Z=W, etc.) and is used from episode 101 ("Tourist Trapped") to episode 106 ("Dipper vs. Manliness").
Starting with episode 107 ("Double Dipper"), the cryptogram must be solved using the Atbash substitution cypher, which reverses the alphabet (meaning that A=Z, B=Y, and so on). This is signaled by the message at the end of Dipper vs. Manliness, which states "MR. CAESARIAN WILL BE OUT NEXT WEEK. MR. ATBASH WILL SUBSTITUTE," and the whisper was changed accordingly. After the song ends, a creature similar to the Eye of Providence is flashed. In some episodes, it is surrounded by symbols that appear in the show and various messages, including a matrix, the Konami Code, an the encoded words "Stan is not what he seems". Earlier in the opening, Bigfoot passes the camera, and performs the pose made famous by the Patterson film. A mysterious man that showed up in the background was shown to be a time traveler in the episode "The Time Traveler's Pig".
Every episode has a unique, non-repeating "secret message" at the end of its credit scene. The key for decoding the secret message is always incorporated in the opening theme-song scene. In order to deduce the decoder, one must first listen to the theme song backwards. Consequently, the theme song changes across some episodes. The latest decoder, for example, for episode 14 says "26 letters," and the code in the credits are a series of numbers (which, in this case, corresponds to the letter in that position in the alphabet (hence the "26 letters" in the opening theme), and at the end of the theme song, the whispering sounds at the end are played backwards in three letters. If you forward the whispering it sounds like "I'm still here". Bill Cipher is also seen on many things in Gravity Falls.
Trivia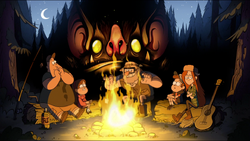 Gravity Falls is the second Disney show with an LGBT lead character (Wendy), the first being The Owl House (Amity Blight and Luz Noceda). Even though Gravity Falls predates The Owl House, Amity and Luz were confirmed to be LGBT before Wendy.
Unlike recent Disney Channel/Disney XD cartoons, such as Phineas and Ferb, Wander Over Yonder, and Fish Hooks, Gravity Falls does not have two episodes in one 30-minute time slot, instead using the entire 30 minute time slot for one episode, like the live-action shows.

Additionally, rather than starting with an opening theme, Gravity Falls starts with a cold open and then has the opening theme song, similar to other Disney Channel live-action TV shows and older Disney Channel cartoons.

Dipper and Mabel are based on the show's creator, Alex Hirsch, and his twin sister, Ariel Hirsch.
Gravity Falls is animated in Korea by Digital eMation, Inc. and Rough Draft Studios Korea Co., Ltd.
The first episode, "Tourist Trapped", was available as a free HD/SD download off the US iTunes Store, for a limited time.
Gravity Falls was mentioned on the Cartoon Network series MAD.
In the opening theme when it shows the trees, if you look closely, you can see a quick glimpse of Bigfoot.
The reason why some characters have four fingers and others have five was an aesthetic choice. In the character designing phase, it was decided some characters simply looked better with five fingers over four. Michael Rianda has stated that for various reasons they should have kept it consistent, so the audience should just pretend everyone has five fingers. Most adult characters have five fingers, while all children characters have four (except for Li'l Gideon so far.)
In the early promotional material of Dipper's postcard home has a few strands of Joe Pitt's real hair.
Disney had originally planned for an 8-month long hiatus in between "Summerween" and "Boss Mabel" instead of the four-month long one that it had.
Gravity Falls is loosely based off a small Oregon town, Boring, OR, that Alex Hirsch had never visited but actually passed by.
'The Mystery Shack' does exist, but is known as the 'Mystery Spot', and is located in Santa Cruz, California.
The town was also made from a mish-mash of national parks from the area, including a paranormal area known as 'the Oregon Vortex'.
Reception
Ratings
A special preview of the series following the Disney Channel Original Movie Let It Shine, was watched by 3.4 million viewers. The series garnered high views on its fifth episode, which aired on July 13, 2012, and attracted 3.6 million viewers. On August 10, 2012, the episode "Double Dipper" was watched by 4.18 million viewers and recorded Disney Channel's best ratings with regular programming in more than 6 months in Total Viewers, Kids 2-11 and Kids 6-11, and in more than 7 months in children and teens 9-14 – since 2/3/12 and 1/6/12, respectively. Gravity Falls became the highest-rated program in the 'Night of Premieres' lineup that night, finishing with a higher rating than Jessie, A.N.T. Farm, My Babysitter's a Vampire, and Code: 9. The episode, "Little Dipper", is the least watched episode in the series with only 2.6 million viewers in Season 1.
When the series moved to Disney XD during its second season, ratings were not as high as the previous season, but it would become the highest rated show on the channel. "A Tale of Two Stans" became the highest-rated telecast ever on Disney XD, with 1.91 million viewers, this record would later be broken by the series finale "Weirdmageddon 3: Take Back the Falls" with 2.47 million viewers.
Critical Reception
The series has received universal acclaim. It currently holds a 8.7 rating on TV.com, and 8.9 rating from 10,222 users on IMDb.com. From critics, the show has received generally positive reviews. Brian Lowry of Variety stated, "The show has a breezy quality that should play to kids, and tickle some twinges of nostalgia among their parents." While the Los Angeles Times Robert Lloyd referred to the program as "..gently twisted, with some Disneyfied action and heart-warming folded in". In his review, David Hinckley of New York Daily News called Gravity Falls, "quirky and endearing", and offered praise for the character of Mabel Pines. Matt Blum, writing for Wired, favorably compared the show to Cartoon Network's animated program Regular Show and Disney Channel's animated program Phineas and Ferb, hailing Gravity Falls as "clever, strange, and somewhat poignant".
Gravity Falls was overall praised for its humor, overarching plot, deep and mysterious lore and managing to appeal to kids and adults, with most of these elements being severely more fleshed out and better implemented than previous Disney Channel cartoons. Not only is Gravity Falls often considered one the best animated shows, not just from Disney but from all-time, but it also set the stage for many elements that future Disney Channel/Disney XD cartoons would also use and incorporate more heavily than pervious animated shows, the most obvious examples being Star vs. the Forces of Evil and the DuckTales Reboot.
Fandom
Despite the fact that the series is relatively new, a primarily online-centered fanbase calling themselves Fallers has arisen, posting content on sites such as Tumblr, deviantArt, and various forums. Many fans have stated that they were recommended to the show through other fandoms, such as My Little Pony: Friendship is Magic and Adventure Time.
According to knowyourmeme.com, "shortly after the first episode's premiere, /co/ began to make threads about it, Although originally the reason for these threads was an excuse to avoid other threads related to The Legend of Korra, which also had a large peak in popularity at the time, Gravity Falls threads eventually grew to become a daily occurrence. On Tumblr, many blogs were made dedicated to the show hours after the sneak preview."
Awards and nominations
Year
Award
Category
Nominee
Result
2012
40th Annie Awards
Production Design in an Animated Television/Broadcast Production
Ian Worrel
Nominated
Voice Acting in an Animated Television/Broadcast Production
Kristen Schaal
Won
2013
2013 Teen Choice Awards
Choice TV: Animated Show
Gravity Falls
Nominated
41st Annie Awards
Best Animated TV/Broadcast Production For Children's Audience
Gravity Falls
Directing in an Animated TV/Broadcast Production
John Aoshima
Storyboarding in an Animated TV/Broadcast Production
Alonso Ramos-Ramirez
Golden Reel Award
Best Sound Editing in Television: Animation
Gravity Falls
PAAFTJ Television Awards
Best Animated Series
Gravity Falls
Best Directing for an Animated Series
John Aoshima for "Tourist Trapped"
Best Writing for an Animated Series
Michael Rianda & Alex Hirsch for "The Inconveniencing"
Best Voice Actor in an Animated Series
Alex Hirsch
Best Voice Actress in an Animated Series
Kristen Schaal
Best Artistic/Visual Achievement in an Animated Series
Phil Rynda (production design), Ian Worrel (art direction), Chris Houghton & 'C' Raggio IV (character design), and Mark Garcia (storyboard) for "Fight Fighters"
Best Main Title Theme Music (New Shows Only)
Gravity Falls
Won
2014
Kids' Choice Awards
Favorite Animated Animal Sidekick
Waddles
Nominated
66th Primetime Creative Arts Emmy Awards
Outstanding Individual Achievement in Animation
Ian Worrel for "Dreamscaperers"
Won
2014 Teen Choice Awards
Choice TV: Animated Show
Gravity Falls
Nominated
2015
42nd Annie Awards
Best Animated TV/Broadcast Production For Children's Audience
Gravity Falls
Won
Outstanding Achievement, Directing in an Animated TV/Broadcast Production
Rob Renzetti
Nominated
Outstanding Achievement, Storyboarding in an Animated TV/Broadcast Production
Luke Weber, Alonso Ramirez Ramos, Neil Graf & Steve Heneveld
5th Critics' Choice Television Awards
Best Animated Series
Gravity Falls
67th Primetime Creative Arts Emmy Awards
Outstanding Individual Achievement in Animation
Alonso Ramirez Ramos for "Not What He Seems"
Won
British Academy Children's Awards
International
Production team of Gravity Falls
2015 Teen Choice Awards
Choice TV: Animated Show
Gravity Falls
Nominated
2016
43rd Annie Awards
Best Animated TV/Broadcast Production For Children's Audience
"Not What He Seems"
Outstanding Achievement, Directing in an Animated TV/Broadcast Production
Matt Braly for "Northwest Mansion Mystery"
Won
Outstanding Achievement, Production Design in an Animated TV/Broadcast Production
Ian Worrel and Jeffrey Thompson for "Xpcveaoqfoxso (Weirdmageddon)"
Nominated
Outstanding Achievement, Writing in an Animated TV/Broadcast Production
Alex Hirsch, Shion Takeuchi, Josh Weinstein, Jeff Rowe, and Matt Chapman for "Not What He Seems"
Kids' Choice Awards
Favorite Cartoon
Gravity Falls
Peabody Awards
Children's Programming
Gravity Falls
2016 Teen Choice Awards
Choice TV Show: Animated
Gravity Falls
Videos
Gallery
External links