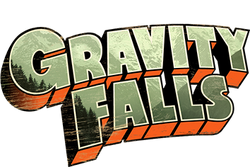 The following is a list of episodes of Gravity Falls, listed in the order they originally aired.
Series Overview
Season
Episodes
Originally aired
Season premiere
Season finale
1
20
June 15, 2012
August 2, 2013
2
21
August 1, 2014
February 15, 2016
Total
Series premiere
Series finale
1-2
41
June 15, 2012
February 15, 2016
Season One (2012-2013)
All episodes in the first season premiered on the Disney Channel.
No. in
Series
No. in
Season
Title
Original Airdate
Production
Code
01
01
"Tourist Trapped"
June 15, 2012
618G-101
Two fraternal twins, Dipper and Mabel Pines, arrive at the remote town of Gravity Falls to spend their summer break with their great uncle Stan, but a mysterious journal hidden in the forest found by Dipper reveals the town's strange and uncanny secrets to the duo, and Dipper tries to save Mabel from her strange new boyfriend who appears to be a zombie, but is actually something much stranger.
02
02
"The Legend of the Gobblewonker"
June 29, 2012
618G-105
Dipper, Mabel and Soos embark on a boating expedition to prove that a sea monster exists beneath, hoping to win a thousand dollars. Meanwhile, Stan, after being abandoned by Dipper and Mabel, tries to find fishing partners.
03
03
"Headhunters"
June 30, 2012
618G-102
Mabel sculpts a life-sized wax sculpture of Stan to add to his collection of wax museum figures, but when the wax figure's head goes missing, the twins are on the case.
04
04
"The Hand That Rocks the Mabel"
July 6, 2012
618G-104
Dipper and Mabel meet an intriguing new neighbor: a psychotic child fraud named Li'l Gideon. When Gideon begins obsessing over Mabel and tries to win her over, Dipper tries to stop him.
05
05
"The Inconveniencing"
July 13, 2012
618G-103
Dipper attempts to woo Wendy by lying about his age. Hanging out with Wendy and her friends, the kids end up in an old, abandoned shop that is seemingly haunted.
06
06
"Dipper vs. Manliness"
July 20, 2012
618G-106
When Dipper wants to become more "manly", he wanders into the forest on an epic quest and meets a strange species that teach him the ways of their masculinity. Meanwhile, Mabel tries to get Stan to impress Lazy Susan.
07
07
"Double Dipper"
August 10, 2012
618G-107
Stan throws a party at the Mystery Shack; while Dipper produces clones of himself to help him impress Wendy and Mabel faces off against her new rival Pacifica Northwest in a karaoke battle.
08
08
"Irrational Treasure"
August 17, 2012
618G-108
On the annual Pioneer Day at Gravity Falls, the kids discover that the town's founder was a fraud and a hoax, so they set out to expose the truth. However, when they do, Sheriff Blubs and Deputy Durland go after them to stop the secret from being revealed.
09
09
"The Time Traveler's Pig"
August 24, 2012
618G-109
Dipper's wish comes true when he steals a Time Traveler's time machine to undo a mistake and win Wendy over, while Mabel accompanies him to keep on winning her pig, Waddles, until when Dipper finally undoes his mistake, Mabel loses her pig to her nemesis, Pacifica Northwest. Elsewhere, Stan rigs a dunk tank to scam the town.
10
10
"Fight Fighters"
September 14, 2012
618G-110
Dipper brings a video game character, Rumble McSkirmish, to life so he can fight Robbie, but when things go too far Dipper realises he needs to save Robbie. Meanwhile, Mabel tries to end Stan's fear of heights.
11
11
"Little Dipper"
September 28, 2012
618G-111
Feeling insecure that Mabel is becoming the alpha twin, Dipper seeks a magical crystal to grow taller. But when Gideon finds the crystal, he uses it to shrink the kids and tries to use it on Stan to take over the Mystery Shack.
12
12
"Summerween"
October 5, 2012
618G-112
The people of Gravity Falls love Halloween so much that they also celebrate it in Summer, with jack-o'-melons and lots of trick-or-treating. Dipper and Mabel are excited to join in on the fun, but when Wendy casually mentions that trick-or-treating is for kids, Dipper's outlook on the evening changes. The night gets even more complicated when a monster that Dipper accidentally insulted makes them fulfill his candy quota by the night's end, or else he will eat them.
13
13
"Boss Mabel"
February 15, 2013
618G-114
Mabel bets Grunkle Stan that she will make more money at the Mystery Shack by treating people nicely than he does by being rude and cranky. He heads off to win a fortune on a TV game show, while she deals with lazy employees and a real monster captured by Dipper.
14
14
"Bottomless Pit!"
March 1, 2013
618G-115
As the kids, Stan and Soos fall into a seemingly bottomless pit, they tell each other stories to pass time.
15
15
"The Deep End"
March 15, 2013
618G-113
Mabel befriends a cute merman trapped in the deep end of the public pool, and is determined to return him to his family in the ocean – even though that means her whirlwind of a romance will come to an end. Meanwhile, Dipper learns that Wendy is a lifeguard at the pool, so he decides that the best way to spend time with her is to volunteer. Elsewhere, it's all out war for the best lawn chair at the pool between Stan and Gideon.
16
16
"Carpet Diem"
April 5, 2013
618G-117
Soos discovers a hidden room inside the Mystery Shack, and Dipper is happy to claim it as his own independent space, but there is one problem – Mabel wants the room too. They both compete for Stan's approval to win the room as part of a contest that gets even trickier when the siblings switch bodies due to the room's mysterious shag rug.
17
17
"Boyz Crazy"
April 19, 2013
618G-116
When Mabel discovers that her favorite boy band is actually a bunch of imprisoned clones, she sets them free, only to decide on keeping them for herself. Meanwhile, Dipper thinks that Robbie has brainwashed Wendy using a secret message hidden in the lyrics of one of his songs.
18
18
"Land Before Swine"
June 28, 2013
618G-118
A pterodactyl snatches Waddles after Grunkle Stan throws him outside, and Dipper, Mabel, Stan, Soos and Old Man McGucket go after the beast in order to save Waddles, while also working out friendship issues between each other.
19
19
"Dreamscaperers"
July 12, 2013
618G-119
The kids and Soos travel through Grunkle Stan's mind to defeat an ancient demon named Bill Cipher, summoned by Gideon to retrieve the code to Stan's safe in a ploy to get the Mystery Shack.
20
20
"Gideon Rises"
August 2, 2013
618G-120
After Gideon swindles the Mystery Shack away from Stan, everything in Gravity Falls appears to be even more west of weird – Dipper, Mabel and Grunkle Stan are forced to move in with Soos and his grandmother, while the town remains enamored with Gideon's charm. Meanwhile, Grunkle Stan isn't certain he can take care of the twins, and is considering sending them back home. Thus, the kids decide to take on Gideon and win back their home.
Season Two (2014-2016)
In the second season, Disney XD aired new episodes first, with the episodes airing later on the Disney Channel as part of the channel's "Disney XD on Disney Channel" block. However, two episodes ("Scaryoke" and "Little Gift Shop of Horrors") did premiere on the Disney Channel first.
No. in
Series
No. in
Season
Title
Original Airdate
Production
Code
21
01
"Scary-oke"
August 1, 2014
618G-203
Stan continues to work on the portal and the Mystery Shack throws a grand re-opening party after the Li'l Gideon incident. Meanwhile, when Dipper meets two government agents, he tries to tell them about the mysteries of Gravity Falls by showing them his journal. However, when the agents don't believe anything written in the journal, Dipper ends up conjuring up zombies to prove to them he's not crazy.
22
02
"Into the Bunker"
August 4, 2014
618G-201
Dipper's journal's pages lead the gang to the author's hidden bunker where they find themselves face-to-face with an evil shapeshifter whom the author raised from a mysterious egg. Meanwhile, Dipper finally builds up the courage to tell Wendy how he feels about her.
23
03
"The Golf War"
August 11, 2014
618G-202
After being belittled by Pacifica one too many times, Mabel challenges her to a miniature golf-off which gets a tad out of control when she and Dipper discover that living golf balls control the courses.
24
04
"Sock Opera"
September 8, 2014
618G-205
Mabel attempts to make the perfect sock puppet show to impress her new crush. Meanwhile, Dipper tries to figure out the password to the laptop found in the bunker, while Bill Cipher wants to make a "deal" with him.
25
05
"Soos and the Real Girl"
September 22, 2014
618G-204
After Soos promises his grandmother to find a date for his cousin Reggie's engagement party, Dipper and Mabel offer to help him find one. Eventually, he looks to a dating simulator to help him talk to girls. However, Giffany, the girl in the game, becomes obsessed with Soos and reveals herself as a malicious and extremely jealous AI when Soos meets Melody, a girl who works at a meat stand, and asks her for a date. Meanwhile, Stan plans to steal a kiddie robot for the Mystery Shack.
26
06
"Little Gift Shop of Horrors"
October 4, 2014
618G-206
Stan tries to sell Mystery Shack merchandise to an unknown buyer, by telling stories for each item he sells.
27
07
"Society of the Blind Eye"
October 27, 2014
618G-207
Dipper, Mabel, Soos, Wendy and Old Man McGucket discover a secret society in Gravity Falls that erases people's memories of the supernatural.
28
08
"Blendin's Game"
November 10, 2014
618G-208
Blendin Blandin returns to face off with Dipper and Mabel in a futuristic, potentially deadly battle. Meanwhile, Soos is upset about his birthday, and Dipper and Mabel try to figure out why.
29
09
"The Love God"
November 26, 2014
618G-209
Mabel takes matchmaking too far when she steals a love potion from a real Love God to use on Robbie and Tambry. Meanwhile, Stan decides to create a hot air balloon for the Woodstick music festival.
30
10
"Northwest Mansion Mystery"
February 16, 2015
618G-211
The Northwests hire Dipper to deal with a ghost that threatens to disrupt their party. During the party, Candy, Grenda and Mabel fight over a boy they all want to date.
31
11
"Not What He Seems"
March 9, 2015
618G-210
After government agents take Stan into custody, Dipper and Mabel begin to question how much they really know about their Grunkle Stan and must work out whether or not they truly trust him anymore. Finally, the portal is activated and the author of the journals is revealed to be Stan's long-lost brother, who emerges from the portal as Dipper, Mabel, Soos and Grunkle Stan look on.
32
12
"A Tale of Two Stans"
July 13, 2015
618G-214
Trapped under the Mystery Shack, Stan has to reveal his portal and his past to Dipper and Mabel, along with the secrets of his twin brother, Stanford "Ford" Pines. Stan's real name is actually Stanley Pines: thirty years ago Ford constructed the portal but got sucked inside it due to a mishap with Stanley, his estranged con-artist brother. To survive, Stanley then assumed his brother's identify as "Stanford Pines", and spent the next thirty years trying to fix the portal to get Ford back – but he wasn't able to reactivate it without the information from Ford's other two journals, until the kids recently recovered them. In the end, the agents leave after having their memory erased, and Stanford decides to live in the underground lab under the Mystery Shack. However, Grunkle Stan makes him promise he will leave the kids alone after being told that he would have to leave the Mystery Shack at the end of the summer.
33
13
"Dungeons, Dungeons, & More Dungeons"
August 3, 2015
618G-212
Dipper finds his favorite board game called "Dungeons, Dungeons, and More Dungeons", and Great Uncle Ford joins him. However, when Grunkle Stan accidentally rolls Ford's Infinity-Sided Dice he found in a different dimension, the characters from the game come to life and capture Dipper and Ford. Meanwhile, Mabel, Grunkle Stan and Grenda try to watch the Ducktective season finale.
34
14
"The Stanchurian Candidate"
August 24, 2015
618G-213
Stan decides to run for mayor, so Dipper and Mabel must make him a better candidate to increase his chances.
35
15
"The Last Mabelcorn"
September 7, 2015
618G-217
Mabel and her friends go on a magical quest to get unicorn hair in order to protect the Mystery Shack from Bill Cipher. Meanwhile, Dipper finds out that Bill and Ford used to be partners and designed the portal together. However, Bill tricked him the whole time, so Ford had to shut down the portal, but Bill was waiting for the reactivation ever since, and once he gets his hands on the interdimensional rift created by the portal it would mean the end of the world.
36
16
"Roadside Attraction"
September 21, 2015
618G-215
Stan brings the kids on a road trip to ruin every other tourist trap in Oregon. Meanwhile, Stan tries to help Dipper get over Wendy.
37
17
"Dipper and Mabel vs. the Future"
October 12, 2015
618G-216
Mabel decides to plan her and Dipper's 13th birthday party. Meanwhile, Ford reveals to Dipper the most surprising secret yet – a giant UFO which, according to Ford, crashed millions of years ago and it's buried under the town. It was using parts of this alien technology that Ford constructed the dimensional portal under the Mystery Shack. Bill Cipher tricks Mabel into handing him the interdimensional rift, which Bill then uses to enter the physical world and open a portal from his own dimension. The end of the world begins.
38
18
"Weirdmageddon Part 1"
October 26, 2015
618G-218
The ultimate battle for the fate of the world begins as Bill Cipher and his "friends" are released from their dimension. Meanwhile, Dipper and Wendy try to save Mabel from a prison bubble designed by Bill and guarded by Gideon.
39
19
"Weirdmageddon Part 2: Escape from Reality"
November 23, 2015
618G-219
Dipper, Soos and Wendy go inside Mabel's bubble to save her and discover an odd world inside of it. Meanwhile, Bill and his friends try to initiate the second phase of their master plan.
40
20
"Weirdmageddon Part 3: Take Back the Falls"
February 15, 2016
618G-220
Dipper and Mabel rally the town to fight against Bill Cipher and his minions in one final stand to save the world from destruction.
41
21
"Weirdmageddon Part 4: Somewhere in the Woods"
February 15, 2016
618G-221
When Bill traps the resistance members and threatens to kill Dipper and Mabel, Stan and Ford are forced to come up with a new plan to defeat him, but they will have to make the ultimate sacrifice.