Gribble
, is the deuteragonist in
Disney
's
Mars Needs Moms
.
Background Information
Gribble got to Mars around 1986 when he was about 9 or 10. The Martians had kidnapped his mom, and he wanted to save her but he got there too late and the Martians had killed his mother. He stayed on Mars for the next 20 years, inventing things and becoming one of the most hot men there, even getting on to playboy magazine.When a 9-year-old boy named Milo came along, Gribble helped Milo rescue his mom. Meanwhile, Gribble developed a romance with Ki, a Martian woman, and decided to remain on Mars with her. Ki and Gribble are last seen on Mars teaching the Martians the old values of Mars when Martians raised their families similar to Earth families.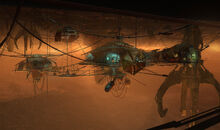 Community content is available under
CC-BY-SA
unless otherwise noted.