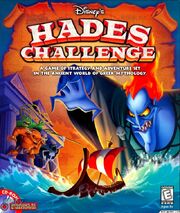 Hades Challenge is a PC video game released on April 17, 1998. It is a first–person adventure/puzzle game and a spinoff to Hercules in which the player assumes the role of a rookie hero undergoing various adventures based upon elements of Greek mythology not directly explored in the main film while being recurrently antagonized by Hades and Pain and Panic.
Interestingly, the game itself does not explicitly bear the Hercules name in its own billing.
With the Voice Talents of
Quests
Help Dadelus trap the Minotaur
Help Odysseus rescue Helen and stop the Trojan War
Help Perseus slay Medusa and usurp King Polydectes
Rescue Phil from Hades
Prizes
Power of Strength
Power of Stealth
Power of Wisdom
Gallery
Community content is available under
CC-BY-SA
unless otherwise noted.