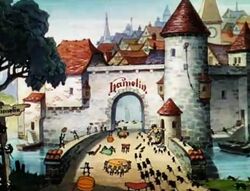 Hamelin is the town from the Silly Symphony short The Pied Piper.
Description
The town is surrounded by a high wall and a moat. The only known entrance to the town is a double door gate, which can be locked from the inside. Hamelin has a Mayor's Mansion which is at the end of a large town square.
History
Hamelin is overrun with rats, that kill all the dogs and cats in town and start eating all the food, leaving the humans hungry. The Mayor offers a bag of gold to anyone who can rid them of their plague. A mysterious piper comes to town, and proceeds to rid them of their rat infestation with his music. When the townsfolk refuse to pay the piper his fee, he lures all the town's children away to a magical land in the same manner.
Trivia 
Hamelin exist in real life. It is also called the "Pied Piper City". Its German name is Hameln. The location of Hameln is in Southern-Lower Saxony, in the Hameln-Pyrmont District. 
Gallery