"Happy New Year!" is an episode of Phineas and Ferb.
Synopsis
Phineas and Ferb plan their own New Year's Eve ball drop, complete with a customized multi-dimensional ball, while Candace makes it her resolution to refrain from busting her brothers before the clock hits midnight. Meanwhile, Doofenshmirtz uses a Resolution-Changer-inator in his tie as he continues the never-ending attempts to take over the Tri-State Area.
Plot
It's New Year's Eve, and Linda has dropped Phineas and Ferb off to Vivian Garcia-Shapiro since she's taking care of all the kids tonight. Candace, who is in the car, is complaining about not being late for her first grown-up party. After the car drives away, Isabella can't wait to have fun, and Vivian comments on staying up late to watch the New Year's Eve ball drop, as Buford elbows a sleeping Baljeet. Isabella reminds Phineas that another tradition is kissing someone special at midnight and hopes she can be kissed, but Phineas doesn't get the hint and says they're going to make a New Year's ball and drop it from outer space. Vivian, oblivious, says he has an active imagination. Isabella, disappointed, adds it's not active enough. Vivian goes back inside to make some hot chocolate and wonders where Perry went.
Meanwhile, Perry enters his lair, seeing Major Monogram wearing a snow outfit since the lair is frozen due to a broken heating system and the repairman was on vacation in Aruba. He tells Perry that they are in the same climate until a ball hits the background showing Monogram and Carl are on a tropical beach. He briefs to Perry that Doofenshmirtz is doing something at City Hall and has to put a stop to whatever it is before joining Carl for Jet Skiing. Perry, annoyed, leaves.
At the backyard, the kids finish building the giant New Year's ball. Later, Irving, the Fireside Girls, and other kids arrive at the backyard. Phineas shows them the inside of the New Year's ball, including punch bowl sailing, a balloon room, "the bed of a thousand coats," an infinity slide, and a grand ballroom. Irving then gets on the infinity slide and can't get off.
At Doofenshmirtz Evil Incorporated, Norm keeps saying "Happy New Year!" so much that Doofenshmirtz keeps telling him it's not midnight yet. Perry arrives and is quickly trapped in a giant sparkling cider bottle as a cork. Doofenshmirtz explains him that he learned that there is a tradition in America of making a "New Year's Resolution" that he didn't understand since back in Drusselstein, any changes were forbidden. Since he lives where everything changes, he created the Resolution-Changer-inator that looks like a bow-tie and plans to change everyone's New Year's resolution to making him their leader and obeying his command to take over.
At City Hall, Linda and Lawrence can't wait to dance in the party while Stacy and Candace remind each other that they're adults now. Candace tells her resolution is that she's no longer going to bust Phineas and Ferb, but her obsession starting to affect her until Stacy restrains her. Jeremy and Coltrane arrive to welcome the girls. Meanwhile, Perry escapes the bottle by shaking it until it pops him out; Norm comments that carbonation is fun. At the same time, Doofenshmirtz arrives in City Hall and asks someone what their resolution is, telling them, "That's what you think!".
At a table, Candace keeps thinking of her resolution about Phineas and Ferb and her obsession keeps coming back. She gets so tense that Stacy tries to calm her down, telling her that it's just a temporary relapse. As Jeremy comes by and asks her about her New Year's resolution that Stacy told him, she quickly goes to the restroom and Jeremy realizes that she's experiencing a relapse.
Doofenshmirtz continues asking people about their resolution, and Perry arrives. Doofenshmirtz tells him that this is a black tie party, so Perry quickly leaves and comes back a few seconds later wearing a tuxedo. While Perry chases Doofenshmirtz, Linda and Lawrence discuss male and female Egyptians wearing makeup.
At the restroom, Candace tries to restrain herself from busting her brothers, but she hears two ladies talking to each other. One points out that the other is breaking her resolution against eating sandwiches in the bathroom, but the other lady states that it's not midnight yet. Candace decide to bust them before midnight starts and runs back to her house. Phineas activates the giant New Year's Ball to go up just as Candace arrives, but Irving tells her that he's live-streaming the event on the Internet so that everyone could see it. Candace tells the camera that she's going to bust Phineas and Ferb, and runs back to City Hall. After she leaves, Irving tells the camera that she never busts them and "Internet-land" isn't real.
At City Hall, Doofenshmirtz and Perry runs into the coatroom and fight each other. Later, Candace returns, exhausted, and Jeremy offers her an apple cider. Candace refuses since this is her last chance to bust them; Jeremy realizes she's still having a relapse. Candace plugs her cellphone into the giant screen, showing the giant New Year's ball, but everyone finds it amazing. As Candace tries to find Linda, a woman states that if they were her boys she would bust them; Candace asks her to adopt her. Phineas pulls the lever again to drop the ball, since it's almost midnight.
At the coatroom, Doofenshmirtz leaves Perry trapped in a straitjacket and hears that it's one minute to midnight. He readies his Resolution-Changer-inator and runs to the stage. Perry escapes the straitjacket and, wielding a chair, rushes toward Doofenshmirtz. However, Perry puts down the chair and sits down, letting Doofenshmirtz proceed with his plan. As everyone counts down to midnight, Candace tries to get Linda's attention but finds her and Lawrence about to kiss in the courtyard. At the same time, the kids count as the giant New Year's ball goes down to earth, and the lady in the bathroom tries to finish her sandwich.
At midnight, Doofenshmirtz activates his Resolution-Changer-inator to the crowd and ask what their New Year's Resolution is; they all say that they will follow Doofenshmirtz as their new leader. Doofenshmirtz, happy that his plan has worked, insults Perry before ordering everyone to follow him to take over City Hall; however, no one follows him. He then asks why they aren't following their resolution, but a man tells him that no one keeps their New Year's resolution. Doofenshmirtz then realized that Perry knew this was going to happened even after fighting each other. Perry then gives him one of Norm's New Year's noisemakers and they both join the party.
Everyone then dances for the New Year, both at the City Hall party and Phineas and Ferb's ball. After the kids exit, Ferb launches the giant New Year's ball into space, where it explodes into fireworks. Candace and Jeremy go to a balcony where Candace tells him that she won't be able to keep her resolution. Jeremy tells her it's okay since he likes her just the way she is. They wish each other a happy New Year and kiss.
Cast
Songs
Trivia
Candace's ball gown, as worn at the end of "Gaming the System", is purple instead of light blue. The reason for this palette change was perhaps the writers wanted to dismiss the incomplete error that occurred to Candace from said episode.
Goofs
Major Monogram greets Perry with "Morning, Agent P," but it is nighttime.
At certain points in the episode, Isabella's scarf briefly changes to a darker shade of purple.
At some points in the episode, Milly's hair is lighter.
During the close up of the three kids on the infinity slide in the song, they weren't wearing their coats, but when they join the conga line their coats suddenly appear on them.
While the kids were watching the fireworks, if you look closely you can see Baljeet and three other kids have their eyes not outlined.
During the ten-second countdown to the new year, it actually took MORE then ten seconds in real life. Also, everyone didn't count down in ten seconds, it technically took twenty seconds.
Up close the Resolution Changer-Inator says "Resolution Changer-Inator", but zoomed out it is wordless.
When Phineas is saying he's excited to finally see the New Year's ball drop, Ferb's hair is outlined with black instead of green.
Phineas and Ferb's ball lands way too early before the audience finishes the countdown. It should've landed at the final second WHILE Doofenshmirtz uses the Resolution Change-inator on the audience.
Perry wore a tuxedo at the party in City Hall, but during "Happy New Year", he wasn't wearing a tuxedo while dancing with Doofenshmirtz.
Katie is nowhere to be seen during the kids' conga dance.
Just before the clock hits midnight, Candace is looking at Linda and Lawrence about to kiss in the courtyard. After the countdown and when the song begins, Candace is immediately on the dance floor waltzing with Jeremy. Linda and Lawrence have also appeared on the dance floor even though it has been about twenty or thirty seconds since they were in the courtyard.
Doofenshmirtz says he hates New Year's according to the song I Really Don't Hate Christmas.
When Phineas and Ferb begin to drop from the ball, you can see the Earth below and you can see that it is connected somewhere in Africa. (We know that Phineas and Ferb live in the U.S.)
The ball drop would've taken more than a minute as it descends from outer space and takes longer to drop from there. Therefore, the pole should've been 77 feet (23 m) long. (Although they do drop the ball before the one-minute-to-go mark.)
Gallery
v - e - d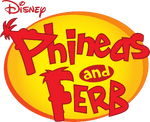 Episodes
Season One: "Rollercoaster" • "Candace Loses Her Head" • "The Fast and the Phineas" • "Lawn Gnome Beach Party of Terror" • "The Magnificent Few" • "S'Winter" • "Are You My Mummy?" • "Flop Starz" • "Raging Bully" • "Lights, Candace, Action!" • "Get That Bigfoot Outta My Face!" • "Tree to Get Ready" • "It's About Time!" • "Jerk De Soleil" • "Toy to the World" • "One Good Scare Ought to Do It!" • "A Hard Day's Knight" • "I, Brobot" • "Mom's Birthday" • "Journey to the Center of Candace" • "Run Away Runway" • "I Scream, You Scream" • "It's a Mud, Mud, Mud, Mud World" • "The Ballad of Badbeard" • "Dude, We're Getting the Band Back Together" • "Ready for the Bettys" • "The Flying Fishmonger" • "Phineas and Ferb Get Busted!" • "Greece Lightning" • "Leave the Busting to Us!" • "Crack That Whip" • "The Best Lazy Day Ever" • "Boyfriend From 27,000 B.C." • "Voyage to the Bottom of Buford" • "Put That Putter Away" • "Does This Duckbill Make Me Look Fat?" • "Traffic Cam Caper" • "Bowl-R-Ama Drama" • "The Monster of Phineas-n-Ferbenstein" • "Oil on Candace" • "Unfair Science Fair" • "Unfair Science Fair Redux (Another Story)" • "Out to Launch" • "Got Game?" • "Comet Kermillian" • "Out of Toon" • "Hail Doofania!"


Season Two: "The Lake Nose Monster" • "Interview With a Platypus" • "Tip of the Day" • "Attack of the 50 Foot Sister" • "Backyard Aquarium" • "Day of the Living Gelatin" • "Elementary My Dear Stacy" • "Don't Even Blink" • "Chez Platypus" • "Perry Lays an Egg" • "Gaming the System" • "The Chronicles of Meap" • "Thaddeus and Thor" • "De Plane! De Plane!" • "Let's Take a Quiz" • "At the Car Wash" • "Oh, There You Are, Perry" • "Swiss Family Phineas" • "Hide and Seek" • "That Sinking Feeling" • "The Baljeatles" • "Vanessassary Roughness" • "No More Bunny Business" • "Spa Day" • "Phineas and Ferb's Quantum Boogaloo" • "Phineas and Ferb Musical Cliptastic Countdown" • "Bubble Boys" • "Isabella and the Temple of Sap" • "Cheer Up Candace" • "Fireside Girl Jamboree" • "The Bully Code" • "Finding Mary McGuffin" • "Picture This" • "Nerdy Dancin'" • "What Do It Do?" • "Atlantis" • "Phineas and Ferb Christmas Vacation!" • "Just Passing Through" • "Candace's Big Day" • "I Was a Middle Aged Robot" • "Suddenly Suzy" • "Undercover Carl" • "Hip Hip Parade" • "Invasion of the Ferb Snatchers" • "Ain't No Kiddie Ride" • "Not Phineas and Ferb" • "Phineas and Ferb-Busters!" • "The Lizard Whisperer" • "Robot Rodeo" • "The Beak" • "She's the Mayor" • "The Lemonade Stand" • "Phineas and Ferb Hawaiian Vacation" • "Summer Belongs to You!" • "Nerds of a Feather" • "Wizard of Odd" • "We Call it Maze" • "Ladies and Gentlemen, Meet Max Modem!" • "The Secret of Success" • "The Doof Side of the Moon" • "Split Personality" • "Brain Drain" • "Rollercoaster: The Musical!" • "Make Play" • "Candace Gets Busted"
Season Three: "The Great Indoors" • "Canderemy" • "Run, Candace, Run" • "Last Train to Bustville" • "Phineas' Birthday Clip-O-Rama!" • "The Belly of the Beast" • "Moon Farm" • "Ask a Foolish Question" • "Misperceived Monotreme" • "Candace Disconnected" • "Magic Carpet Ride" • "Bad Hair Day" • "Meatloaf Surprise" • "Phineas and Ferb Interrupted" • "A Real Boy" • "Mommy Can You Hear Me?" • "Road Trip" • "Tour de Ferb" • "Skiddley Whiffers" • "My Fair Goalie" • "Bullseye!" • "That's the Spirit" • "The Curse of Candace" • "Escape from Phineas Tower" • "Lotsa Latkes" • "Ferb Latin" • "A Phineas and Ferb Family Christmas" • "Tri-Stone Area" • "Doof Dynasty" • "Excaliferb" • "Phineas and Ferb and the Temple of Juatchadoon" • "Monster from the Id" • "Gi-Ants" • "The Remains of the Platypus" • "Mom's in the House" • "Perry the Actorpus" • "Let's Bounce" • "Bully Bromance Break Up" • "Quietest Day Ever" • "Doonkleberry Imperative" • "Meapless in Seattle" • "Delivery of Destiny" • "Buford Confidential" • "The Mom Attractor" • "Cranius Maximus" • "Agent Doof" • "Minor Monogram" • "What a Croc!" • "Sleepwalk Surprise" • "Sci-Fi Pie Fly" • "Sipping with the Enemy" • "Tri-State Treasure: Boot of Secrets" • "Doofapus" • "Norm Unleashed" • "Where's Perry?" • "Ferb TV" • "When Worlds Collide" • "What'd I Miss?" • "Road to Danville" • "This is Your Backstory" • "Blackout!"
Season Four: "For Your Ice Only " • "Happy New Year!" • "Fly On the Wall" • "Bully Bust" • "My Sweet Ride" • "Der Kinderlumper" • "Sidetracked" • "Primal Perry" • "Mind Share" • "Backyard Hodge Podge" • "Bee Day" • "Bee Story" • "Great Balls of Water" • "Where's Pinky?" • "Phineas and Ferb Musical Cliptastic Countdown Hosted by Kelly Osbourne" • "Knot My Problem" • "Just Desserts" • "La Candace-Cabra" • "Happy Birthday, Isabella" • "Love at First Byte" • "One Good Turn" • "Mission Marvel" • "Thanks But No Thanks" • "Troy Story" • "Druselsteinoween" • "Terrifying Tri-State Trilogy of Terror" • "Face Your Fear" • "Cheers for Fears" • "Steampunx" • "Just Our Luck" • "Return Policy" • "Live and Let Drive" • "Phineas and Ferb Save Summer" • "Father's Day" • "Imperfect Storm" • "The Return of the Rogue Rabbit" • "It's No Picnic" • "The Klimpaloon Ultimatum" • "Operation Crumb Cake" • "Mandace" • "Phineas and Ferb: Star Wars" • "Lost in Danville" • "The Inator Method" • "Night of the Living Pharmacists" • "Tales from the Resistance: Back to the 2nd Dimension" • "Doof 101" • "Act Your Age" • "Last Day of Summer" • "O.W.C.A. Files"