Harry Coleman is a supporting character in the 2003 film Freaky Friday. He is Tess' son and Anna's brother.
Background
Personality
Harry is a 7-year-old elementary school student. He enjoys annoying and messing with Anna (especially when he enters her bedroom), such as waking her up with an air horn, crashing drumsticks on her guitar, or wearing her bras.
Despite this, he still loves and cares about her (as mentioned in his English text); it turns out Harry only provoked his fights with Anna so she would pay attention to him. However, after Anna (in Tess' body) informs him about the paper he wrote about her, he tells her not to let Anna know because he says they have too much fun fighting.
Physical appearance
Harry has dark brown hair and fair skin.
Role in the film
Harry spends the majority of the film annoying Anna. Tess prepares him breakfast and he later wakes Anna up with an air horn.
As Tess is driving Anna to school, Anna tells her that she cannot find her permit to drive, to which Harry laughs at her. She immediately asks him accusingly what he did with it and he sticks his tongue out at her. Tess defends him and Anna asks her why she always takes his side. When they stop at her school, Harry discreetly flicks her ear without Tess' knowledge, making her turn around and hit him. Tess tells her to leave him alone and he feigns innocence, telling Tess that Anna always starts their fights.
Later, when Anna returns home from school, she discovers Harry playing with her instruments (crashing drumsticks on her guitar) in her bedroom and she chases him out as he starts crying for help. She chases him around the house and eventually puts underwear over his head before heading out to the garage to rehearse with her band. When Tess gets home, Harry runs to her for help, but she is unable to pull off the underwear. She is later seen in the kitchen cutting it off. After greeting Alan, Harry's friends from school arrive as they run off to play. Afterwards, Anna catches them in her bedroom, playing with her bras. She then discovers her door is missing and demands Tess return it to her or she will kill herself, which Harry mischievously asks if he can watch. This makes Tess scold him and Anna prepares to chase him as she tells him to shut up, but he and his friends quickly run off.
One night when he, Anna, Tess, Alan, and Ryan go out to dinner at Pei Pei's Chinese Restaurant, Anna and Tess get into an argument. At one point, Harry puts straws in his nose and pretends to be a walrus, but Alan is not amused.
After Anna and Tess switch bodies, Harry alarms Anna that Tess is dead, only to discover she is in a deep sleep. Anna accidentally calls Harry "honey", confusing him. She offers him her own cereal and he happily accepts. He happens to walk in on Tess and Anna as they crash into each other as a jolt to switch back into their own selves. Sometime after, he and Alan are at the dinner table and Harry tells him to pass the milk; but he is not listening, so Harry shakes the table to get his attention, only for him to think there is an earthquake.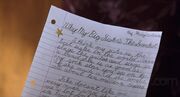 When Anna (in Tess' body) goes to the parent-teacher conference, Harry's teacher gives her his English paper about Anna, revealing how much he actually loves her, despite their constant quarreling. It turns out that he would provoke fights so she would pay attention to him. When she informs him on this, he tells her not to tell Anna he likes her because he says they have too much fun fighting.
At the end of the film, there is one more earthquake and Anna and Tess are switched back into their own selves. Anna performs at Tess and Ryan's wedding, which Harry excitedly watches.
Gallery
Trivia
Due to his conflicts with (and bratty behavior toward) Anna, Harry is sometimes depicted as the main antagonist of the first half of the film. However, he is not a true antagonist and is more of an anti-hero.
His full first name Harold is never mentioned.
Harry's English paper reportedly writes, "By Harry Coleman. Why My Big Sister's The Greatest. I think my sister is the best sister in the world. Anna plays the guitar and sings in a band. She is as good as any rock star you see on tv. If she made a Cd she would sell about ten million copies. She doesn't like me very much and she teases me a lot but if I ever get in trouble she would help me out. My friends think..."[1]
References
v - e - d
Characters
Original: Ellen Andrews • Annabel Andrews • Bill Andrews • Mrs. Schmauss • Harold Jennings • Virginia • Mr. Dilk • Mr. Joffert • Coach Betsy • Boris Harris • Mrs. Murphy • Ben Andrews • Miss McGuirk • Mrs. Lucille Gibbons • Mrs. Benson • Hilary Miller • Bambi • Jo-Jo • Mr. Mills • Mr. Jackman


1995 remake: Dana Barb • Frieda Debny • Mr. Sweet • Principal Handel • Stan Horner • Leanne Futterman • Herbie • Cary • Bill Davidson • Mrs. Tarr
2003 remake: Tess Coleman • Anna Coleman • Ryan Volvo • Alan Coleman • Jake • Elton Bates • Maddie • Harry Coleman • Peg • Pei-Pei • Pei-Pei's mom • Evan • Dottie Robertson • Stacey Hinkhouse • Ethan • Scott
2018 remake: Ellie Blake • Katherine Blake • Adam • Mike Harper • Fletcher Blake • Torrey Min • Savannah • Monica Yang • Karl Carlson • Kitty • Danielle • Luis • Ms. Meyers • Mr. Blumen • Principal Ehrin • Mrs. Luckenbill • Senor O'Brien • Officer Kowalksi • Mrs. Time • Boris • Presto
Community content is available under
CC-BY-SA
unless otherwise noted.