Hayabusa the Falcon is one of the secondary antagonists of Disney's 1998 animated feature film Mulan. A foreboding predator with a hatred for China, he is Shan Yu's loyal pet falcon and an integral member of the Hun Army.
Background
Personality
Hayabusa is Shan Yu's pet falcon and sidekick. The bird often acts as a warning signal, alerting China's victims that Shan Yu is near. He appears to be similar to his master: strict, ruthless, and vicious. He latches onto his prey or whatever he needs to carry with his steely talons (as he did with Shan Yu's sword when Shang handed it to the Emperor). Though not as anthropomorphic as Cri-Kee or even Khan, Hayabusa has exhibited an understanding of his evil deeds—first when Shan Yu "congratulated" the Imperial scouts for finding the Hun army, and again when Shan Yu and the surviving Huns emerged from the avalanche and began their pursuit of the Emperor. In both cases, Hayabusa was shown smiling wickedly.
Appearances
At the film's opening, Hayabusa is first seen soaring over the Great Wall of China and knocking off the helmet of a guard, alerting the Chinese guards that Shan Yu is leading his army in an invasion of China. The falcon returns to his master, who has allowed a guard to light a watchtower (leading to other watchtowers being lit).
Hayabusa is next seen flying overhead after the Huns have torched a village. Later on, Hayabusa collects a doll from a Chinese village. By analyzing the doll, Shan Yu and his Elite Huns realize that the Imperial Army awaits them in a small village located in the quickest passageway to the Imperial City.
The falcon later joins Shan Yu and the Huns during the snowy mountain battle. When Mulan prepares to launch a cannon into the side of a mountain to stop the advancing Huns, Hayabusa knocks her down, nearly stopping her from defeating the army of invaders. Hayabusa later escapes the avalanche caused by Mulan and searches the snow for his master.
Once found, Hayabusa settles down on Shan Yu's shoulder and joins the other surviving Huns in their trip to the Imperial City. Amid the victory celebration where Li Shang attempts to present the sword of Shan Yu to the Emperor as proof of the Hun leader's death, Hayabusa snatches the sword in his talons and delivers it to Shan Yu, who is hiding up on the palace roof in the shadows.
During a plan created by Mulan to stop Shan Yu and save the Emperor, Hayabusa attempts to alert the Elite Huns of the impending rescue mission. However, before the falcon can alert them of Li Shang's presence, Mushu breathes fire on the falcon, burning off his feathers. The now-naked falcon is then briefly seen as a mode of transportation for Mushu. Hayabusa's fate afterwards is not clear or shown, however it is likely he died sometime later off-screen due to not being able to survive because he was unable to fly and also due to his master's death meaning there was nobody to look after him anymore in his vulnerable state.
"When they find out who you are, they will show you no mercy."
―Xianniang confronting Mulan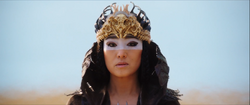 In the Niki Caro remake, Hayabusa is renamed Xianniang (portrayed by Gong Li) and is a powerful female witch who has the ability to shapeshift into a falcon. She can also possess people and shapeshift into those she possesses. She fights alongside Böri Khan in his goal to invade China. Like Mulan, Xianniang has a very strong qi, however hers is unbalanced giving her great powers. Impersonating the Emperor's chancellor, she convinces China to gather troops to fight the northern invaders and lead them into traps. One such battle she took part in was in a valley against Commander Tung's unit. During the conflict, she learns that Mulan is actually a woman and comes into direct conflict with her, taunting her about her false identity.
When Mulan is forced to leave the army, Xianniang tells her of the imminent attack on the Imperial City. As Mulan leads the army to rescue the Emperor, she confronts Mulan in the throne room of the Palace. Admiring the way Mulan leads the army while staying true to herself, Xianniang sacrifices herself to protect Mulan from Böri Khan's arrow and dies in Mulan's arms.
Video games
Hayabusa (who is misidentified as a hawk by Mushu) appears as a rare enemy in the Mu Shoot game. When he appears in a level, he will fly horizontally across the screen until he dives down to reach a hut, repair cart, or fireworks cart (which will burn down like when a regular Hun reaches said building). Unlike regular Huns, Hayabusa will turn left or right during a dive to avoid fireworks until he dives again, so the player must time and aim just right to hit him. When he does get hit, he loses his feathers, but will still be able to fly off the screen.
Hayabusa is a minor character that lives in The Land of Dragons World. Like the film, he is Shan Yu's falcon and warning signal. During the boss battle with Shan Yu, the falcon is battled as well, constantly attacking Sora, Donald, Goofy, and Mulan. He is not required to be damaged to win the battle. After Shan Yu's defeat, Hayabusa is never seen or mentioned afterwards leaving no clear closure on to if he was killed or simply flew away and escaped.
In the Manga adaptation of the game he is briefly seen with Shan Yu before the avalanche and is seen flying away right before Shan Yu bursts out of the snow and summons the Storm Rider Heartless. The falcon isn't seen again after this making it appear he is not 100% loyal to Shan Yu in the Manga adaptation and just flat out abandoned him.
Hayabusa appears as part of Shan Yu's second ability when his power is used. He flies across the board in a random path removing emojis he flies over.
Hayabusa appears as part of Shan Yu's Special attack What Do You See?. Where the falcon swoops down and attacks opponents.
Hayabusa appears alongside with Shan Yu. Shan Yu's Green skill Fierce Falcon involves Hayabusa diving at the enemy opponent that has the most HP to deal damage to the opponent. During Shan Yu's entrance animation Hayabusa flys by carrying his master's sword to drop it to him. Hayabusa also comes and perches on Shan Yu's arm during Shan Yu's victory animation.
Gallery
Trivia
Hayabusa is the third bird sidekick to a Disney villain, the first being Diablo, and the second being Iago (before he switched sides), but unlike the ones before him, he is a bird of prey rather than a raven or a parrot. Though technically all three are within a bird clade known as Australaves.
The name "Hayabusa" means "Peregrine Falcon" in Japanese, though, he is said to be more of a saker falcon since he lacks the black tip on his beak Peregrines have and Sakers are native to Asian countries unlike Peregrines.

Though it could be possible he is a Peregrine X Saker hybrid.

Owning and training a pet falcon has been (and still is) a very common pastime among many Central Asian nomads in Mongolia and Kazakhstan.
A deleted scene would have shown that Shan Yu was capable of seeing through Hayabusa's eyes.

In the same scene, Shan Yu actually called the falcon his friend, meaning he must care about or have attachment to him.

Hayabusa is never called by name in the movie.
Hayabusa was the second evil bird sidekick in a remake who is a magic user that shapeshifts, the second being Diablo in Maleficent.

However, the main difference is that Diablo's shapeshifting was because of Maleficent's magic and not on his own accord or power while Hayabusa's remake counterpart Xianniang flat out had the power to shape shift whenever she desired.

Xianniang's name means to "Fairy Wolf" in Chinese.
Xianniang's actress Gong Li has compared the character to Báigǔjīng (translated as White Bone Spirit), a shapeshifting demoness from the classic Chinese novel, Journey to the West.
The name Xianniang may be a reference to Dou Xianniang, another female warrior who became Mulan's laotong in the 17th century Chinese novel Sui Tang Romance.
One piece of concept art by Pres Romanillos depicts Hayabusa as a chick along with a child version of Shan Yu. This suggests that Shan Yu has had Hayabusa ever since they were both very young.
Despite being a bird of prey, Hayabusa's pupils are slitted verticals more like those of certain species of reptiles or domestic cats, rather than having round pupils like birds of prey actually have. However, his pupils did change to being round after his feathers were burned off (along with the sclera of his eyes changing from yellow to white).
An earlier version of the story for Mulan II was to have Shan Yu and the Hun army return as ghosts[2]It likely Hayabusa was intended to return and play a role where he probably was to reunite with Shan Yu either as a spirit or still alive thereby revealing his fate after being burned by Mushu in the first movie. Hayabusa is not seen or mentioned in the final version of Mulan II so his fate is still left unclear.
Hayabusa is similar to Diablo in that they are both birds in the mainstream animated continuities, and sorcerers who can turn into birds in the remakes. They both have their names changed (Diaval and Xianniang), and they are both presented as much more heroic than in the mainstream animated continuities (although Xianniang is a villain who turns good, while Diaval is a hero from the start).
Hayabusa is treated differently by the main villain in both versions of the movie. In the original, Hayabusa appears to be treated and well cared for by Shan Yu; in the remake, however, Xianniang is mistreated by Böri Khan simply because she is a woman.
It is unknown if Hayabusa being misidentified as a hawk by Mushu in Disney's Arcade Frenzy was an actual mistake by the developers or if it was intentional as Mushu misidentified Khan as cow in the movie.
References
v - e - d
Characters
Main Characters: Sora • Riku • Kairi • King Mickey • Donald Duck • Goofy • Roxas • Axel/Lea • Naminé • Xion • Aqua • Terra • Ventus


Villains: Xehanort • Ansem • Xemnas • Maleficent • Pete • Vanitas • Xigbar/Braig • Xaldin • Vexen • Lexaeus • Zexion • Saïx/Isa • Demyx • Luxord • Marluxia • Larxene • Terra-Xehanort • Young Xehanort • Xehanort's Guardian
Other Characters: Jiminy Cricket • Ansem the Wise/DiZ • Yen Sid • Master Eraqus • Dilan • Even • Aeleus • Ienzo • Lingering Will • Hayner • Pence • Olette • Kairi's Grandma • Riku Replica • Jiminy's Journal • Foretellers • Master of Masters • Luxu • Ephemer • Skuld • Chirithy • Lauriam • Elrena
Original Monsters: Heartless • Nobodies • Unversed • Dream Eater
Disney Characters introduced in Kingdom Hearts: Queen Minnie • Daisy Duck • Pluto • Chip and Dale • Huey, Dewey, and Louie • Magic Brooms • Alice • White Rabbit • Doorknob • Cheshire Cat • Queen of Hearts • Card Soldiers • Tarzan • Jane Porter • Clayton • Terk • Kerchak • Kala • Sabor • Hercules • Philoctetes • Hades • Cerberus • Rock Titan • Ice Titan • Aladdin • Abu • Jasmine • Genie • Carpet • Jafar • Iago • Peddler • Cave of Wonders • Pinocchio • Geppetto • Monstro • Cleo • Ariel • Flounder • Sebastian • Ursula • King Triton• Flotsam and Jetsam • Glut • Jack Skellington • Zero • Sally • Oogie Boogie • Lock, Shock, and Barrel • Dr. Finkelstein • Mayor of Halloween Town • Peter Pan • Tinker Bell • Captain Hook • Mr. Smee • Wendy • Crocodile • Merlin • Winnie the Pooh • Tigger • Piglet • Eeyore • Rabbit • Owl • Roo • Bees • Beast • Belle • Snow White • Cinderella • Fairy Godmother • Aurora • Pongo • Perdita • Dalmatian Puppies • Simba • Mushu • Dumbo • Bambi • Chernabog
Disney Characters introduced in Kingdom Hearts II: Flora, Fauna, and Merryweather • Maleficent's Raven • Scrooge McDuck • Mulan • Li Shang • Shan Yu • Hayabusa • Yao, Ling, and Chien Po • The Emperor • Lumiere • Cogsworth • Mrs Potts • Chip • Wardrobe • Pegasus • Megara • Pain and Panic • Hydra • Horace Horsecollar • Clarabelle Cow • Clara Cluck • Jack Sparrow • Elizabeth Swann • Will Turner • Captain Barbossa • Bo'sun • Jacoby • Twigg • Cursed Crew • Prince Eric • Attina • Andrina • Santa Claus • Skeletal Reindeer • Timon • Pumbaa • Nala • Rafiki • Scar • Shenzi, Banzai, and Ed • Mufasa • Kiara • Pridelanders • Hyenas • Tron • Master Control Program • Commander Sark • Kanga • Gopher • Stitch • Chicken Little
Disney Characters introduced in Birth by Sleep: Prince Phillip • Maleficent's Goons • Doc • Grumpy • Happy • Sleepy • Bashful • Sneezy • Dopey • The Prince • Evil Queen • Magic Mirror • Prince Charming • Jaq • Lady Tremaine • Anastasia • Drizella • Lucifer • Grand Duke • Grand Councilwoman • Captain Gantu • Jumba • Experiment 221 • Lost Boys
Disney Characters introduced in Dream Drop Distance: Quasimodo • Esmeralda • Phoebus • Judge Claude Frollo • Victor, Hugo, and Laverne • Kevin Flynn • Sam Flynn • Quorra • CLU • Rinzler • Black Guards • Blue Fairy • Beagle Boys • Chernabog's Minions • Julius
Disney Characters introduced in Kingdom Hearts χ: Mad Hatter • March Hare • Razoul • Royal Guards • Maurice • Gaston
Disney Characters introduced in Kingdom Hearts Union χ: Sultan • Samson • Vanellope von Schweetz • Fix-It Felix Jr. • Sergeant Calhoun • King Candy • Sour Bill • Cy-Bugs • Hero's Duty Troops
Disney Characters introduced in Kingdom Hearts III: Zeus • Apollo • Athena • Hermes • Lava Titan • Tornado Titan • Little Chef • Woody • Buzz Lightyear • Rex • Hamm • Sarge • Green Army Men • Little Green Men • Rapunzel • Flynn Rider • Pascal • Maximus • Mother Gothel • Sulley • Mike Wazowski • Boo • Randall Boggs • Child Detection Agency • Trailer Son and Mom • Elsa • Anna • Kristoff • Olaf • Sven • Marshmallow • Hans • Mr. Gibbs • Tia Dalma • Davy Jones • Kraken • Cutler Beckett • Baymax • Hiro Hamada • Go Go Tomago • Honey Lemon • Fred • Wasabi • Lumpy • Wreck-It Ralph
Disney Characters introduced in Kingdom Hearts Dark Road: Tweedledee and Tweedledum
Disney Characters introduced in the manga: Caterpillar • Chi-Fu
Square Enix Characters: Leon • Cloud • Moogle • Others
v - e - d

Disney
Mickey Mouse & Friends: Mickey • Minnie • Donald • Daisy • Goofy • Pluto • Fifi • Pete • Clarabelle Cow • Horace Horsecollar • Willie the Giant • Chip and Dale • Mortimer Mouse • Chief O'Hara • Detective Casey • Butch the Bulldog • Golden Harp • Father Time • Peter Pig


The Lion King: Simba • Nala • Shenzi, Banzai, and Ed • Ostrich • Gazelle • Rhino • Hippo • Zebra • Blue Beetle • Grub • Zazu • Rafiki • Timon • Pumbaa • Mufasa • Scar
Tangled: Rapunzel • Flynn Rider • Stabbington Brothers • Pub Thugs • Attila • Vlad • Big Nose • Hook Hand • Ulf • Shorty • Pascal • Maximus • Mother Gothel • The King • The Queen • Captain of the Guards • Warthog • The Lantern
Wreck-It Ralph: Ralph • Vanellope • Felix • Sgt. Calhoun • King Candy • Taffyta Muttonfudge • Candlehead • Surge Protector • Gene • Nicelanders • Rancis Fluggerbutter • Other Sugar Rush Racers • Sour Bill • Blue Racer • General Hologram
Big Hero 6: Hiro Hamada • Baymax • Robert Callaghan • Go Go Tomago • Honey Lemon • Wasabi • Fred • Fred's Dad • Tadashi Hamada • Cass • Yama • Alistair Krei • Heathcliff • Abbigail Callaghan • Attila • Sergeant Gerson • Cass
Zootopia: Judy Hopps • Nick Wilde • Flash • Clawhauser • Gazelle • Yax • Bogo • Mayor Lionheart • Bellwether • Doug • Finnick • Mr. Big • Mr. Otterton • Manchas • Gideon • Jerry Jumbeaux Jr. • Nanga • Priscilla • Mr. Hopps • Mrs. Hopps • Business Lemming • Duke Weaselton • Fru Fru • Kozlov • Officer McHorn • Wrangled • Wreck-It Rhino • Pig Hero 6
The Jungle Book: Mowgli • Kaa • Baloo • Akela • Raksha • Gray • Shere Khan • Colonel Hathi • King Louie • Bandar-Log Monkey • Flying Squirrel • Crocodile • Peacock • Vulture • Elephant • Bee Hive
Alice Through the Looking Glass: Alice Kingsleigh • Dormouse • Tweedledee and Tweedledum • Cheshire Cat • Bandersnatch • Bayard • White Queen • March Hare • White Rabbit • Mad Hatter • Absolem • Time • Wilkins • Humpty Dumpty • Red Queen • Borogrove • Frog Delivery Man • Gentleman Fish • Vegetable Soldier • Vegetable Servant • Vegetable Executioner • Armored Chess Piece
Pirates of the Caribbean: Jack Sparrow • Will Turner • Elizabeth Swann • Joshamee Gibbs • Tia Dalma • James Norrington • Marty • Cotton • Bootstrap Bill Turner • Pintel • Ragetti • Angelica • Blackbeard • Prison Dog • Maccus • Davy Jones • Helmsman • Philip Swift • Syrena • Captain Salazar • Ghost Lesaro • Shansa • Henry Turner • Carina Smyth • The Redhead • Murtogg • Mullroy • Treasure Chest • Stray Cat • Tiny • Pirate With Pigs • Ghost Shark • Ghost Seagull • Auctioneer
Aladdin: Aladdin • Jasmine • The Sultan • Prince Achmed • Gazeem • Razoul • Rajah • Iago • Abu • Genie • Jafar • Magic Carpet • Pink Flamingo • Beggar Jafar • Golden Scarab Beetle • Magic Lamp • Snake Charmer • Golden Camel
The Nightmare Before Christmas: Jack Skellington • Sally • Lock, Shock, and Barrel • Oogie Boogie • Santa Claus
Mulan: Mulan • Yao, Ling, and Chien Po • Fa Li • Fa Zhou • Hayabusa • Khan • Cri-Kee • Little Brother • Mushu • Shan Yu • Captain Li Shang • The Emperor of China • The Matchmaker • General Li • Grandmother Fa • First Ancestor Fa • Chi-Fu • Great Stone Dragon
Moana: Moana • Sina • Frigatebird • Chief Tui • Gramma Tala • Pua • Frigatebird • Kakamora Chief • Maui • HeiHei • Ghost Matai • Eel • Tamatoa • Frog Monster • Sloth Monster • Eight Eyed Bat • Chicken Feed • Maui's Hook • The Ocean
Beauty and the Beast: Belle • Maurice • Chip Potts • Mrs. Potts • Gaston • LeFou • FrouFrou • Chapeau • Plumette • Beast • Cogsworth • Lumiere • The Enchantress
Lilo & Stitch: Lilo Pelekai • Nani Pelekai • David Kawena • Mrs. Hasagawa • Mertle Edmonds • Stitch
DuckTales: Scrooge McDuck • Donald Duck (Classic) • Huey, Dewey, and Louie • Webbigail Vanderquack • Mrs. Beakley • Beagle Boys (Big Time, Burger, and Bouncer) • Gyro • Darkwing Duck • Falcon Graves • Pixiu Chinese Dragon • Peghook's Ghost • Launchpad McQuack • Hack and Slash Smashnikov • Gizmoduck • Shadow Magica • Ma Beagle • Flintheart Glomgold • Pharaoh Toth-Ra • Headless Man-Horse
Community content is available under
CC-BY-SA
unless otherwise noted.