"Announcing his imperial grace, the Grand Duke."
―The Herald

The Herald is a minor character in the 1950 Disney animated film, Cinderella. He is the herald of the king and of The Grand Duke, shown as bald with a white wig to hide it.
Background
Physical Appearance
The Herald is shown as a short, aging person. He is shown to be fair skin with a bald head (though he wears a white wig to cover it up) and has brown eyebrows. He is shown to wear a maroon coat, with a green shirt and brown trousers and black buckled shoes, and is often seen with his trumpet.
Appearances
The Herald first appears, knocking at the Château's door, giving Cinderella a letter from his highness the king, stating a ball with every eligible maiden is presumed to be attending.
He is then seen during the end of the film, arriving at the Château alongside The Grand Duke, announcing him as the Duke reads the proclamation of the King with every girl to try on the Glass Slipper. He is then seen trying the shoe on Anastasia, with the Duke asleep. Though the shoe turns out far too big, with the Duke stating to go on with the next girl.
He is then seen trying the shoe on Drizella, though it fails with her getting angry, knocking him on the piano, revealing his bald head. As him and the Duke are about to leave, Cinderella comes down, with the Herald, rushing towards her though Lady Tremaine trips him, breaking the slipper, though Cinderella reveals she has the other slipper, with her being revealed as the Prince's true love.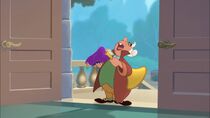 The Herald returns for the third film, with practically the same role he had in the original film.
He is first briefly seen during the montage when Lady Tremaine turns back time with the Magic Wand of the Fairy Godmother, he briefly seen alongside The Grand Duke reading the proclamation of the king, with Lady Tremaine, alongside Anastasia and Drizella.
He is then seen announcing the Grand Duke in the new present, as the Grand Duke comes in, with him actually not saying his large proclamation. He is then seen trying on the Glass Slipper, with with the wand, fitting, startling him and the Duke. Afterwards, he isn't seen again throughout the film.
The Herald appears on Once Upon a Time, episode "The Other Shoe", known Jacob and is portrayed by Max Lloyd-Jones. He is the love interest of Clorinda.
Gallery
Community content is available under
CC-BY-SA
unless otherwise noted.