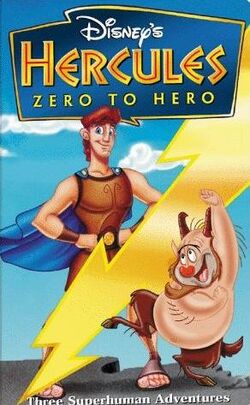 Hercules: Zero to Hero
is a direct-to-video movie edited from four episodes of
Hercules: The Animated Series
, released on August 17, 1999.
Plot
The episode "Hercules and the Yearbook" is the main plot of the video. Unlike the televised version, the random clips are replaced with three other episodes (in the following order):
Songs
Trivia
This movie shares similarities to the Disney direct-to-video animated sequel, Tarzan & Jane. They both take place after the events of their original films and use three episodes from their respective television series, Hercules: The Animated Series and The Legend of Tarzan to serve as flashbacks and fill the main plot of the movie.
Some of the dialogue between Hercules and Meg are altered to fit the episodes. An example of this is "Hercules and the Visit From Zeus" replacing the clip of Hercules graduating from Prometheus Academy. Also, in order to better segue into the stories from the sequences from "Hercules and the Yearbook", the opening scenes of each episode were cut.
External links
Community content is available under
CC-BY-SA
unless otherwise noted.