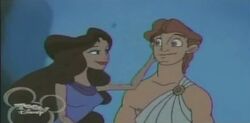 Hercules and the Dream Date
is an episode of
Hercules: The Animated Series
.
Summary
Pymoglian, the Prometheus academy art teacher is short, old, decrepit, toothless and far from being what any woman would consider a prime catch. So it comes as something of a surprise to Hercules when he finds out when the woman bringing him his forgotten lunch calling herself Mrs Pymoglian is a stunningly gorgeous blonde vision of a woman who for all apearances is totally in love with the old man. Icarus explains that she was actually a statue that Pymoglian created that Aphrodite brought to life. Herc who has been smacked down by every girl he's talked to about going to the upcoming dance sees this as the perfect solution. Unfortunatly Herc should have been paying more attention to Pymoglian than his wife in class because his sculpting skills are sub par. Fortunatly Aphrodite is there to mold the clay on the demi gods instructions and with her help, Zeus's son sculpts his dream girl: Galatea. Unfortunatly, he's so entranced by the outer beauty of her that he glosses over the personality, simply requesting that she be 'crazy about him'.
Crazy is all too appropriate. She's not just in love, Galatea is clingy, obsessive, and insanely jealous, to the point of threatening any girl who shows the smallest interest in "her man". Not good, since she still possesses an amorphic clay body, which she can fashion into a variety of deadly forms. This all leads to a confrontation which leaves Herc going to the dance alone again. At the dance, Galatea attacks once again, forcing Hercules to harden the clay in her body until she cannot move. Just in time, as Aphrodite appears, hoping Hercules realised the lesson that you can't just create the perfect partner. She comforts Hercules, who guessed that his teacher was more careful with his wish. Pymoglian says he didn't and that she's as loony as Galatea was, but doesn't care, saying that a woman that looks like her being with a man that looks like him is too good a thing to care about a little clingy craziness.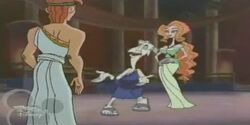 "Look at her! Look at me! I ain't complaining!" He's then carried off in his wifes clay tentacles, giggling happily. Aphrodite puts a hand on Hercules's shoulder, consoling him that not 'everyone' gets the lesson.