Higglytown Heroes is an American children's television series that aired on the Disney Junior (formerly Playhouse Disney) portion of the Disney Channel, or, on some cable networks, the Playhouse Disney channel. The theme song of the show, "Here in Higglytown", is performed by They Might Be Giants, which was also released on their second children's album Here Come the ABCs. Higglytown Heroes returned to Disney Junior on its cable and satellite channel replacing SOAPnet on March 23, 2012. The series aired on Disney Junior until 2014.
Higglytown Heroes tells the story of four youths (Eubie, Wayne, Twinkle, and Kip) and their red squirrel friend (Fran). Along the way, whose person and environment are modeled on Matryoshka nesting dolls, explore their city and the people in it.
Higglytown heroes have ranged from firefighters to dentists to snow plow operators. Voice actors for these Higglytown heroes are frequently guest celebrities. The series encourages involvement in the community, and means to inspire children to consider the importance of individuals who contribute to the world and make it a better place. The show also teaches kids about jobs and may influence them about what they want to be when they grow up.
Prior to airing on Playhouse Disney, Higglytown Heroes was a mini-series airing in 2003, in which Eubie, Wayne, Twinkle, Kip and their squirrel friend Fran notice that a friend is in trouble. In order to cross the street, they sing a song about it with their crossing guard friend, Mrs. Whiskers.
Hero Song
The lyrics to the first "Hero" song were written by Kent Redeker, one of the show's executive producers. The song was composed and produced by Mark Harrison, the show's senior songwriter.
Each episode contains two songs. An initial "dilemma" song which sets up the "problem" which needs to be solved followed by the "hero" song which introduces the hero who solves the problem, some of the heroes later appear in later episodes and renamed to Mr, Ms or Miss or Mrs (depending on their gender) like the Gardener Hero who first appeared at the Episode "Flower Power" who later got renamed to Mr Gardener in the episode "Look Who's Squawking" and Mr. Electrician who first appeared in "Electric Evening" later appeared in later episodes like "A Valentine For Miss Fern".
While every hero song has the same basic melody as the initial hero song written by Harrison, he performed and produced each song with different lyrics and instrumentation to fit the episode's specific hero.
Brad Mossman, the other principal songwriter, composed lyrics and music for a number of dilemma songs in many episodes as well.
Cast
Taylor Masamitsu as Eubie
Frankie Ryan Manriquez as Wayne
Liliana Mumy as Twinkle
Rory Thost as Kip
Edie McClurg as Fran
Episodes
Season 1
Episode No.
Title
Guest Cast
Airdate
1
"Up a Tree"/"Missing Grandpop"
Trivia: The episode "Missing Grandpop" might have taken place during the fall, because of the orange trees in the background, and the color of the grass.
2
"Twinkle Tooth"/"Flower Power"
3
"First Snow"/"Snow Dazed"
4
"Flappy's Not Happy"/"Electric Evening"
5
"All Tire'd Out"/"Great Un-Expectations"
6
"Smooth Operator"/"Stinky Situation"

Cyndi Lauper - Telephone Operator Hero
Jim Wise - Sanitation Worker Hero

7
"Weather or Not"/"Green in the Gills"

Susan Lucci - Weathergirl Hero
Miguel Sandoval - Painter Hero

8
"Halloween Heroes " (aka "Higgly Halloween")
9
"Smells Like a Mystery"/"Ship Ahoy!"
10
"Soup with Stars"/"The Happy Friendly Sparkly Toast Club"

Smokey Robinson - Grocery Clerk Hero
Ricki Lake - Carpenter Hero (Alice)

11
"Catch Up with Ketchup"/"Star Struck"
12
"Twinkle's Wish"
13
"Twinkle's Masterpiece"/"The Egg-cellent Adventure"
14
"Wayne's Ripping Adventure"/"Meet Eubie's Cousin"
15
"Say What?"/"Higgly Harmonies"

Nathalia Hencker - Translator Hero

Jamie-Lynn DiScala

- Miss Fern
David Naughton - Orchestra Conductor Hero

16
"Wayne's Good Guess"/"Wayne's 100 Special Somethings"

Jamie-Lynn DiScala

- Ms. Fern
Cicely Tyson - Great Aunt Shirley

17
"Patty Cake"/"Havin' a Ball"

Rocco DiSpirito - Baker Hero
Steve Harris - Coach Hero

18
"Bright Sights, Big City"/"Kip's Shadow"

Marissa Jaret Winokur - Taxi Driver Hero
Carlos Alazraqui - Shelter Worker Hero
Jesse David Corti - Jax

19
"Fran Takes a Hike"/"Mystery at Kip's House"

Irene Bedard - Forest Ranger Hero
Henry Dittman - Detective Hero

20
"Kip Joins the Circus"/"Baby Boom"
21
"Twinkle's Favorite Author"/"Don't Fence Me In"
22
"Higgly Hoedown"/"Eubie's Turbo Sled"

Trace Adkins - Cowboy Hero
Serena Williams - Snow Plow Driver Hero

23
"Kip's Dad Gets a Strike"/"A Really Hot Day"
24
"Kip's Sweet Tooth"/"Wayne's Lollipop"
25
"Eubie's Pink Dots"/"Two Bees or Not Two Bees"

Naomi Judd - School Nurse Hero
Kate Pierson - Beekeeper Hero
Betty White - Grandmama

26
"Higgly Frog Day"/"Eubie's Elly-Fantastic Adventure"
Season 2
Episode No.
Title
Guest Cast
Airdate
1
"Twinkle Twinkle Little Fish"/"All the Wrong Moves"
2
"Kip Gets Swing Fever"/"Wayne's Pieces of Gold"

Gregory Jbara - Tree Trimmer Hero
Mo Collins - Science Fair Judge
Simon Templeman - Banker Hero

3
"All Warm Inside"/"Calling All Ducks"

Philip Anthony-Rodriguez - Furnace Repairman Hero
Jentle Phoenix - Environmentalist Hero

4
"A Totally Secret Valentine"/"A Valentine for Ms. Fern"
5
"Cry Baby Pookie"/"Wait for Me"
6
"Balloon-a-Palooza"/"Wayne's Day Out"

Michael T. Weiss - Mountain Rescue Squad Hero
Katey Sagal - Police Woman Hero
Matthew St. Patrick - Police Man Hero
Cicely Tyson - Great Aunt Shirley

7
"The Fran in the Moon"
8
"Me and My Shadow"/"Out to Sea"

Jorge Garcia - Dog Trainer Hero

Jamie-Lynn DiScala

- Ms. Fern
Debi Mae West - Lighthouse Keeper Hero

9
"Don't Wayne on My Parade"/"Twinkle's Terrific Twirl"

Nicole Parker - Window Washer Hero
Peter Siragusa - Ice Resurfacer Hero

10
"Wayne's Big, Big Wish"/"Dirigible Day"

Mo Collins - Paleontologist Hero
Roberto Alcaraz - Air Traffic Controller Hero

11
"The Legend of Higgsquatch"
12
"Eubie's Big Boat Float"/"A Slippery Situation"

Anne Heche - Gloria the Waitress
Matthew Kaminsky - Drawbridge Operator Hero
David Jolliffe - Radiographer Hero
Wayne Brady - Doctor Hero

13
"Kip's Rocket Rescue"/"Let's Get Moving"
14
"Corn to Be Wild"/"Overnight Moose"
15
"Higgly Island"
16
"Shear Luck"/"Big Night Out"
17
"Calling All Cars"/"Amazing Museum"

Jonathan Adams - Road Worker Hero
Aisha Tyler - Museum Curator Hero

18
"Frozen Fish Follies"/"Look Who's Squawking"

Dave Wittenberg - Sled Dog Musher
Stephnie Weir - Animal Control Officer Hero

19
"Wayne's Day to Shine"/"Wayne Listens Up"
20
"A Hoppin' Poppin' Problem"/"Hay Hay Hay!!"

Lesley Boone - Mechanic Hero, Bessy the Cow, Farmer Lulu
Season 3
Episode No.
Title
Guest Cast
Airdate
1
"Happy Campers"/"All Washed Out"
2
"Hat's All Folks"/"Hop Hop Hooray"
3
"Shuffleboard Buddies"/"All Mapped Out"

Debi Mae West - Physical Therapist Hero
David Jeremiah - Mapmaker Hero

4
"12-Pie Abe"/"The Day the Diner Stood Still"
5
"Saturday Night Higgly"/"Monster Sandwiches"
6
"The Big Pink Elephant Sale"/"Higglies on Horseback"

Jeff Bennett - Auctioneer Hero
Michael T. Weiss - Veterinarian Hero

Jamie-Lynn DiScala

- Ms. Fern

7
"Buki-Buki Boo-Boo"/"Signs of Spring"

Julianne Grossman - Roofer Hero
Henry Dittman - Sign Language Interpreter Hero

8
"Easy to Get Sneezy"/"Unlock the Magic"

Jon Curry - Allergist Hero
J. Grant Albrecht - Locksmith Hero

9
"Wayne's Cycle Recycle"/"Wayne's Wet Pet"
10
"X Marks the Spot"/"Eubie's View"

Scott McShane - Bridge Builder Hero
Lesley Boone - Dump Truck Driver Hero

11
"Whing-a-Ding Whirly Box"/"Windy Watchers"

Jo Anne Worley - Customer Service Clerk Hero
Henry Dittman - Higglytown Coast Guard Hero

12
"Choo-Choo Zucchini"/"Something Ducky Going On"
13
"Fripp's Flip-Flap Flop"/"Say Cheese"
14
"Canyon Capers"/"High-Country Hiccups"
15
"Calling All Heroes"
16
"Happy Flappy Birthday"/"The Cuckoo County Caw-Caw Contest"

Wes Brown - Phone Repairman Hero
Leanza Cornett - Airplane Pilot Hero

17
" Little Big Fish "/"Good Sports"
18
"'Tis the Season to be Snowy"/"Bingo Bongos"

Joseph Gian - Stan the Bricklayer Hero
They Might Be Giants - The Supertasters
Shawn King - Usher Hero

19
"Wayne's Toasty Invention"/"Spell it Safe"
Related studies
Victor C. Strasburger and Edward Donnerstein, 1999. "Children, Adolescents, and the Media: Issues and Solutions," Pediatrics, volume 103, number 1: pp. 129–139: Open Access Copy
v - e -

d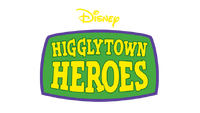 Characters
Eubie • Wayne • Twinkle • Kip • Fran
Songs
Here in Higglytown • Hero Song • Here, Kitty, Kitty Cat • I Miss Grandpop • The Marching Song • Getting Ready for Christmas Day • The Babysitter Song • Gather Up The Leaves • The Acorn Polka • Ripped Pants Blues • The City • One Hundred • So Many Colors • New Friends • Hot Hot Day • Rainy Day • Up, Up, Up • The Higgly Check • Follow That Frog • Ten Coins