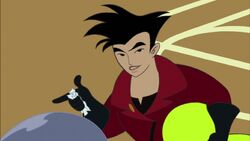 Hirotaka
[1]
(voiced by John Cho)
[2]
is a minor character in the animated television show
Kim Possible
.
History
He is the top student from the Yamanouchi Ninja School in Japan, he and Ron attend each other's school in an exchange program. Upon arriving to Middleton, he gains the attention of every teenage girl there. He seems interested in Kim mostly for her martial arts skills but is also very aware of the attention he gets from the ladies. He doesn't seem to care, and appeared to have been dating Bonnie the whole time.
In terms of skill, Hirotaka seems to be one of Yamanouchi's more advanced students and possesses a great deal of stamina through his training. When he asks Kim to demonstrate her abilities to him, although neither of them actually hit the other, Hirotaka was shown to have been somewhat faster than Kim when fighting her, and in the end Kim is left winded, while Hirotaka hasn't even broken a sweat. He also seems to prefer a more defensive style of combat, not fighting back unless he absolutely has to. When Brick tries to pick a fight with him at Bueno Nacho (because of Brick being angered at the attention Hirotaka was getting from all the girls), Hirotaka is perfectly happy to simply evade Brick's attacks and let him exhaust himself to the point that Brick can't fight anymore.
Gallery
References
Community content is available under
CC-BY-SA
unless otherwise noted.