Hissy
is the pet cat of Bob and one of the main characters in
Puppy Dog Pals
. She acts as an older sister to Bingo and Rolly.
Personality
Like a typical cat, Hissy spends most of her time playing and napping. She is very independent and would rather keep to herself. She has a sarcastic and snarky side mainly when putting up with Bingo and Rolly's antics. Though the pups can get on her nerves at times she loves them as little brothers and likes nothing more than them to be happy.
She can get spooked easily mainly when being awakened when napping or when she is on a crazy adventure with the pups. One of her more notable fears is venturing into pumpkin patches at night as she gets frightened very quickly.
Trivia
Gallery
v - e - d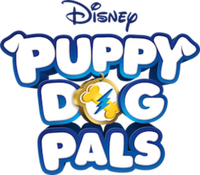 Songs
Puppy Dog Pals theme • Going on a Mission • Fire Truck Time • Waddle Waddle Waddle • Clean Up Time • This is How You Jump • Fix This Day • You're My Best Friend • Keep on Tryin' • Coolin' Out • Feels Like We're Flying • At the Pumpkin Patch • On Halloween Night • Captain Dog • Scuba Doggin' • Dig • Bury It! • Bizzy Beaver Builds a Dam • Gonna Get to the Bottom of This • Walkin' the Bob • Surfin' Puppies • Bubble Wrapped! • Tangled Up! • Looking for Bob's Bird • Andiamo (Let's Go!) • Gotta Get the Ball! • The Race is On • Let's Hit the Road • We Need to Be Quiet • Doesn't Take Much • Gotta Make the Latkes • Watch Out • You Still Look Pretty Little to Me • Ol' Snapper • Catch That Squirrel • Diggin' Again • The Hunt for Hissy • Four Leaf Clover • Dry Cleaner Puppy Party • Slow Down Grandma • If You Have a Pet • Looking for a Boomerang • Olivia! • Birthdays Are the Best • You're Dancin' • Our New Best Friend Keia • I Would Do Anything • Guess Who's Got a Brand New Doghouse? • The Fang Fairy • Snow Monkeys • You Need Some Rest • Puppies on the Moon • Super Bouncy Pups • Spy Puppies • The Alpine Puppy Yodel • We're Bringing Dinner to Bob • There's Always Room for Another Friend • It's Christmas (And We're Heading Home) • Gary the Gecko's Lemur Song • His Name is Zeus • The Fetchin' Wind is Hard to Do Blues • Three Pups in Paris • Hong Kong Pups • Dog Washing • Whodunnit?
Community content is available under
CC-BY-SA
unless otherwise noted.