"Even miracles take a little time."
This article features media from Walt Disney Company or its subsidiaries that has yet to be released.
To prevent speculation, please add reliable sources to the unreleased media. Any information that is not backed up by citations may be removed.
Thank you and have a magical day!

Holly Short is a character from the upcoming film Artemis Fowl and Disney Press's graphic novel adaptations of the book series, played by Lara McDonnell.
She is an elf who is one of the few female officers in LEP-RECON, the special task force dedicated to protecting both the magical world and the human world. Artemis tries to kidnap her in order to ransom her for a large amount of money to restore his family fortune, which in turn leads them to a conspiracy with the magical world. Holly is brave and courageous, but also kind and noble.
v - e - d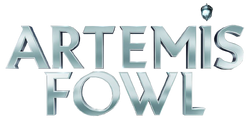 Media
Films:
Artemis Fowl
Books: Artemis Fowl • Artemis Fowl: The Arctic Incident • Artemis Fowl: The Eternity Code • Artemis Fowl: The Opal Deception • Artemis Fowl: The Lost Colony • Artemis Fowl: The Time Paradox • Artemis Fowl: The Atlantis Complex • Artemis Fowl: The Last Guardian
Community content is available under
CC-BY-SA
unless otherwise noted.