Hollywood Boulevard is a themed land at Disney's Hollywood Studios at the Walt Disney World Resort in Florida. It serves as the park's main entrance and is lined with venues selling Disney merchandise. Parades travel down Hollywood Boulevard on their route through the park, and live street entertainment can be found here throughout the day. Michael Eisner, who had a major part in the park's creation ever since the earliest development, demanded the opening land operate on the same principle as Main Street, U.S.A. but in a style more fitting to the Studios.
At the far end of Hollywood Boulevard stands a replica of the Grauman Chinese Theater, inside it was The Great Movie Ride, a dark ride which pays homage to several classic films, including Casablanca, The Wizard of Oz, and Raiders of the Lost Ark, but the attraction closed on August 13th, 2017 to make way for Mickey and Minnie's Runaway Railway. The Sorcerer's Hat used to be at the end of Hollywood Boulevard and the park's icon, but it was removed on January 7, 2015.
On October 27, 2020, following Walt Disney World's reopening after being temporarily closed during the ongoing COVID-19 pandemic, Walt Disney World announced that all entertainment would be laid off, such as Citizens of Hollywood at Disney's Hollywood Studios and Monsters, Inc. Laugh Floor at Magic Kingdom, due to a dispute between the Actors' Equity Association and Walt Disney World.[1][2]
Attractions
Former
Entertainment
Former
Restaurants
The Hollywood Brown Derby
The Trolley Car Cafe
Jingle Bell, Jingle BAM! Holiday Dessert Party
Star Wars: A Galactic Spectacular Dessert Party
Shopping
Adrian and Edith's Head to Toe Costume Shop
Celebrity 5 & 10
Classic Car Memorabilia
Crossroads of the World
Great Movie Finds
Keystone Clothiers
Mickey's of Hollywood
Movieland Memorabilia
Oscar's Superstation
Sid Cahuenga's One-of-a-Kind
Studio Prop Co.
Studio Prop Shop
Studio Showcase
Superstar Shop
Tailor to the Stars
The Darkroom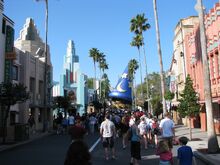 References