"Home is Where the Home is" is the fifth episode of the fourth season of The New Adventures of Winnie the Pooh that originally aired on ABC on October 5, 1991.
Synopsis
When Christopher Robin accidentally destroys a family heirloom, he decides to leave home and set up somewhere else.
Plot
One day Christopher Robin asks his mom if he can go outside with his friends for some bug hunting. However his mom notices that his room is still a mess and tells him he can play after he cleans up his room. She also tells him to be careful around a bust of his great uncle his Aunt Edna made before leaving to go shopping.
As Christopher Robin laments about having to clean his room, Pooh, Piglet, Tigger and Rabbit arrive wondering why he hasn't met with them yet. Christopher tells them that he has to clean up his room before he can go outside and play. The four agree to help as the faster they clean up, the sooner they'll be able to go outside while Christopher Robin tells them to be extremely careful around the bust. With that in mind, Tigger heads towards a fort made of Lincoln Logs intending to clean it up but after a fantasy sequence, he ends up making a bigger mess. While Christopher Robin mentions that cleaning up isn't that much fun, the four decide to take advantage of it; Rabbit uses a squishball to knock the toys into the chest, Pooh uses a train to help pick up toys and Tigger juggles various objects to be thrown into place.
However while attempting to carry so many toys at once, Piglet loses his balance and hits Rabbit who trips onto a skateboard causing him and Tigger to crash into Christopher Robin who hits the bust. He attempts to grab it but it falls and breaks before he could catch it. Horrified, Christopher Robin wonders what he's going to do if his mom finds out. Rabbit decides to glue it back with honey (since no one has any glue) but that fails. As a last resort, the gang goes to the Hundred Acre Woods and bury the pieces.
Knowing that his mom will return and notice the bust is missing, Christopher Robin figures he can't return home. The others insist he should stay in the woods but he says he can't although he's unable to explain why. Seeing an opportunity, the group figures they should let Christopher Robin stay at one of their houses. They first go to the Tigger's house where Tigger empties his so much that he demolished his own house. Piglet's house is too small, while Pooh's is too messy. Rabbit thinks his house will be best for him but then he adds so many restrictions that makes his house practically unlivable. Just then Eeyore arrives and offers Christopher Robin his house but it soon falls apart when a butterfly lands on it.
With no other options Christopher Robin decides he has to figure out what to do while Rabbit is determined to solve the problem. Although Eeyore suggests Christopher needs to return to his actual home, Rabbit gets an idea to create a new home for their friend with Tigger, Pooh and Piglet agreeing to help. The four head to an open field where Rabbit does the planning, Tigger and Pooh do the building and Piglet makes the design for the house. Meanwhile Eeyore catches up with Christopher Robin who has decided to run away from home. As Eeyore tries to persuade him to return home, Christopher hears his mom calling him causing him to make a quick getaway.
Meanwhile Rabbit and the gang had finished the house and Rabbit sends Pooh to tell Christopher about the new house. When he gets near his home Christopher Robin runs past him before seeing him. When Pooh tries to tell him about the house, Christopher is in much of a hurry to run and asks Pooh to tag along with him. Even though he doesn't know where they're going, he agrees to come. Meanwhile Rabbit, Tigger and Piglet are impatiently waiting for Pooh when they hear thunder and lightning indicating a storm's coming. Frightened, the three decide to look for Pooh and Christopher Robin themselves. At the same time Eeyore sees Pooh and Christopher running away and decides to follow them as well. At Pooh's house, Rabbit finds a note from Pooh saying that he and Christopher Robin are running away from home just as rain begins to fall. Shocked at the news, the three start to search all around the Hundred Acre Wood to find them.
Meanwhile Pooh and Christopher Robin are still walking just as the storm catches up with them when Pooh begins to wonder how far will they go and will his mom begin to worry about him. Christopher Robin admits he doesn't know and he can't go back after what he did. After a break to eat honey, the two take shelter in a bus stop where it's revealed Eeyore followed them with an umbrella in his mouth hoping to stop them before they go too far. Grabbing the umbrella Christopher Robin laments he ended up in a huge mess all because of one broken bust. Eeyore admits that the broken statue was an accident but says that running away from problems only makes them worse. Hearing those words and seeing how wet Pooh is, Christopher Robin decides to head back to take Pooh back home to dry up which Pooh is grateful for.
Just then the storm has cleared up while Rabbit, Piglet and Tigger had no luck in finding their friends. However the two managed to find them and happily reunite. Right then Rabbit shows Christopher Robin his new house. Even though he says it's nice he admits he can't live in it. He tells his friends he needs to go back to his real home and has to fess up to his mom for what he did. He does thank them for all the hard work they did before leaving to dig up the bust pieces and show them to his mom. As Eeyore is without a home, the four give the house to him instead. Just then the same butterfly that demolished Eeyore's house, lands on the new house quickly demolishing it. Eeyore pokes his head out of the rubble where the butterfly lands on him smiling that there's no place like home.
Characters
Home video
Learning: Growing Up (VHS)
v - e - d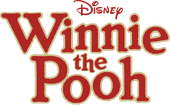 Songs
Movie Songs
Winnie the Pooh and the Honey Tree: "Winnie the Pooh" • "Up, Down, Touch the Ground" • "Rumbly in My Tumbly" • "Little Black Rain Cloud" • "Mind Over Matter"
Winnie the Pooh and the Blustery Day: "A Rather Blustery Day" • "The Wonderful Thing About Tiggers" • "Heffalumps and Woozles" • "Rain, Rain, Rain Came Down, Down, Down" • "Hip-Hip-Hooray!"
Boo to You Too! Winnie the Pooh: "I Am Not Afraid" • "I Wanna Scare Myself"
Pooh's Grand Adventure: The Search for Christopher Robin: "Forever & Ever" • "Adventure is a Wonderful Thing" • "If It Says So" • "Wherever You Are" • "Everything is Right"
The Many Songs of Winnie the Pooh: "It Really Was a Woozle, Yes it Was"
Sing a Song with Pooh Bear: "Kanga Roo Hop" • "You're the One and Only One" • "Harvest What You Grow" • "My Song"
Winnie the Pooh: A Valentine for You: "Girls are Like Boys" • "When the Love Bug Bites" • "Places in the Heart"
Winnie the Pooh: A Very Merry Pooh Year: "Jingle Bells" • "Snow Snows" • "Merry Pooh Year" • "Hunny, Not for Me" • "Auld Lang Syne"
The Tigger Movie: "Someone Like Me" • "Whoop-de-Dooper Bounce" • "Lull-a-Bee" • "Round My Family Tree" • "How to Be a Tigger" • "Your Heart Will Lead You Home"
Piglet's Big Movie: "If I Wasn't So Small" • "A Mother's Intuition" • "With a Few Good Friends" • "Sing-Ho (For the Life of a Bear)" • "The More It Snows (Tiddely-Pom)" • "The More I Look Inside" • "Comforting to Know"
Springtime With Roo: "We're Huntin' Eggs Today" • "Easter Day With You" • "The Way It Must Be Done"
Pooh's Heffalump Movie: "Little Mr. Roo" • "The Horribly Hazardous Heffalumps" • "The Name Game" • "Shoulder to Shoulder" • "In the Name of the Hundred Acre Wood/What Do You Do?"
Pooh's Heffalump Halloween Movie: "Trick 'R Treating With Our Friends" • "Brave Together"
Winnie the Pooh: "The Tummy Song" • "A Very Important Thing to Do" • "The Winner Song" • "The Backson Song" • "It's Gonna Be Great" • "Everything is Honey" • "Pooh's Finale"
Christopher Robin: "Goodbye, Farewell" • "Busy Doing Nothing" • "Christopher Robin"
Television Songs
Welcome to Pooh Corner: "Welcome to Pooh Corner Theme Song" • "Try a Little Something New" • "The Right Side" • "Yes, I Can" • "You're the Only You" • "I Hum to Myself" • "Please and Thank You" • "Responsible Persons" • "Welcome to Pooh Corner Ending Theme"
The New Adventures of Winnie the Pooh: "Pooh Bear" • "'Cause It's Make Believe" • "The Floating Song" • "Nothing's Too Good for a Friend" • "Under the Bed" • "I Don't Have A Name" • "King of the Beasties" • "The End" • "Pirates is What We'll Be" • "Tigger, the Private Ear is Here"
The Book of Pooh: "Everyone Knows He's Winnie the Pooh" • "Goodbye for Now" • "Your Best Wishes" • "On the Double" • "Who is Me" • "Think, Think, Think" • "What Piglets Are" • "I Watch for Signs" • "We're Making a Cake" • "If I Could Be Big" • "Isn't that Funny?" • "Find the X" • "Everyone Wants a Valentine" • "That's What We Do" • "Keep it Simple" • "Have You Got a Book For Me?" • "Give It a Try" • "On Your Way Back Home" • "The Birdbird Song" • "Nightmare Wranglers" • "Carry On" • "What's Your Name, River" • "Where Do Words Go?" • "Under a Spelling Bee's Spell" • "Adventure" • "Mental Altitude" • "I Want to Know Everything Now" • "Happy Tailiversary" • "Get Growin'" • "Tigger's Lullaby" • "Perfect Party" • "If We Were Talkin'" • "Someone New to Meet" • "My Hero" • "I Want To Be Scary" • "Broken Friendships" • "Do the Roo" • "Call Me Buck-a-Roo" • "At Chez Piglet" • "Nothing Ever Happens" • "Too Much Honey" • "Lost in a Book"
My Friends Tigger and Pooh: "A Few Simple Rules" • "Bouncin'" • "The Grass is Greenier" • "The Password Song" • "Underneath the Same Sky" • "One Big Happy Family" • "Think, Think, Think" • "The Question Song" • "Floating in a Cloud" • "Different Can Be Good" • "The Little Things You Do" • "There's a Party" • "No More Fun In the Snow" • "Butterflies" • "What Makes a Pony a Pony" • "When We Work Together" • "Christmas Comes Tomorrow" • "Time to Go (On a Trek Through the Snow)" • "Snowman Song"
Miscellaneous: "Luv-a-bye" • "Playtime Song" • "Learning Song" • "Friendship Song"

Community content is available under
CC-BY-SA
unless otherwise noted.