"
Huggle...Whaaa?!
" is the second segment of the thirty-ninth episode of
Henry Hugglemonster
. It premiered on
July 28
,
2015
alongside "
All About Summer Camp
".
Synopsis
Henry and the gang pitch in for Momma's birthday party, but then the whole town realizes that Roddy spits out an obscenity that everyone dares not repeat.
v - e - d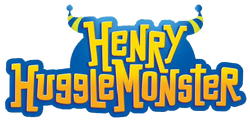 Songs
Have a Henry Hugglemonster Day • Open Up, Flower • Happy Hugglemonster Day • Super Summer Sleepy Song • Close Your Eyes, Ivor • The Summer Song • The Roar Off • Gotta Get a Grip • My Dough • We Are Brave Monster Scouts • In the Ocean • Wizard Mountain • Bounce Cha Cha! • The Fix-It Cha Cha • The Ballad of Beckett • The S'more Roars Song • Summer's Birthday Song • Number One Fan! • Roar it Up! • Welcome to Our Home • The Sneezo Story • Huggleball Anthem • The Stuck Inside Blues • Flutterby/Powerdrive Mash-up Mega Mix • Huggletastic Hugglejuice • Robot Groove • Momma Monster Mia • About a Shoe • The Summer Swirl • Life is Always Snappier • Fireworks • The Monster Princess Show • Roartastically Beautiful • I'm Working • Hugglemonster Manners • Wanna Touch the Sky • Being Big's Roarsome and How • Monster Heart • Grrrrls Just Wanna Roar • The Roaring Lion • Who Needs a Fang? • Welcome Mr. Growl • The Quick Fix • Monster in Charge • Oh, We're Racin'! • Cheer Your Granny • Oh, Spinner • Most Roarsome Day Ever • The Hugglemonster Way • Teach Your Monster • Stomp It • Time Zooms By • The Pirouette Song • My Brother • Heromonsters • The Friendliest Place Ever • To Monsterschool • Summergrams for You • Hugglemonster Halloween • The Scramble • Little Fluffy Puppy Monster • The Ballad of the Scramble River Monster • Summer's Huggsgiving Song • The Huggaround • I've Got Pizzazz • Happy Hugglemas • The Hugglemas Lights • It's Probably Nothing (But it Might Be Something) • The Ballad of Smiley • Kids on Lids • Hugglemonster Valentine Day • The Cobby Comfort Cruiser Theme • My Happiest Day • House Sledding/Sled Dancing • Momma Makeover/Pick it Up • I Can Do This! • Save the Glimmergrove • Dare to Scare • Big Big Baby • You Go Well Together • Catch That Cake • More Than One Way to Save the Day • We Will Find • Everybody Wants That Something • Knit it Up • Play By the Rules • Let's Pogo • Flower Monster Star • Momma Monster Mia • Best Friends • Wrong Direction • Make Your Own Fun! • So, So Roarsome • Perfect Just the Way They Are • Here at Hugglemonster Towers • Time-A to Eats-A Some Pizza • Choco-Matrix-Sprinkle-U-Lalator • Whatever You Say • Play's the Thing • It's a Monster Roller Boogie • A Wonderful Day • Sing a Happy Tune • Monster Momma's Day Love • Summertime, Hey! • Follow Your Monsterdream • Never Enough Henrys/Mad Rhymes • Our Monster Hero • A Song in My Heart • Old Farmer Monster • Momma's Birthday • Say the Silly Word! • Don't Say a Bad Word • Flying Ace • Bigger Isn't Always Best • That'll Be a Happy Huggleween • One Small Stomp • The Monster Moon • When I'm Frightened • Roarsville Rovers Anthem • That's the Way • Scariest Place Ever • Beanie Weenies • Be a Better Monster • The Dugglemonster Way • Have a Denzel Dugglemonster Day • Have a Happy Huggle/Duggle Day • Blue Zucchini Pizza • You! You! You! • The Best Best-Friend Day of All • We've Got the Bug for a Birthday Bash • Bubble Huggin' • K-Growl Jingle • Every Word That I Say • Everything That You Are • Baby Bro Blues • Close Your Eyes • Our Way is Better • No One Way is Better • Monster Holiday • Jingle Howls • We Wish You a Happy Hugglemas • Hugglemas Carol Medley • Dress Up Disaster • Dress That Disaster Away • The Dudes' Day Duet • Everybody's Good at Something