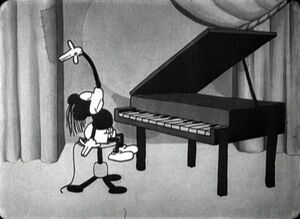 "Hungarian Rhapsody No. 2" is a musical piece composed by Franz Liszt in 1847, and is notable for its performances in many animated cartoons.
The piece was played on a piano by Mickey Mouse in 1929 short, The Opry House, which marked the first time it was heard in an animated film.
The piece was also heard in the climax of the 1953 True-Life Adventure featurette Water Birds, as arranged by Paul Smith.
In the 1988 film Who Framed Roger Rabbit, most likely as a tribute to its status as a staple of cartoon scores, the piece is played by Donald Duck and Daffy Duck as part of a "dueling pianos" stage act at The Ink and Paint Club.
Community content is available under
CC-BY-SA
unless otherwise noted.