Hyperion Books was the general-interest book publishing part of the Disney-ABC Television Group, established in 1990. Hyperion publishes general-interest fiction and non-fiction books for adults under the following imprints: ABC Daytime Press, ESPN Books, Hyperion Audio, Hyperion eBooks, Hyperion East, Miramax Books, and Voice. The company is named after Hyperion Avenue, the location of Walt Disney Studios prior to 1939. The Disney Book Group publishes children's books under the Disney-Hyperion publishing arm.
Hyperion is the home of numerous bestselling novels, including Mitch Albom's The Five People You Meet in Heaven and For One More Day; Eoin Colfer's Artemis Fowl, Candace Bushnell's Trading Up and Lipstick Jungle; Laura Moriarty's The Rest of Her Life; Percy Jackson & The Olympians; Waterfire Saga and Ridley Pearson's The Kingdom Keepers . The company's bestselling memoirs include J. R. Moehringer's The Tender Bar; Duane "Dog" Chapman's You Can Run But You Can't Hide, and Bob Newhart's I Shouldn't Even Be Doing This. They are also home to influential business books like Chris Anderson's The Long Tail; self-help books like Dr. Phil McGraw's Relationship Rescue and the Don't Sweat the Small Stuff library; and celebrity chefs like Jamie Oliver, Nigella Lawson and Dave Lieberman, Dave Barry's Peter and the Starcatchers.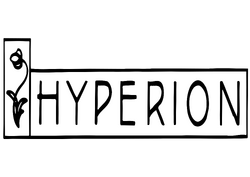 It is also the publisher of Percy Jackson & the Olympians, a best selling children/teens' book by Rick Riordan that features Greek gods, monsters and other fantasy elements. Coincidentally, Hyperion is a titan and actually appears in the books. Hyperion published The Red Pyramid, also by Rick Riordan, which focuses on the two Kane siblings as they find out who they really are.
Disney-Hyperion is the publisher of Miles to Go, the autobiography of Miley Cyrus. They also published the Blue Bloods series by Melissa de la Cruz and the Billi SanGreal series by Sarwat Chadda, along with the children's book "Light Up the Night" by Jean Reidy. They are also the publisher of author Ally Carter's series The Gallagher Girls and Heist Society. Disney Hyperion is the replacement for Disney Editions and Miramax Books and it publishes the young adult books under Disney Hyperion and the more mature books under Hyperion unlike Disney Press which publishes the books meant for children.
Trivia
See also
External links
Community content is available under
CC-BY-SA
unless otherwise noted.