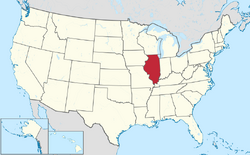 Illinois is the 25th most extensive and the 5th most populous of the 50 United States, and is often noted as a microcosm of the entire country. With Chicago in the northeast, small industrial cities and great agricultural productivity in central and northern Illinois, and natural resources like coal, timber, and petroleum in the south, Illinois has a broad economic base. Illinois is a major transportation hub. The Port of Chicago connects the state to other global ports from the Great Lakes, via the Saint Lawrence Seaway, to the Atlantic Ocean; as well as the Great Lakes to the Mississippi River, via the Illinois River. For decades, O'Hare International Airport has ranked as one of the world's busiest airports. Illinois has long had a reputation as a bellwether both in social and cultural terms and politics.
Although the state's largest population centers today are in northern Illinois, originally the state's population grew from south to north, with settlers arriving from Kentucky in the 1810s. In 1818, Illinois achieved statehood. Chicago was founded in the 1830s on the banks of the Chicago River, one of the few natural harbors on southern Lake Michigan. Railroads and John Deere's invention of the self-scouring steel plow turned Illinois' rich prairie into some of the world's most productive and valuable farmlands, attracting immigrant farmers from Germany and Sweden. By 1900, the growth of industrial jobs in the northern cities and coal mining in the central and southern areas attracted immigrants from Eastern and Southern Europe. Illinois was an important manufacturing center during both world wars. The Great Migration established a large community of African Americans in Chicago that created the city's famous jazz and blues cultures.
Films and shows
Inhabitants
Heroes
Villains
Cities and locations
Actors/Actresses and Crew born in Illinois
Gallery
Community content is available under
CC-BY-SA
unless otherwise noted.