IllumiNations was a fireworks show at Epcot. It debuted in 1988, replacing Laserphonic Fantasy, and ran until 1996, when it was replaced by IllumiNations 25, which in turn was succeeded by IllumiNations: Reflections of Earth. Counting all versions put together, the legacy of IllumiNations lasted for 31 years, with the conclusion of Reflections of Earth coming on September 30, 2019.
Program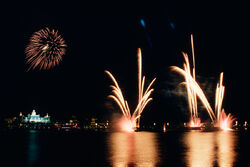 The score to IllumiNations consisted of selections of classical music from around the world arranged by Steve Skorija and performed by the Toronto Symphony Orchestra
Opening
"The Festival of Festivals" - Original theme by Don Dorsey
First Movement
Symphony #5, Movement #1 - Beethoven
Flight of the Bumblebee, from "Tale of the Tsar Sultan" - Nicholas Rimsky-Korsakov
Zampa Overture, First Theme - Louis Herold
Italian Concerto, Movement #3, First Theme - J.S. Bach
William Tell Overture, Second Theme - Gioacchina Rossini
Second Movement
The second movement takes a trip around World Showcase with a song highlighting each pavilion with them lighting up as their song played. Morocco was omitted due to respect for the pavilion's religious architecture.
Scheherezade - Nicholas Rimsky-Korsakov
La Vie Parisienne - Offenbach (France)
Days of Emancipation - Unknown (China)
Rule Britannia - Wagner (United Kingdom)
Tales of the Vienna Woods - Strauss (Germany)
Sakura - Unknown (Japan)
Espana Cani - Marquina (Mexico)
French Canadian Jig - Traditional (Canada)
Funiculi, Funicula - Denza (Italy)
Rhapsody in Blue - Gershwin (United States)
Custom Segue
Third Movement
Carnival Overture, Opus 92, First Theme - Antonin Dvorak
March of the Toreadors, from the opera "Carmen," Prelude to Act 1 - Georges Bizet
Alla Hornpipe, from the Water Music Suite, Movement #13 - George Fredrick Handel
Titan Symphony, Symphony #1 in D Major, Movement #1 - Gustav Mahler
Symphony #9 "Choral," Movement #4, "Ode to Joy" - Beethoven
Prelude to Act 3, "Lohengrin" - Richard Wagner
Firebird Suite, finale - Igor Stravinsky
Great Gate of Kiev, from "Pictures at an Exhibition" - Modest Mussorgsky
Promenade, from "Pictures at an Exhibition" - Modest Mussorgsky
1812 Festival Overture, Second Theme - Pyotr Ilyich Tschaikovsky
Technical statistic
The hardware utilized to perform the show consisted of
25 computers
13 special effects projectors
6 lasers
11 searchlights
12 huge wire mesh screens to project effects onto
108 fountains
783 pyrotechnic pieces
550 theatrical lights
680 strobe lights
5 miles of building outlining lights
50,000 light bulbs[1]
References
Community content is available under
CC-BY-SA
unless otherwise noted.