The Imperial Landing Craft (also known as a Sentinel-class landing craft) were a series of landing shuttle craft that appeared in the Star Wars universe.
Built from the Sienar Fleet Systems Lamdba-class shuttle, this transport ships were used by the Galactic Empire to carry ground forces, small vehicles, and supplies to planetary surfaces and Imperial bases. As in the standard Lambda design, the ship features a stationary top wing with two folding lower wings. The Sentinel has a larger cargo area, and it is heavily armed when in combat.
Discription
The Sentinel shuttle has a command crew of five including the pilot, the co-pilot/sensor officer, the head gunner, and two secondary gunners. The head gunner handles the four retractable laser cannons mounted in pairs on each side of the main troop compartment. One gunner handles the two concussion-missile launchers, which draw from individual magazines of eight missiles each. The final gunner handles the ion cannon and rotating repeating blasters. The ion cannon is mounted in a retractable turret in front of the stationary wing and is used to delay and disable enemy vessels. Rotating repeating blasters are deployed upon landing to provide covering fire.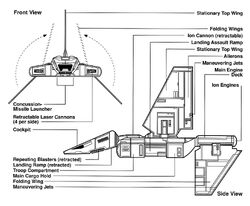 The ship's combat modifications can include armor plating that is nearly twenty-five percent heavier than standard Lambda armor. Four deflector-shield generators, mounted fore and aft pairs, supplement the hull's protection Cygnus HD7 engines that match those found aboard Imperial XG-1 assault gunboats allow the ship to reach atmospheric speeds of 1,00 kilometers per hour, while sublight speed is roughly equivalent to that of the Alliance's Y-Wing starfighter. The Cygnus HD7 hyperdrive unit gives the ship a Class One hyperdrive rating, matching the original Lambda's hyperdrive speed, despite the heavier armor.
The ship's Troop compartment can carry six squads, for a total of fifty-four soldiers. The hold behind the troop compartment has room for a dozen repeating blasters as well as six speeder bikes. The Sentinel's removable seating units allow the ship to be converted quickly to a straight combat vehicle delivery vessel or to a combat-ready cargo ship. In the mode, the landing craft can carry three dozen speeder bikes or a dozen compact assault vehicles.
Each Sentinel landing craft is equipped with a reconnaissance speeder bike with a slaved communications terminal; the comm frequency is randomly determined before each mission to prevent opposing techs from intercepting transmissions. The shuttle also has a full comm array for standard fleet and ground-unit communications.
See Also
External Links