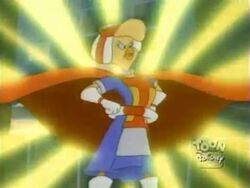 "Inside Binkie's Brain" is the sixty-eighth episode of Darkwing Duck, and the 55th episode to air on The Disney Afternoon.
Synopsis
Binkie is helping Herb clean up the yard when she opens the storage shed and has a bowling ball hit her in the head and releasing her "little hero." She begins her quest as the Canardian Guardian and her motto is "safety first." She goes around town doing various things to try and make it safe and usually ends up causing a catastrophe. Darkwing is trying to catch Megavolt and the Canardian Guardian gets in the way and Megavolt escapes. Darkwing travels around with Binkie to try and keep her from getting hurt and they find Megavolt at the power plant outside town with all the light bulbs he has taken. Darkwing tries to use a glue bomb from his gas gun, but Binkie points it skyward and it lands and glues Darkwing, Launchpad and Megavolt. The African American Guardian gets shocked and now she is just Binkie. Megavolt then tries to overload and blow up the plant and Binkie pulls the plug in the nick of time.
Trivia
In the last scene, Binkie's helmet is yellow instead of white.
The story that Darkwing Duck tells is The Case of the Housewife Hero.
The only appearance of Binky's superhero alter-ego, the Canardian Gaurdian, and also the only time Dr. Slug is ever seen.
Community content is available under
CC-BY-SA
unless otherwise noted.