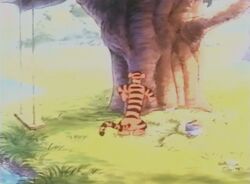 "Invasion of the Pooh Snatcher" is the second segment of the ninth episode of the third season of The New Adventures of Winnie the Pooh.
Plot
Tigger is swinging into the lake and Pooh is taking a nap in the warm sun. Tigger says there are a gazillion things to do on a Spring day... like chasing a stripey butterfly... but who knows what may be lurking in the bushes, as Tigger's imagination begins running away with him. Piglet emerges, adding to his very small collection of very small rocks. Tigger is worried about him saying it's days like today that the Jagulars are out collections of very small animals and Spring is their favorite time of year for springing out unexpectedly at collectibbibbiles. Piglet rushes off to his house to hide until fall. Tigger the goes off to warn Pooh of the Jagulars. Pooh has woken up and leaves the sleepy spot, thinking he has gone to Piglet's for lunch. Tigger arrives just after and, horrified, thinks that Pooh has been collected by the Springing Jagular. Pooh goes to Piglet's house by way of the bedroom window. Piglet has furniture backed up against his door due to his trying to keep out the Jagular. When Pooh tells Piglet that Tigger is missing, Piglet tells Pooh that they have to rescue Tigger from the springing Jagular. They also set up a surprise for the Jagular in case it springs into Piglet's house while he's gone. Tigger is afraid, but feels he had to warn his friends, despite the danger. He goes to Rabbit to ask him about Jagulars. Pooh and Piglet hear Tigger coming, but think he's a springing Jagular. He hears Piglet's knees knocking and thinks it's the Jagular, springing away in fear. Piglet and Pooh, now worried, practice springing to spring on the Jagular first and spring into Gopher's tunnel. Gopher is initially upset; they might've hurt the floor, but he says he knows how to handle the Jagular. Tigger then finds Rabbit and tells him that Pooh's been collected by the Jagular. Rabbit goes with Tigger to Piglet's house to hear piglet's side of the story, is caught in the Jagular trap and is convinced that there are Jagulars on the prowl, because otherwise why would Piglet make a trap? Rabbit decides that he and Tigger should go back to the scene of the Pooh-snatching to set some bait and catch the Jagular. Gopher decides to set a trap for the Jagular too; they plan to go to the water hole when it gets dark (as Jagulars can't see in the dark according to him), set up Piglet to be the bait, and then they plan to grab it. Rabbit meanwhile decides to dress himself and Tigger as Pooh Bear to confuse the Jagular and thereby catch it. However, when the both parties set to rescue their friends, it leads to great confusion; Tigger thinks Piglet is the Jagular (while Piglet thinks Tigger is Pooh), and snatched him and Gopher, while Rabbit pounces on Pooh who is armed with spring-shoes, a pillow for protection, and a helmet, making Rabbit briefly mistake him for Tigger. The confusion ends with Tigger, Piglet and Gopher landing on Pooh and Rabbit and being reunited. Having "rescued" each other, they all leave to celebrate their mutual "rescue", with Pooh bouncing away due to his spring-shoes.
Characters
Home video
Playtime: Detective Tigger (VHS)
Trivia
The plot is similar to the episode Pooh Moon.
This episode was written by Judy Freudberg and directed by Emily Squires.
The title of this episode is based on the 1956 classic Invasion of the Body Snatchers.
v - e - d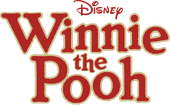 Songs
Movie Songs
Winnie the Pooh and the Honey Tree: "Winnie the Pooh" • "Up, Down, Touch the Ground" • "Rumbly in My Tumbly" • "Little Black Rain Cloud" • "Mind Over Matter"
Winnie the Pooh and the Blustery Day: "A Rather Blustery Day" • "The Wonderful Thing About Tiggers" • "Heffalumps and Woozles" • "Rain, Rain, Rain Came Down, Down, Down" • "Hip-Hip-Hooray!"
Boo to You Too! Winnie the Pooh: "I Am Not Afraid" • "I Wanna Scare Myself"
Pooh's Grand Adventure: The Search for Christopher Robin: "Forever & Ever" • "Adventure is a Wonderful Thing" • "If It Says So" • "Wherever You Are" • "Everything is Right"
The Many Songs of Winnie the Pooh: "It Really Was a Woozle, Yes it Was"
Sing a Song with Pooh Bear: "Kanga Roo Hop" • "You're the One and Only One" • "Harvest What You Grow" • "My Song"
Winnie the Pooh: A Valentine for You: "Girls are Like Boys" • "When the Love Bug Bites" • "Places in the Heart"
Winnie the Pooh: A Very Merry Pooh Year: "Jingle Bells" • "Snow Snows" • "Merry Pooh Year" • "Hunny, Not for Me" • "Auld Lang Syne"
The Tigger Movie: "Someone Like Me" • "Whoop-de-Dooper Bounce" • "Lull-a-Bee" • "Round My Family Tree" • "How to Be a Tigger" • "Your Heart Will Lead You Home"
Piglet's Big Movie: "If I Wasn't So Small" • "A Mother's Intuition" • "With a Few Good Friends" • "Sing-Ho (For the Life of a Bear)" • "The More It Snows (Tiddely-Pom)" • "The More I Look Inside" • "Comforting to Know"
Springtime With Roo: "We're Huntin' Eggs Today" • "Sniffley Sniff" • "Easter Day With You" • "The Way It Must Be Done"
Pooh's Heffalump Movie: "Little Mr. Roo" • "The Horribly Hazardous Heffalumps" • "The Name Game" • "Shoulder to Shoulder" • "In the Name of the Hundred Acre Wood/What Do You Do?"
Pooh's Heffalump Halloween Movie: "Trick 'R Treating With Our Friends" • "Brave Together"
Winnie the Pooh: "The Tummy Song" • "A Very Important Thing to Do" • "The Winner Song" • "The Backson Song" • "It's Gonna Be Great" • "Everything is Honey" • "Pooh's Finale"
Christopher Robin: "Goodbye, Farewell" • "Busy Doing Nothing" • "Christopher Robin"
Television Songs
Welcome to Pooh Corner: "Welcome to Pooh Corner Theme Song" • "Try a Little Something New" • "The Right Side" • "Yes, I Can" • "You're the Only You" • "I Hum to Myself" • "Please and Thank You" • "Responsible Persons" • "Welcome to Pooh Corner Ending Theme"
The New Adventures of Winnie the Pooh: "Pooh Bear" • "'Cause It's Make Believe" • "The Floating Song" • "Nothing's Too Good for a Friend" • "Under the Bed" • "I Don't Have A Name" • "King of the Beasties" • "The End" • "Pirates is What We'll Be" • "Tigger, the Private Ear is Here"
The Book of Pooh: "Everyone Knows He's Winnie the Pooh" • "Goodbye for Now" • "Your Best Wishes" • "On the Double" • "Who is Me" • "Think, Think, Think" • "What Piglets Are" • "I Watch for Signs" • "We're Making a Cake" • "If I Could Be Big" • "Isn't that Funny?" • "Find the X" • "Everyone Wants a Valentine" • "That's What We Do" • "Keep it Simple" • "Have You Got a Book For Me?" • "Give It a Try" • "On Your Way Back Home" • "The Birdbird Song" • "Nightmare Wranglers" • "Carry On" • "What's Your Name, River" • "Where Do Words Go?" • "Under a Spelling Bee's Spell" • "Adventure" • "Mental Altitude" • "I Want to Know Everything Now" • "Happy Tailiversary" • "Get Growin'" • "Tigger's Lullaby" • "Perfect Party" • "If We Were Talkin'" • "Someone New to Meet" • "My Hero" • "I Want To Be Scary" • "Broken Friendships" • "Do the Roo" • "Call Me Buck-a-Roo" • "At Chez Piglet" • "Nothing Ever Happens" • "Too Much Honey" • "Lost in a Book"
My Friends Tigger and Pooh: "A Few Simple Rules" • "Bouncin'" • "The Grass is Greenier" • "The Password Song" • "Underneath the Same Sky" • "One Big Happy Family" • "Think, Think, Think" • "The Question Song" • "Floating in a Cloud" • "Different Can Be Good" • "The Little Things You Do" • "There's a Party" • "No More Fun In the Snow" • "Butterflies" • "What Makes a Pony a Pony" • "When We Work Together" • "Christmas Comes Tomorrow" • "Time to Go (On a Trek Through the Snow)" • "Snowman Song"
Miscellaneous: "Luv-a-bye" • "Playtime Song" • "Learning Song" • "Friendship Song"

Community content is available under
CC-BY-SA
unless otherwise noted.