Iowa is a state located in the Midwestern United States, an area often referred to as the "American Heartland", It derives its name from the Ioway people, one of the many American Indian tribes that occupied the state at the time of European exploration. Iowa was a part of the French colony of New France. After the Louisiana Purchase, settlers laid the foundation for an agriculture-based economy in the heart of the Corn Belt. Iowa is often known as the "Food Capital of the World".
In the latter half of the 20th century, Iowa's agricultural economy transitioned to a diversified economy of advanced manufacturing, processing, financial services, biotechnology, and green energy production. Iowa is the 26th most extensive and the 30th most populous of the 50 United States. Its capital and largest city is Des Moines. Iowa has been listed as one of the safest states to live in.
Films and Shows
Actors/Actresses and Crew born in Iowa
Gallery
v - e - d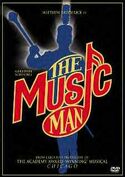 Characters
Professor Harold Hill • Marian Paroo • Mrs. Paroo • Winthrop Paroo • Tommy Djilas • Zaneeta Shinn • Amaryllis • Alma • Mayor Shinn • Eulalie Shinn • Marcellus Washburn • Charlie Cowell • Shadow
Songs
Rock Island • Iowa Stubborn • Ya Got Trouble • Piano Lesson • Goodnight, My Someone • Seventy-Six Trombones • Sincere • The Sadder But Wiser Girl • Pick-A-Little, Talk-a-Little/Goodnight Ladies • Marian the Librarian • Gary, Indiana • My White Knight • Wells Fargo Wagon • It's You • Lida Rose/Will I Ever Tell You • Shipoopi • Till There Was You
Community content is available under
CC-BY-SA
unless otherwise noted.