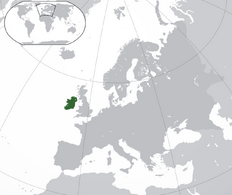 Ireland is an island to the northwest of continental Europe. It is the third-largest island in Europe and the twentieth-largest island on Earth. To its east is the larger island of Great Britain, from which it is separated by the Irish Sea.
Politically, Ireland is divided between the Republic of Ireland, which covers just under five-sixths of the island, and Northern Ireland, a part of the United Kingdom, which covers the remainder and is located in the north-east of the island. The population of Ireland is approximately 6.4 million. Just under 4.6 million live in the Republic of Ireland and just under 1.8 million live in Northern Ireland.
Relatively low-lying mountains surrounding a central plain epitomizes Ireland's geography with several navigable rivers extending inland. The island has lush vegetation, a product of its mild but changeable oceanic climate, which avoids extremes in temperature. Thick woodlands covered the island until the 17th century. Today, it is one of the most deforested areas in Europe. There are twenty-six extant mammal species native to Ireland.
Films and Shows
Actors/Actresses and Crew born in Ireland
Characters originating in Ireland
Main article: Category:Irish characters
Gallery
v - e -

d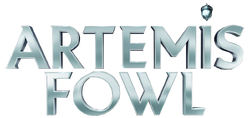 Media
Films:
Artemis Fowl
Music: Artemis Fowl (soundtrack)
Books: Artemis Fowl • Artemis Fowl: The Arctic Incident • Artemis Fowl: The Eternity Code • Artemis Fowl: The Opal Deception • Artemis Fowl: The Lost Colony • Artemis Fowl: The Time Paradox • Artemis Fowl: The Atlantis Complex • Artemis Fowl: The Last Guardian • The Art and Making of Artemis Fowl