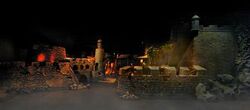 Isla Tesoro
is the setting of the
Pirates of the Caribbean
ride. A Spanish colony port town, it has been overrun by pirates of all sorts. Its name means "Treasure Isle" in Spanish.
History
In the 18th century, Isla Tesoro was under the administration of Magistrate Carlos. The main port was Puerto Dorado (meaning "Golden Harbour"), where it is presumed many of the inhabitants of Isla Tesoro lived. Puerto Dorado was at some point assaulted by a large group of pirates of the Wicked Wench who were responsible for numerous acts of violence and destruction; including taking groups of women hostage and selling them as "brides", torturing the magistrate, assaulting the villagers and setting the town itself ablaze.
Appearances
Behind the Scenes
In the 2006 revamp of the Pirates of the Caribbean ride, Jack Sparrow arrived on Isla Tesoro and attempted to learn the location of Puerto Dorado's treasury while being pursued by a pirate crew led by Captain Barbossa, who replaced the original captain of the Wicked Wench.
Isla Tesoro appears in the video game Pirates of the Caribbean: Armada of the Damned. But, since that game was canceled, it is unknown if the island's appearance in the game is canon or not.
Community content is available under
CC-BY-SA
unless otherwise noted.