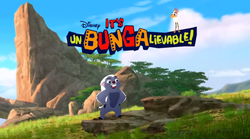 It's UnBungalievable! is a short educational series that aired on Disney Junior on January 9, 2016. It serves as a spin-off to fellow Disney Junior series The Lion Guard.
Plot
The series educates the audience on different animals and their habitats. Each episode features two different animal species selected by Bunga (voiced by Joshua Rush) and Ono (voiced by Atticus Shaffer) to compete for the title of who's the fastest, who has the best hair, etc. The episodes feature live-action footage from Disneynature and aim to educate audiences about different animal species. When Bunga picks a winner, he almost always makes a pun and asks Ono if he gets it. He does, but is never amused. The exception is "Who's Louder," in which instead, Bunga makes Ono promise not to tell Kion that the lion lost to the elephant. Bunga thanks the loser for playing and the audience for watching.
Trivia
Unlike The Lion Guard, this miniseries does include a few cartoon sound effects, making it the most recent Lion King production to do so.
Even though The Lion Guard doesn't depict or even mention humans, in "Who's Quicker?", briefly, humans in a vehicle are shown in a clip of a cheetah running. Also, Ono mentions humans in "Who's Hungrier?" when he says a hippo could easily outrun them.