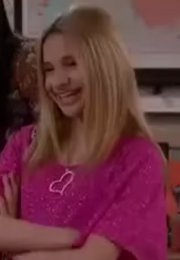 Ivy is a minor character of the Disney Channel Original Series, Dog With a Blog. She is portrayed by Camden Angelis.
Physical Description
Ivy isn't a very tall girl, but she has long blonde hair and she has a tendancy to be very bossy and arrogant
Character Biography
She appeared in one singled-episode in "My Parents Posted What?!". Ivy is in the popular group. She makes of Avery Jennings that she is the only child in their school without a Buddy Bop..