"Jail Bird" is the seventy-fifth episode of Darkwing Duck, and the sixty-third episode to air on The Disney Afternoon.
Plot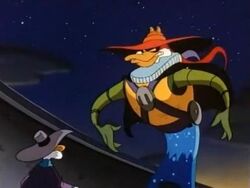 Darkwing Duck goes to guard the Mystic Eye Jewel and runs across the Fearsome Five. He defeats Megavolt, Bushroot, Liquidator, and Quackerjack but NegaDuck gets away with the gem. Darkwing has a plan to find out where Negaduck is and disguises himself as a criminal to get arrested and put in jail with the others where he will gain their confidence and learn Negaduck's whereabouts.
Negaduck learns that the gem can transfer powers from one person or animal to another and plans to use it to transfer the powers of his teammates and give them to himself.
Darkwing gets into the prison and never really earns the trust of the others and finally learns of a plot that Negaduck will spring the others. He goes to the warden to warn him and finds out that it's too late and Negaduck is already in control. Negaduck steals the powers of the others and becomes Mega Negaduck and goes to the city to cause mayhem.
The small Megavolt, Bushroot, Liquidator, and Quackerjack help Darkwing and tell him their weaknesses and they go to find Mega Negaduck. They use their own weaknesses against Mega Negaduck and he is defeated after a brief and funny battle and Darkwing accidentally drops the gem and it shatters and the others gain their powers back. They decide to team up against Darkwing, but Darkwing came prepared; Launchpad and Gosalyn arrives in the Thunderquack and the four villains are captured once again.
Voice Cast
Trivia
Gosalyn does not have any lines in this episode.
Liquidator and Bushroot lost their powers, but kept their altered appearances.
Mega Negaduck's form includes Bushroot's arms, Liquidator's legs, Quackerjack's bells and tassels, and MegaVolt's helmet and chest armor. He also gains yellow eyes and a demonic reverb to his voice.
This is the last appearance of Bushroot, Liquidator, and Quackerjack.
Gallery