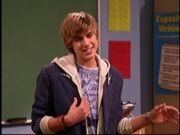 All info was provided by: 
http://hannahmontana.wikia.com/wiki/Jake_Ryan
Leslie "Jake" Ryan (born April 3, 1990) (age 28) is a famous actor, and Miley Stewart's sometimes boyfriend. Unlike Miley, he has not chosen to live as both a regular person and a star, and he finds it difficult not to be a star when he tries. He was played by Cody Linley.
Relationship With Miley
Jake is one of Miley's love interests. They share an off and on relationship. He was a new kid in Miley's middle school. He initially annoyed Miley with his self-centered attitude, but they developed crushes on each other.
The two tried to make each other jealous by dating other people, which didn't work out too well. Jake kissed Miley, but on the same day, he left for Romania. He wasn't seen again until the second season, where he continually tried to get Miley to take him back by sending her various gifts such as muffins and flowers.
On live television he confessed that he was in love with her and shortly after, the two reconciled. They tried to date and Miley even told Jake of her "Hannah secret". However, Jake's celebrity attitude annoyed Miley and the two broke up. In the third season, Miley tried to stop Jake from marrying Traci, only to find out that she'd been "Gotcha'd". Miley went so far as to kiss Jake to prove that she didn't feel anything for him.
However, Miley and Jake both showed signs of enjoying it. They start secretly dating once again in "He Could Be the One". They eventually tell Miley's father of their relationship, but even when he accepts it, their relationship faces another hardship as Miley crushes on her fellow guitarist. At the end of the episode, Miley realizes she loves Jake more and reaffirms her relationship with him. In "It's the End of the Jake as We Know It", it is found that Oliver's friend from his band took a picture of Jake nibbling on another girl's ear. Oliver told Lilly and decided to keep it a secret from Miley. In the end, Miley finds out and Jake and Miley break up for good. Miley later mentions him in "Been Here All Along", stating, "Now that I'm not with Jake anymore, nothing's stopping me and Jesse from being together."
Jake is originally from St. Louis, Missouri.
Gallery
v - e - d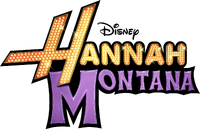 Episodes
Season One: "Lilly, Do You Want to Know a Secret?" • "Miley Get Your Gum" • "She's a Super Sneak" • "I Can't Make You Love Hannah if You Don't" • "It's My Party, and I'll Lie if I Want To" • "Grandmas Don't Let Your Babies Grow Up to Play Favorites" • "It's a Mannequin's World" • "Mascot Love" • "Ooh, Ooh, Itchy Woman" • "O Say, Can You Remember the Words" • "Oops! I Meddled Again!" • "On the Road Again?" • "You're So Vain, You Probably Think This Zit is About You" • "New Kid in School" • "More Than a Zombie to Me" • "Good Golly, Miss Dolly" • "Torn Between Two Hannahs"• "People Who Use People" • "Money for Nothing, Guilt for Free" • "Debt it Be" • "My Boyfriend's Jackson and There's Gonna Be Trouble" • "We Are Family, Now Get Me Some Water!" • "Schooly Bully" • "The Idol Side of Me" • "Smells Like Teen Sellout" • Bad Moose Rising"
Season Two: "Me and Rico Down by the Schoolyard" • "Cuffs Will Keep Us Together" • "You Are So Sue-able to Me" • "Get Down, Study-udy-udy" • "I Am Hannah, Hear Me Croak" • "You Gotta Not Fight for Your Right to Party" • "My Best Friend's Boyfriend" • "Take This Job and Love It" • "Achy Jakey Heart" • "Sleepwalk This Way" • "When You Wish You Were the Star" • "I Want You to Want Me... to Go to Florida" • "Everybody Was Best-Friend Fighting" • "Song Sung Bad" • "Me and Mr. Jonas and Mr. Jonas and Mr. Jonas" • "Don't Stop 'Til You Get the Phone" • "That's What Friends Are For?" • "Lilly's Mom Has Got it Goin' On" • "I Will Always Loathe You" • "Bye Bye Ball" • "(We're So Sorry) Uncle Earl" • "The Way We Almost Weren't" • "You Didn't Say it Was Your Birthday" • "Hannah in the Streets with Diamonds" • "Yet Another Side of Me" • "The Test of My Love" • "Joannie B. Goode" • "We're All on This Date Together"
Season Three: "He Ain't a Hottie, He's My Brother" • "Ready, Set, Don't Drive" • "Don't Go Breaking My Tooth" • "You Never Give Me My Money" • "Killing Me Softly with His Height" • "Would I Lie to You, Lilly?" • "You Gotta Lose That Job" • "Welcome to the Bungle" • "Papa's Got a Brand New Friend" • "Cheat It" • "Knock Knock Knockin' on Jackson's Head" • "You Give Lunch a Bad Name" • "What I Don't Like About You" • "Promma Mia" • "Once, Twice, Three Times Afraidy" • "Jake... Another Little Piece of My Heart" • "Miley Hurt the Feelings of the Radio Star" • "He Could Be the One" • "Super(stitious) Girl" • "I Honestly Love You (No, Not You)" • "For (Give) a Little Bit" • "B-B-B-Bad to the Chrome" • "Uptight (Oliver's Alright)" • "Judge Me Tender" • "Can't Get Home to You Girl" • "Come Fail Away" • "Got to Get Her Out of My House" • "The Wheel Near My Bed (Keeps on Turnin')" • "Miley Says Goodbye?"
Season Four: "Sweet Home Hannah Montana" • "Hannah Montana to the Principal's Office" • "California Screamin'" • "De-Do-Do-Do, Da-Don't-Don't, Don't, Tell My Secret" • "It's the End of the Jake as We Know It" • "Been Here All Along" • "Love That Lets Go" • "Hannah's Gonna Get This" • "I'll Always Remember You" • "Can You See the Real Me?" • "Kiss it All Goodbye" • "I Am Mamaw, Hear Me Roar!" • "Wherever I Go"
Community content is available under
CC-BY-SA
unless otherwise noted.