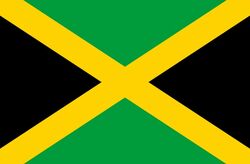 Officially the Commonwealth of Jamaica, is the 4th largest island nation of the Greater Antilles, 234 kilometers (145 miles) in length, up to 80 kilometers (50 miles) in width, and 10,990 square kilometers (4240 sq miles) in area. It is situated in the Caribbean Sea, about 145 kilometers (90 miles) south of Cuba, and 191 kilometers (119 miles) west of Hispaniola, the island harbouring the nation-states of Haiti and the Dominican Republic. Jamaica is the 5th largest island nation in the Caribbean. The indigenous Arawakan-speaking Taíno name for the island was Xaymaca, meaning the "Land of Wood and Water" or the "Land of Springs."
Films
Cities and Locations
People born in Jamaica
Characters from Jamaica
Community content is available under
CC-BY-SA
unless otherwise noted.