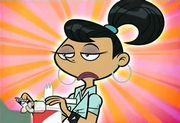 Janelle is a cashier at the Mellow*Mart, from the show Kick Buttowski: Suburban Daredevil. Her first and only speaking appearance is in "Fistful of Ice Cream," where Brad starts flirting with her. Like Penelope Patterson, she is commonly as a background character after her debut appearance.
Description
She has black hair pulled up into a ponytail, black eyes, and wears a blue blouse, which is the MellowMart uniform.
Community content is available under
CC-BY-SA
unless otherwise noted.