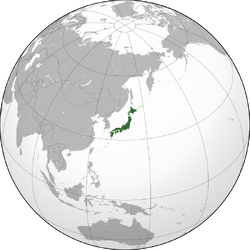 Japan or Nippon-koku or Nihon-koku (日本, 日本国), literally the State of Japan is an island nation in East Asia. Located in the Pacific Ocean, it lies to the east of the Sea of Japan, China, North Korea, South Korea, and Russia, stretching from the Sea of Okhotsk in the north to the East China Sea and Taiwan in the south. The characters that make up Japan's name mean "sun-origin", which is why Japan is sometimes referred to as the "Land of the Rising Sun".
Japan is an archipelago of 6,852 islands. The four largest islands are Honshū (本州), Hokkaidō (北海道), Kyūshū (九州), and Shikoku (四国), together comprising about ninety-seven percent of Japan's land area. Japan has the world's tenth-largest population, with over 127 million people. Honshū's Greater Tokyo Area, which includes the de facto capital city of Tokyo and several surrounding prefectures, is the largest metropolitan area in the world, with over 30 million residents.
Films and Shows
Cities and Locations
Attractions
Actors/Actresses and Crew born in Japan
Gallery
v - e - d
Songs
Jing-A-Ling-A-Ling • I'm Alive • Swimming Hole • Our Homespun Melody • Carried Away
Community content is available under
CC-BY-SA
unless otherwise noted.