This article is about Jasmine. For the race of her monster counterpart, see Nix.
"So, um, I'm not sure how to put this, but... I'm sorry I tried to suck the souls of all of your friends at the dance."
―Jasmine apologizing to Jake
Jasmine[3][4] is a secondary character on Disney Channel's animated series American Dragon: Jake Long.
History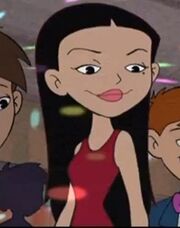 Jasmine appears as a young human girl who is actually a Nix; a supernatural being who, under certain lunar conditions, transforms into a soul-sucking creature. She only appears in one episode[5], was mentioned by Fu Dog that she was hot[6], was in the background wearing a light blue sweater-dress at the Ogre-Bowl[7], and was seen in a flashback[8] where Jake spins Rose at the dance floor and she was in the background sucking more souls (all in Season 1).
Physical Appearance
Jasmine is a tall and slender young girl with long black hair and a beauty mark under her left eye. She usually wore a short crimson red dress with black high-heeled shoes. Jake Long found her to be very attractive, which is why he immediately approached her to invite her to his school dance the moment he saw her.
Personality
Jasmine was a very friendly and outgoing individual. Even though she had only just met Jake at the Magus Bazaar, she was so charmed she accepted his invitation to his school dance without any hesitation.
Jasmine is very much aware of her Nix side. Like anyone would upon meeting a stranger, she does not openly share that side of herself. However, she makes a point of warning him she needs to be home before the moon reaches the center of the night sky (she will turn into a Nix at that time). She insists on this several times during the episode, and even attempts to leave the dance when the time of her transformation grows near since she didn't want anyone to get hurt. She later apologized abundantly to Jake for the fiasco at the dance, which showed that she was not inherently evil despite the needs of being a Nix.
When upset or in a bad mood, Jasmine will growl and her eyes will glow red, her Nix side dominating her negative emotions.
Nix Side
In counterpoint to her sweetness, Jasmine turns out to be a magical soul-sucking creature knows as a Nix, in which form has a serpent tail instead of legs, scaly green skin, sharp claws, fangs, a set of black wings, and glowing red eyes. Jasmine transforms only when the moon reaches the center of the night sky and for the rest of the night until the moon sets, turning back to human form.
During Jake's party, although she did attempt to leave before she would change, Jasmine morphed into Nix form and instinctively proceeded to sucks the souls out of the entire student body. She then engaged in a fight with Jake, who managed to defeat her with his incredibly smelly Dragon breath. The souls were returned to their rightful bodies – although there was a mix-up with a couple, like Trixie and Spud – before Jasmine was taken care of by Lao Shi and Fu Dog until moonset. When Jake eventually escorted her home, she apologized profusely for the trouble.
Episode Appearances
Season One
Quotes
"Ah, no. I'm just in town in a few days visiting my family."
"Really? Do you have something in mind?"
(shakes hands with Jake) "I'm Jasmine."
(about her curfew limit) "Oh, you know, sometime around 10:23 and 15 seconds Eastern Standard Time. It's this whole lunar cycle thing."
(the moon reaches the center of the night sky) "Uh, Jake, it's getting late, and I'm not feeling too well."
"So, um, I'm not sure how to put this, but... I'm sorry I tried to suck the souls of all of your friends at the dance."
"I had a really nice time, except for the whole, you know... Sorry. Again."
Gallery
Trivia
Jasmine is voiced by Lacey Chabert, the same voice of Eliza Thornberry from Nickelodeon's The Wild Thornberrys.
Promotional artwork of Jasmine has her wearing a purple sweater-dress with a black belt and white knee-high boots.
As revealed by herself, Jasmine does not actually live in New York but was in the area visiting her family.
Jasmine thinks of Jake as a sweetheart.
When Brad Morton took Rose to the dance, he ditched her for Jasmine.
If a picture is taken of Jasmine, her eyes will always be red.
When Lao Shi showed a photograph of Jasmine to Fu Dog, she was wearing a purple sweater-dress with a black belt and white knee-high boots from her promotional artwork.
Jasmine turned into a Nix in "American Dragon: Jake Long, Attack of the Dark Dragon"[9].
Jake dated Jasmine first[5], long before Danika Hunnicutt[10].
She is a very popular character among fans, despite her only having a speaking role in one episode.
References